Polaris Returns to its Snowmobiling Roots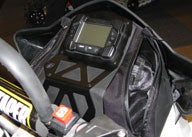 Polaris engineers use old-school experience to solve new-school problems
Polaris hit a home run with three little digits — 4-1-7! That's the Polaris claimed weight of its 2013 Pro-RMK 155 mountain series sled. Like the company's recent foray into engineering prowess, those three digits are simply eye opening.
We've covered Polaris for a goodly number of decades. We witnessed the company transition from leaf spring racers to the famed Midnite Blue Express of the 1970s with the first all-conquering independent front suspensions highlighting its Sno Pro racers. More important than the success of the oval racing team was the equal success of its cross country racers, who actually brought IFS to the trail as the company proved the mettle of the concept in real-world, long distance terrain racing. This saw the evolution of the TX models into famed TX-L models and then full-fledged Indys, which would lead Polaris sales for more than a decade.
Back then; Polaris just went about its business. The company's engineering staff created very reliable, exceedingly durable and extremely rider-friendly snowmobiles that made us better riders by virtue of the Indy's forgiving nature. Hit a berm a bit off center? The sled would recover by correcting itself and keep you from making a fool of yourself in front of friends. These were incredibly good sleds that showcased the positive of Polaris engineering. It seems that Polaris has returned to its routes by essentially utilizing plain old KISS engineering once again. That's KISS as in Keep It Simple Stupid!
When Polaris found itself a bit uppity and quite arrogant in its approach to sled building, Ski-Doo revved up an alternative snowmobile that was at once lighter and, frankly, better than the Indy, which had been allowed to fall behind the competition. The Ski-Doo REV overtook the once popular Indy because Ski-Doo engineers re-examined how snowmobilers rode sleds and focused on making the experience fun again!
Let's face it; very few people actually need a snowmobile. A sled is a want. And most people who buy them want them for fun. The Ski-Doo REV became Number One because Polaris simply lost sight of that fact. And because being Number One is darn hard to maintain. Every snowmobile company sat atop the pile at least once in their corporate history. Right now Ski-Doo enjoys a leadership that it held in the earliest days of the sport, back when stock analysts thought sled sales might reach a million a year!
As Ski-Doo can attest, being the leader requires constant diligence to fend off challengers and protect its technological innovations. The REV brought ride-forward technology to the sport. Once people tried it, they liked it. No longer did you have to sit over the rear axle and get a back-bruising, butt-pounding ride. By moving the rider forward and sitting him more upright in a more centered position, REV engineers created sleds that were more fun to ride and encouraged athletic interaction with the machine. Bye Indy. Hello REV.
Given time to regroup, Polaris engineers went from adding new decals to what were essentially unchanged Indys to rethinking how riders rode and thinking about what they wanted. While computer-assisted design makes for quick studies, it still takes engineers with snow dust in their eyeballs to understand the essence of the snowmobiler. We were encouraged by tales of how Polaris developed the 2012 Adventure model. As part of the latter phases of design and engineering, a group of Polaris engineers actually took a collection of models and rode them in Canada just as any true Canadian snowmobile cruiser would. The engineers experienced a true "saddlebag" ride. They rode hundreds of miles. Stopped at on-trail destinations with just what they brought along. They got to the roots of the cruiser snowmobiler. And this year, we have an 800cc Adventure model, complete with the Lock & Ride cargo system and a high-performance drivetrain.
For us, this type of engineering rebuilds trust and credibility in the product. It also tells us that Polaris engineers will get their hands dirty by living the lifestyle. This is a big deal. In the past, we found Polaris products among the most rider-friendly sleds to repair. You could access the most common or most likely to need repair pieces. You know why that was? When Polaris raced in cross-country or on the ovals, the mechanics needed to fix or replace pieces and they engineered in ready-access panels to save time. Polaris engineering was clever and innovative. When some cross country race sleds literally burned up the course, Polaris engineering created a liquid-cooled hydraulic brake system to fix the overheating brake problem and added fade-resistant performance to production Indys in the process.
Today, given that every sled manufacturer has a high-performance 800cc twin of 150-plus horsepower for its deep snow sleds, Polaris meets the power criteria at one end and enhances it at another by dropping weight down to a claimed 417 pounds. Keep in mind that Polaris' top-selling Pro-RMK already was one of the lightest sleds in the mountains. The engineering staff refused to focus on engine power alone. They recognized that while overall power is important, more important to powder play is a sled's real-world power, or power-to-weight. By keeping the same power, but dropping poundage, the product instantly could gain performance. Then, using a bit more creativity, the engineers rethought the final drive and came up with QuickDrive, a low inertia drive system.
QuickDrive reduces inertia or, more simply stated, effectively drops five pounds of steering effort at the handlebars and on board as you maneuver. Does it matter? According to our veteran powder riders it can mean the difference between wanting to come home early or staying out in the deep stuff longer because you don't get as "wore out."
The QuickDrive replaces the final chain drive. It cuts weight. But by going to a belt final drive, Polaris engineering gives you a better chance to get home. If a final chain drive breaks, you're done. If a belt looses teeth, you can limp home. Polaris figures that the belt can lose about a third of its teeth and still get you home. Lighter, simpler and functional. What a concept?
That's just part of the new thinking we've been seeing from Polaris. The use of carbon fiber pieces in the overstructure and bonded A-arms reduce weight and actually gives the sled improved rigidity and reparability. The PowderTrac runningboards actually weigh more than the ones they replaced, but the snow evacuation and overall strength and rigidity is increased. This is a case of thinking about what a powder rider needs. It's function and strength added along with a few ounces of weight to give that rider a better handling sled in deep snow.
By experiencing the product in its natural environment and getting their inner-snowmobilers activated, this modern generation of Polaris engineers reminds us of those tough old Roseau farmers who made the Polaris Starfires, TXs, TX-Ls and Indys such legendary snowmobiles. We'll accept modern computer-assisted designs because we know that at the heart of each new Polaris snowmobile, there are engineers serious about the product, getting their gloves wet, their goggles fogged and putting their throttle thumbs to the handlebar. Welcome back, Polaris, we missed you!
Related Reading 2013 Polaris 800 Switchback Adventure Review – Video 2013 Polaris 800 Pro-RMK 155 Preview 2013 Polaris Snowmobile Lineup Unveiled