2013 Polaris 800 Pro-RMK 155 Preview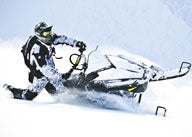 Polaris' best selling sled evolves - again!
Looking at Polaris over the past few years and you notice one simple fact, Polaris builds superior product that snowmobilers want. How else can you explain the fact that when Polaris once again built a mountain specific snowmobile with power, handling, lightweight and competitive pricing, powder riders gobbled them up leaving this flatland Minnesota-based sled builder with an astonishing market share that the company claims makes its 800 Pro-RMK the number one seller in the segment, if not all of snowmobiling for this snow season.
As Polaris snowmobile division's Chris Wolf sees it, give snowmobilers what they want. The credo for developing the popular RMK series seems simple, but not all sled makers can make it work. Polaris engineering bases its RMK developmental philosophy on three basic tenets: Make it light. Make it simple. Make it work.
Heading into 2013 Polaris gives you an early glimpse of what may make other powder sled builders cringe. The 2013 800 Pro-RMK 155 weighs a claimed 417-pounds! That's keeping it light.
This new for 2013 sled introduces Quick Drive, the name Polaris gives its low inertia drive system. Quick Drive includes a Polaris production sled first-ever belt drive that manages to shave off 6.5 pounds of weight from this powder special. The system features an extruded aluminum drive shaft, lightweight brake with an RMK-specific brake caliper of cast aluminum and replacement of the traditional final drive chain case, cover, chain and tensioner in favor of the rubber belt drive. Quick Drive is claimed to be lighter, less complex, more efficient and reduces rotational inertia by 21-percent. That's making it simple.
The 800 Pro-RMK 155 derives performance from the 150-plus horsepower Polaris-engineered and built Cleanfire 800 two-stroke twin in a sled that weighs less than its 2012 predecessor. Meaning you get an improvement in power-to-weight, which means improved deep snow performance. That's making it work!
At a quick glance and aside from the mandatory bold new graphics packaging, the 2013 800 Pro-RMK 155 bears a resemblance to the best selling 2012 model. Looks may be deceiving as you need to get up close and check out the use of Polaris-pioneered bonding structures in the body work that adds simplicity as well as rigidity to make this sled extremely responsive when you need to pull the nose uphill.
The 2013 800 Pro-RMK will rock the snowscapes with authority as Polaris rethought the runningboard and added new extruded Powder Trac runningboards for added strength, greater boot traction and more efficient clearing of snow. The runningboard topside features a machined high traction finish to give your boots greater grip in any mountain maneuver. Combine this ergonomic upgrade with the new for 2013 lighter, shorter Pro Lite seat and Pro Taper Bars for a more functional ride.
The new seat is 5.5-inches shorter but 2.5-inches wider at the front with a flatter seating surface for more getting-to-the-fun comfort. The bars adjust quickly to fit your riding height and style. The handlebars incorporate hook ends along with a racing derived master brake cylinder to give you efficient, functional control.
Evolutionary changes come on the suspension and the settings for the exclusive-to-Polaris Walker Evans shock package for the A-arm front end and the RMK Coil-Over rear slide rail. These shocks are rebuildable and feature internal floating piston performance in a mono-tube construction.
Since weight and stiff chassis design must be balanced to get the sled to handle in deep powder, Polaris innovates to retain chassis stiffness while dropping unnecessary ounces. The latest Pro-RMK front-end features bonded lower control arms with strength coming from steel tubing and forged aluminum ends. This results in a weight savings of two-pounds. The cooling extrusions have been narrowed to shave some weight and you'll find more weight reduction thanks to the use of a carbon fiber rear bumper and a lightweight rear snow flap. In total, the 800 Pro-RMK has dropped 14 pounds compared to the 2012 model.
The 800 Pro-RMK 155 package is strong, light at 417 pounds and equipped with the right pieces to keep Polaris king of the powder heading into next season. Check out the pieces that work and have been proven popular by the growing number of Polaris owners. The front suspension can be adjusted from a ski center distance from 39-inches to 40-inches to 41-inches for maximum width and grip of the Gripper plastic skis. The track measures 15-inches in width by 155-inches of circumference with a lug profile of 2.4 inches.
This early release 2013 800 Pro-RMK 155 back model showcases what has made Polaris number one in the steep-and-deep last season and will be available for early season ordering. Snowmobilers have been looking to Polaris to keep it light, simple and making certain it works. It's an engineering credo that resonates with powder sled buyers.
2013 Polaris 800 Pro-RMK 155 Specs
Engine
Polaris Liberty Cleanfire 795cc twin cylinder 2-stroke; liquid-cooled; Cleanfire fuel injection
Horsepower
150+
Drive
Polaris P-85 drive; Team LWT Driven
Front Suspension
Polaris Pro-Ride RMK adjustable IFS; Walker Evans gas shocks with internal floating piston; 9-inches of travel
Rear Suspension
Polaris RMK coil-over slide rail; Walker Evans gas shocks; 16-inches travel
Length
129.0 in
Width
46.5 in
Ski Stance
Adjustable from 39-41-in
Track
15 x 155 x 2.4 Series 5.1
Weight
417 (claimed)
Brake
Polaris hydraulic Low Inertia Drive disc
Features
Electronic reverse (PERC); handlebar hook ends; multi-function digital display; Pro Lite seat; Pro Taper bars
Fuel Capacity
11.5 US Gal
MSRP
TBA
Related Reading
2012 Polaris 800 Pro-RMK Review [Video]
2012 Polaris 800 Pro-RMK Review [Video]
2012 Mountain Sled Evaluations: Part 1