2013 Polaris 800 Switchback Adventure Review – Video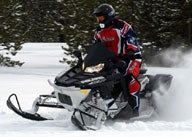 The 800cc bagger that's more sport than cruiser
A year ago we were hoping that the snowmobiling equivalent of motorcycling's bagger would catch on as Polaris stepped out to introduce a new sport cruiser snowmobile. We won't lie. We had some reservations. First of all, the Switchback-derived stretched chassis Polaris Adventure was only available with the 600 two-stroke twin. Good enough for cruising, but why not offer the more potent 800 twin with the 150-plus horsepower? And, yes, Polaris engineering does an excellent job in establishing base suspension setups, but why not offer Walker Evans premium shocks with their exceptional tunability?
That was then. For 2013 Polaris makes us very happy. Very happy, indeed. Welcome to the 2013 Polaris 800 Switchback Adventure. Complete with a Walker Evans shock package. But — this is a limited edition sled and it has to be spec'd out and pre-ordered within the Polaris Snow Check timeframe, which ends April 23, 2012!
Why do we get excited about the 800 Adventure? Primarily because it answers all of our objections about typical sled maker concessions to performance cruiser riders. It's like the words performance and cruiser can't go together in a sport sled. At least Polaris seems to be getting beyond that bias.
Look at the 800 Adventure. It starts out as a Switchback, which is basically a Rush stretched out to accept a 136-inch track. The beauty, though, is that the basic Switchback enjoys the new-in-2012 front suspension, which was a major improvement over the previous version in holding corners and overall steering agility. For 2013 Polaris makes another major step forward with its all-new Pro Steer ski. This engineering upgrade truly enhances the changes made to the front end last season. At a glance it doesn't look all that impressive, but it really works due to a reshaped keel and added strength ribs on the top of the ski to add torsional rigidity to help keep the ski gripping instead of hopping around in the corners.
When we went out on test rides with all Rush or Switchback models, we were oblivious to the ski. But, when we test rode the new base Indy 600 without the Pro Steer ski and then rode the Indy 600 SP with the new ski, wow! It was a night and day difference between the old design and this new one. Keep in mind that the new for 2013 Indy uses the same front end as the Rush and Switchback models and the main difference between the base and SP Indy versions is the new ski. Handling improvements in the corners was noticeable. The Indy SP with Pro Steer tracked better. There was little darting. So, once we realized the keys to the new ski, we started focusing in on the ski performance on the Rush and Switchback models. This one new feature really enhances the trail performance. Well-done, Polaris engineering.
Getting back to sport cruiser bias, past so-called performance cruisers tended to be basic luxury sleds with a too soft ride, a courtesy bigger motor and all sorts of nice-to-have luxury features like added bags, mirrors, plus electric this and that. Polaris' 800 Adventure doesn't insult the performance rider.
The limited edition 800 Adventure comes with Walker Evans adjustable shocks. You get to determine your ride settings. Click up or down for aggressive ride or casual high mile riding. We really like the Walker Evans shocks because they are relatively simple and easy to adjust. We don't claim to be shock set up experts, but even when we screwed up our settings, it was easy to get back to ground zero and start over. First, the shocks are rider-friendly. Second, Polaris' sled manual is terrifically useful if you actually read it! You'll find that a simple click can make quite a difference.
We will bellyache about the Adventure's rear suspension adjustments. With the complete baggage allotment of side carriers and rear rack, the big rear shock spring can be darn near inaccessible, but the more accessible side-mounted piggyback set up allows most changes you want to make.
The other main difference between the 600 Adventure and the limited 800 Adventure comes under the hood. This 800cc Cleanfire twin can really put down some hot revs when you slam the throttle. That's a no-nonsense power set up that lets you feed your high performance ego. It's also about 30 more ponies than what you'd get with the base 600cc mill.
While we're liking the power, handling and suspension components of the 800 versus the 600, there are features new, but common to both for 2013 versions. Polaris — finally — answered the call for curved handlebars. Now, instead of added-on end of the bar curved handgrips, the entire bar is a well-designed one-piece unit. The change required a re-do of the throttle assembly, which seems easier to apply and more comfortable for long rides. The 800 also gets the adjustable riser bar. Less noticeable, but equally important is the fact that handlebar heat now extends out to the end of the bar, something that Yamaha added a few seasons back. No complaint, we're just saying.
Ergonomically the Adventure doesn't seem to ever forget that it's an on- and off-trail Switchback. The ProRide 136-inch suspension lets you slam terrain with non-bagger sleds. Don't ever be intimidated by off-trail with this sled. You can drag the bags in powder when breaking trail if you have a need to show off. This is, after all, a serious off-trail machine thanks to its 136-inch long track. And it's also a very competent sports sled thanks to Polaris engineers giving it a progressive-action rear suspension that swallows most bumps better than most pure luxury sleds.
Of course, sport cruisers do have to offer some semblance of cruiser-ness and the 800 Adventure manages that quite well. The Lock and Ride cargo system offers side cargo bags and a nifty framed rack that blends into the sled's black and silver gray/white styling. Standard rearview mirrors mounted on the body help you keep tabs on trailing riders and the nifty wide at top, narrowing down at the front seat gives you ample cushion for either long miles or setting up for tight aggressive cornering jaunts.
The Polaris 800 Switchback Adventure will compete with the new Arctic Cat Cross Tour, but they are quite different in their on trail manners. The Adventure allows you to be a truly aggressive rider, as it never seems to forget its 800 Switchback Pro-R heritage. You sit tall and ready to rise up to blast into ungroomed snow roads. This sled is equally at home off trail or on groomed routes. It has the power, the suspension and the sport-based ergonomics to blend into any snowmobiler's definition of performance, be it all-out cruiser or trail performance sport sled. Polaris overcomes any objections we've had about compromised sport cruisers. This is a bagger with the soul of a Switchback and the heart that only a 150-plus horsepower Cleanfire twin can give it. This is a truly special all-around flatlander's snowmobile. But it's only available as a special order Snow Check model until late April.
2013 Polaris 800 Switchback Adventure Specs
Engine
Polaris Liberty Cleanfire 795cc twin cylinder 2-stroke; liquid-cooled; Cleanfire fuel injection
Horsepower
150+
Drive
Polaris P-85 drive, driven
Front Suspension
Polaris Pro-Ride; 9-in maximum travel; Walker Evans adjustable shocks
Rear Suspension
Polaris Pro-Ride slide rail 136-in; Walker Evans adjustable shocks; 14-inch maximum travel
Length
115.0 in
Width
48.0 in
Height
46.0 in
Ski Stance
42.5 in.
Track
15 x 136 x 1.352 Cobra
Features
Standard: Electronic reverse (PERC); Lock & Ride cargo system; rearview mirrors; electric start; one-piece handlebar; electrical outlets; multi-function display
Weight
NA
Brake
Polaris Phantom hydraulic
Fuel Capacity
11.0 US Gal
MSRP
SNOW CHECK: Starting at $12,999
Related Reading
2012 Polaris 800 Switchback Pro-R Review [Video]
2012 Polaris 800 Switchback Pro-R Project
2012 Polaris Switchback Adventure 600 Review [Video]
2012 Polaris 600 Rush Review