2013 Polaris Snowmobile Lineup Unveiled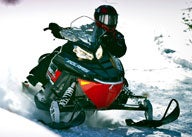 Polaris brings more Adventure and brings back the Indy
Sitting in a media briefing at Polaris a few years ago, the Minnesota company's top snowmobile division executives claimed that Polaris was back on the gas and charging hard. At the time it all seemed as so much marketing fluff. Where was the proof?
While not so obvious at that time, you cannot dispute the seriousness of Polaris' statements now. In the past few seasons Polaris almost single-handedly has reinvigorated the snowmobile market and raised snowmobilers' expectations for an annual unveiling of new Polaris products that can be market leaders though innovation and engineering. As Polaris seems to accept, not all change has to be entirely new. It can be evolutionary or simply new in the way it gets done.
Look at the Polaris RMK series of powder sleds. There is little trickery here, but there is plenty of strategery as Polaris leads the mountain sled segment with its popular 800 Pro-RMK. What trickery involved in making that sled the top-seller rests on classic deep snow concepts that don't change. Make the sled light. Make it powerful. Make it simple. Make it work. That's what made it sell and made it popular this past season.
Would you reinvent the RMK? No. But Polaris for model year 2013 re-thought how it could be better. The company's engineers got the 800 Pro-RMK weight down to 417 pounds. They innovated its final drive for efficiency and simplicity by providing Quick Drive, the industry's first production belt drive. The 150-plus horsepower Cleanfire 800cc two-stroke twin continues to power the RMK, but now it will have an improved power-to-weight ratio without adding an extra rev or cubic centimeter of displacement. New-for-2013 Powder Trac runningboards are stronger, offer more grip for a rider's boot and clear snow better to help the sled work through powder.
Polaris engineers already were a step ahead of us when they unveiled last season's 600 Adventure. Built around the 2012 Switchback stretch Pro-Ride chassis, the Adventure was issued Polaris' Lock & Ride cargo system along with personalized luxury convenience gear to give snowmobilers a sport performance high-miler. With the 600 Switchback Adventure established, Polaris removes any objections from performance high-mileage riders as for 2013 there will be an 800cc Adventure version, but in very limited supply and only available in a very short Snow Check window. If you are serious about getting an Adventure, this is the version you want, so check with your Polaris dealer now! The Snow Check 800 Adventure is based on the Switchback Pro-R with Walker Evans shock package plus the standard Adventure goodies like the Lock & Ride cargo system, comfy saddle, tall windscreen and more.
The 2013 Indy 600
With a history of "evolutionizing" products, Polaris brings back the legendary Indy name. This may be the sleeper of the year. If you were a Polaris fanatic and could build your very own pure fun sled, here's what you'd do. First, you'd settle in on the latest Cleanfire 600cc twin for power. It's reliable and has very good overall performance. Then you'd specify the latest Rush Pro-Ride front suspension. Polaris got this very right for 2012 and it works just great on the trails. You'd forgo the tricked out Pro-Ride external shock rear suspension, but definitely go with the Rush-based Pro-Ride "short" chassis and its extra rigid construction. And, since you'd want overall simplicity underneath you, you'd skip the Pro-Ride and go with the Indy-proven coupled skid. Then you'd design some stylish bold bodywork and slap the Indy name on it.
That's pretty much what Polaris engineering did as the company reintroduces the Indy name and applies it to a truly sweet sport play cruiser. We expect this Indy will be a direct competitor to Ski-Doo's TNT 600 models. The new Indy 600 comes in two versions. The base Indy 600 comes with a 120-inch Shockwave track and Ryde FX MPV shocks. For a few bucks more (pricing is be announced), there is an Indy 600 SP, which gives you an upgrade to the bit more aggressive Hacksaw pattern track, Fox IFP gas shocks and Polaris' new Pro Steer skis. Plus, the SP also adds new one-piece hooked handlebars. The Indy 600 SP should be an absolute dandy for pure sport riding this upcoming season.
Always a treat will be the Switchback series, which underwent minimal change for 2013. The series offers both a base model with choice of 600cc or 800cc two-stroke twins and the upgraded Switchback Pro-R. Both series utilize the latest Pro-Ride 136-inch progressive rate rear suspension. Up front each model continues with the race-proven IFS, which for 2013 attaches to the new Pro Steer skis, which features a reshaped keel and shortened skeg for reduced steering effort. Ribbing atop the ski has been redesigned to increase torsional stiffness for more precise steering. You'll find this new ski throughout much of the 2013 lineup.
The Pro-R models feature Walker Evans needle shocks, with the base models utilizing a Fox shock package. The Pro-R also comes equipped with the lighter weight hollow jackshaft and drilled brake rotor.
For 2013 there will be evolutionary changes to the Rush models. Key feature changes include the switchover to the new Pro Steer skis, the one-piece handlebar with hooked ends and a new Comfort Seat with a wider seated surface area.
Powder Sleds
Polaris powder sleds continue to evolve as the deep snow segment gains momentum, enjoying a 24 percent growth spurt this past season. The Polaris Pro-Ride chassis is a proven commodity, being light yet strong. Light and efficient is key to the RMK success. Whether powered by the semi-direct injected 800 or 600 Cleanfire twins, the RMK models are especially adept in steep and deep snow areas.
Using innovative but proven techniques to snowmobile construction helps Polaris engineering drop weight while adding strength. For 2013 the Pro-RMK front end uses bonded lower control arms with forged aluminum ends and steel tubing to cut two pounds. Weight was also cut through the use of narrower tunnel cooling extrusions, a carbon fiber rear bumper and the lightweight punched snow flap with hand access.
While not unique to mountain sleds, the use of a belt drive has been pioneered by mountain-specific aftermarket sled companies. But, Polaris is the first to offer such a system on a production sled. The Quick Drive Low Inertia Drive System includes an extruded aluminum drive shaft, lightweight brake, RMK-specific brake caliper and maintenance-free belt drive. While lightweight, the Quick Drive design is simple, efficient and eliminates the need for oil or a tensioner system. Polaris estimates that its Quick Drive system sheds more than 6.5 pounds.
Polaris says that the new-for-2013 Powder Trac runningboard design provides an RMK rider "…with strong, high-traction platforms consisting of minimal structure and copious open space for the least weight and the greatest snow evacuation." The extruded aluminum runningboards are 10 percent thicker and feature bonded cast lugs, making them easily removable from the sled for servicing.
Polaris continues with its Coil-Over Rear Suspension for excellent flotation in deep-snow. Pro-RMK models come equipped with rebuildable internal floating piston Walker Evans shocks.
There's a new Pro Lite Seat that combines with Pro Taper Bars to optimize rider ergonomics. The Pro Lite Seat has been shortened by 5.5-inches to make it easier to throw a leg over. The front of the seat is more than 2.5-inches wider with a flatter surface for more comfort when seated.
There will be 800 Pro-RMK models with a choice of 163 or 155 tracks. The 600 Pro-RMK is offered only with a 155-inch track. Base model 800 and 600 RMK 155s will be offered as will a 600 RMK 144.
The Assault series will continue with an RMK-based chassis as well as the Switchback-based version in 2013. New features for the 2013 800 RMK Assault 155 includes RMK-derived use of carbon fiber overstructure to reduce weight while increasing structural strength. The RMK Assault also features the Powder Trac runningboards and lighter weight Pro Lite seat.
The Switchback Assault features the new skis, Pro Taper handlebar and 144-inch Cobra track for on or off trail riding.
Trail Touring Utility
Polaris continues to include three engine choices in its 2013 IQ LXT family. You'll find a fan-cooled 550 IQ LXT, a 600 two-stroke version and a turbocharged 750cc four-stroke powering the Turbo IQ LXT.
The low-buck Shift continues with its 550cc fan-cooled twin powering a choice of short 121-inch or 136-inch Shockwave tracks. You'll also find Widetrak utility models continuing virtually unchanged for the new model year.
While the utility models haven't changed, Polaris has paid specific attention to snowmobiling's growth segments and will offer limited and uniquely equipped Snow Check editions of popular models, to include an 800 Rush Pro limited model, the already mentioned 800 Adventure and a choice of options to provide pre-season buyers an opportunity to make their 2013 Polaris specific and personalized.
Related Reading
2013 Polaris 800 Pro-RMK 155 Preview
2012 Polaris 800 Pro-RMK Review [Video]
2012 Polaris 600 Pro-RMK 155 Review [Video]
2012 Polaris Switchback Adventure 600 Review [Video]
2012 Polaris 800 Switchback Pro-R Review [Video]
2012 Polaris 800 Switchback Pro-R Project