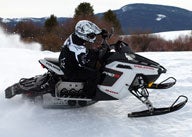 What we learned from the annual product launch in West Yellowstone
We just returned from the annual snowmobile product launch held in West Yellowstone. Having attended such events since the early 1970s, we have to state simply that this was one of the best overall. The host community of West Yellowstone was incredibly hospitable and the four remaining snowmobile manufacturers were extremely well prepared in presenting their individual model lines. In general, this was the best grouping of snowmobiles we've been around in a good many years.  As snowmobile enthusiasts, yes, there were some models we preferred over others as a matter of personal bias.
What we found most interesting was how the various manufacturers approached developing product in the various categories. All sleds designed for a specific category or purpose did essentially the same things. It was the nuancing of the products that make the difference to us consumers. The subtle differences between sleds reflect engineering and corporate beliefs as to what we want in their products. While all the sleds in the various categories were very good, it will be the shades of difference in engineering, features and style that will appeal or not appeal to us as buyers. Of course, that brings to mind the comment of a former snowmobile product manager who said quite simply, each snowmobile manufacturer brings to market what it builds. Obvious? Yes. But, always worth remembering.
Looking at the four manufacturers and you can see what he meant. Arctic Cat builds performance. It's entire marketing plan hinges on four cornerstones:
• Being the builder of the world's fastest snowmobiles • Supplying expert-grade mountain sleds • Providing industry-leading horsepower • Offering body-saving ride technology
Of course, all four snowmobile manufacturers shoot for the same results, Arctic Cat blatantly states its criteria as a matter of marketing philosophy. Each of Arctic Cat's competitors likewise grabs a theme for us members of the consuming public to acknowledge. Polaris hooks us with terrain dominating models. Ski-Doo engineers emotion. And Yamaha gives us the advantage of low cost four-stroke operation, fuel economy, resale value, reliability and ease of operation. Wow! As snowmobile consumers we're saved!
Yeah, that's a bit too cynical even for us. The fact is, the model year 2011 snowmobiles that we recently rode are the best ever. Again, that doesn't mean that we like them all equally, it simply means that today's snowmobiles have evolved into vehicles that are extremely reliable, durable and do exactly what the engineers intended for them to do. That is also their failing.
Too Good?
As we rode the trails this past winter, we made a point of noticing the sleds other snowmobilers were riding. We were aboard a 2010 Polaris Rush. We didn't see another one until we went to the West Yellowstone snowmobile product launch. We did see four-stroke 660cc turbo Arctic Cats and newer Ski-Doos and some four-stroke turbo Polaris crossovers. The bulk of the sleds we noticed were anywhere from two to five years old and in great shape. Some of the sleds had been bought new, others like a turbo Arctic Cat had been bought used, but looked brand new.
In the 1970s Arctic Cat viewed good, used sleds as competition to its new sled sales and instituted a program to eliminate that competition. It was simply ARCTIC, an acronym for Accelerate the Replacement Cycle to achieve Total Inventory Control. Arctic Cat marketers found that snowmobiles were lasting longer and being used more than originally projected. Heck, in those early days when every maker of snowmobiles was selling all it could make, no sled manufacturer gave any thought to their sold sleds lasting too long and becoming competition. All they saw was rising sales and increased production to meet that demand. But when the 1970s oil crisis hit, the economy slowed and snow became cyclically slow in key areas. That's when some snowmobile companies did a bit of research and discovered that their products were too good. Snowmobilers weren't giving up snowmobiling, they just delayed the purchase of a new sled because the one they had was good enough and the new ones weren't all that much different. But, they cost more and the used sled wasn't worth enough on a trade.
Arctic Cat introduced this novel approach to dealers, but it never really gained traction. Current day snowmobile company executives recognize that their product is exceptionally good. While they might not perceive their previously sold sleds as competition to new model sales, they do accept that they are all fighting over each others customers and that, perhaps, they need to look at enticing riders to return and to invite new participants into the sport.
"I'm a hardcore snowmobiler and I love the sport. I'm convinced that it has got to be re-introduced to the public. Whether snowmobile clubs are used to assist manufacturers or whether it's generic advertising, something has to be done.
"Maybe we don't have our heads in the right spot. Maybe we are not bringing the right product out there…"
The above statement was made by Ken Severinson, president of Arctic Enterprises in an interview published in the September 1980 issue of SnowGoer Trade magazine. Just a year later, that same publication carried the front-page headline: "Arctic To Sell Snowmobile Division."
Enticing New Participants
We certainly are not suggesting that snowmobiling is on the same path now as it was in 1980. Indeed, we are seeing signs that at least one sled maker is looking to embrace a bit of change that might entice new participants. Ski-Doo's introduction of a brand new four-stroke motor that offers a claimed 29 miles per gallon and that is both quiet and tuned for the trails suggest a leadership we haven't seen since Polaris' Indy Lites were introduced to welcome non-snowmobilers to the sport.
Whether Ski-Doo's new trail models powered by the new 600 ACE four-stroke are enough to generate all new sales remains to be seen. But, it is an attempt to open up the search for new or returning participants. Otherwise we see a continuation of three manufacturers fighting over the deep market riders — empowering for those riders, but a shrinking battle overall.
As we look ahead, we see incredibly good product destined for the trails during the winter of 2010-2011. Even with overwhelming snowfall in some portions of the US, the sled makers seemed extremely cautious as they planned for very careful production. That means, if there is a popular model that you want to get, plan to deal now as, most likely, it will not be available later. We know that most of the manufacturers plan to limit the "hot" models to a very small percentage above initial dealer orders.
Interestingly, and optimistically, Ski-Doo tells us that dealer orders for its new 600 four-stroke models were 150 percent above expectations. Knowing that sane dealers won't order something they can't sell, this suggests they may have a feeling that these high-mileage, super reliable four-strokes will hit a chord with newbies as well as returning buyers.
Future Sales
Regardless of this year's product, the snowmobile manufacturers are geared for total sales that could be lower than 2009's worldwide sales of 147,066 — the lowest annual sales since 148,082 units were sold in 1992.
If you ask why are powder sled sales and "extreme" backcountry sleds so popular? Consider that such sleds comprised about 28 percent of the most recent US sled market. That compares to 37 percent of sales for performance sleds. Mountain-oriented sleds accounted for about 20 percent of Canadian sled sales with the stretch-tracked crossovers accounting for 27 percent of Canadian sales. Now you know why there is an emphasis on mountain sleds and stretch track variants. Right now that's where the action is.
That was reflected in the model line-ups we test rode in West Yellowstone. Deep snow and off-trail exploration seem to be the keys for 2011, but we see some new directions for on-trail riders as well. Polaris revamped its model line, utilizing the Rush-style front end on powder and stretch track models and expanding its Pro-Ride design for aggressive and touring riders as well. Yamaha adds overall comfort with power steering and an air ride suspension option. Ski-Doo brings aggressive power and new handling to its mountain and off-trail models while placing a bet that it will have customers interested in its high-mileage 600 four-stroke models, too. Arctic Cat evolved another year, which was good, but we felt a strong hint that something all-new was on its way for 2012 and beyond. But, what Cat made available as 2011 models ranked high on our fun scale. They ride well, they handle well, they corner well, they have power. But, then we can say that for all of the 2011 models.
Going back over our decades of snowmobile product launch memories, this was a stellar year for snowmobiles.
Related Reading 2011 Polaris Lineup Preview 2011 Arctic Cat Lineup Preview 2011 Ski-Doo Lineup Preview 2011 Yamaha Snowmobile Lineup Preview