2011 Arctic Cat Lineup Preview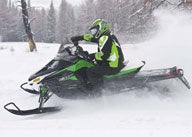 A new 800cc EXT and special editions highlight 2011
Arctic Cat's core business centers around the powersport industry and the manufacture of snowmobiles and all-terrain wheeled vehicles, which means Arctic Cat's corporate people need to be extremely resourceful to weather these tough economic times. Fortunately, Arctic Cat might just have the most seasoned management level in all of powersports.
This is the same basic group that grabbed Arctic Cat out of full-blown failure in the 1980s and hustled to rebuild an iconic brand beginning the summer of 1983. They did it by doing what they had to do. They did it by being realistic with finances, budgets, expectations and riding a snowmobile growth curve that went from 150,000 unit sales in 1992 to more than 260,000 unit sales just five years later. And, let's give Arctic Cat engineering credit; the product itself recaptured that old Arctic Cat "Black Magic" that made this the only snowmobile brand to ever make a successful return from virtual product death.
This is a company that knows what tough times are. This is a company that came from nothing to be one of only four surviving major snowmobile manufacturers in the world. While the current economic landscape may be tough, Arctic Cat has managed to see its stock rise along with its snowmobile marketshare. And they have managed to do this the old-fashioned way by paying attention to business — managing inventory and engineering product that its consumer base wants!
One big winning move for Artic Cat came last season with the re-invention of its 800cc, two-stroke engine. Engineering not only gave it power, but gave it power virtually all across the power curve. Then they placed it in one of the lightest and most refined mountain sled chassis to hit the deep powder. With the Arctic Cat M8's performance backing up any marketing hype, Arctic Cat dealers found themselves with a winner to sell. Rumor has it that Arctic Cat's new 800cc deep snow model owns an easy 60 percent of marketshare in some areas of the western United States.
Another version destined for slow-to-accept-change hot rod flatlanders has begun to make believers out of former Firecat riders. This new engine and its "beats expectations" performance level have given Arctic Cat a big boost in trail credibility. Fortunately, Arctic Cat engineering combined that 800cc performance with a revised handling package that has made the flatland F-series models among the best handling sleds on the market.
Win-Win Momentum
At the moment Arctic Cat seems to be riding a solid "win-win" wave as the company enters the 2011 model year. The company backs its on-snow footing with solid gains in financial support, having secured an arrangement with GE Financial to provide support for dealer programs and the assurance of a Bank of America credit line to make certain that it's business as usual at all levels.
Literally taking this foundation to the bank allows Arctic Cat to build on the four cornerstones of its sled business as outlined this past season. Those four cornerstones remain.
• Speed, as in being the builder of the world's fastest snowmobiles, or in easy to comprehend terms, being the first guy across the lake!
• Ride Technology, significantly being a technology that's smooth, comfortable and assures constant rider control.
• Expert grade mountain sleds, being powder models that optimize ride and handling via lightweight technologies and exceptionally strong power-to-weight ratios.
• Industry-leading horsepower marks the Arctic Cat brand whether it comes from a potent 170-plus horsepower Z1 Turbocharged four-stroke, a one-liter two-stroke or the latest 800cc two-stroke Twin.
Those four concepts are what lie at the core of every Arctic Cat model heading into model year 2011.
Boost Demand
Looking to boost its image and consumer demand, Arctic Cat offers an 800cc version of its extended track EXT. New for 2011, the F8 EXT places Cat's latest 160-plus horsepower 800 Twin into an extended track length Twin Spar chassis fitted with the 144-inch Cobra track that offers a 1.25-inch lug height. The EXT — whether powered by the lightweight, high-power 800cc two-stroke Twin or the 177-hp turbo four-stroke — is designed with on- and off-trail capabilities. On groomed trails the extended length track spinning around the stretched slide-action suspension offers an enhanced ride from its "bridging" effect. Off-trail you get the flotation and grip of the stretch Cobra track.
As with the 2010 Z1 Turbo EXT, which continues into this coming season, the new F8 EXT comes loaded with Fox Zero Pro shocks and Cat's infinite adjustable rider (IRP) features, including adjustable handlebar and seating. Electric start and push-button reverse will be standard.
Arctic Cat adds another new-for-2011 model in the form of the Z1 Sno Pro. This is an addition designed to complement the previous, and continuing Z1 LXR. The base non-turbo four-stroke Twin powers both models, but the idea is to offer four-stroke models with either the LXR version's luxury bent or the new Sno Pro edition's more aggressive nature. If you opt for the more aggressive version, you still retain luxury elements as electric start and reverse blend with sport-tuned Fox Float 2 shocks on the Arctic Cat pioneered wishbone front suspension. There is an aggressive 128-inch track with 1.25-inch lug profile for snow-gripping acceleration and cornering power. The standard windscreen and aggressive styling set this model apart from the LXR, though both feature Cat's IRP rider forward chassis technology and 123-hp four-stroke motor.
The LXR offers a heated seat and standard Fox Zero Pro shocks to make this a standout for serious all-day trail riders. The Fox Float 2 shocks offer a piston and air chamber that's larger to allow a greater air volume for more precise settings on the Z1 Sno Pro model.
Four-Stroke Stability
The addition of the Z1 Sno Pro recognizes a feeling at Arctic Cat that four-stroke sled sales are not diminishing, as some competitors believe. Notes Arctic Cat product manager Joel Hallstrom, "Four-stroke sales are not declining." He sees them, at worst, staying the same.
For 2011 you'll find two versions of the four-stroke Twin, a turbocharged version and non-turbo one. For this season, at least, these will be Arctic Cat's four-stroke options. On the two-stroke side, 2011 Arctic Cats will be powered by the 570 fan-cooled Twin, liquid-cooled batteryless fuel injection Twins displacing 500cc or 600cc, an extension of the high output 800cc Twin and the high-torque one-liter Twin.
The 85-hp, 500cc Twin appears in the Sno Pro 500, which remains in the line for 2011 with few changes aside from recalibration of the EFI. The 500 will also power what Arctic Cat calls its "ultimate trail sled," the F5 LXR.
All F-series LXR models feature the adjustability of the Infinite Rider Positioning (IRP) and will come with a soft-sided, rear storage bag.
The go-fast, lake racer set will be able to order the closest ting they can get to the old Firecat in the guise of the CFR 800 and CFR 1000, both of which will feature Fox Zero Pro shocks and a 14-inch wide 128-inch long track with 1.0-inch lug height.
The new for 2011 Crossfire 6 and 8 — as either a Sno Pro or Limited model — will be the appearance of Fox Pro shocks with a coil-over-spring replacing the suspension's previous torsion spring setup. To allow the Crossfire models better off-trail ability, these models are geared lower than the CFR models, which share the chassis.
Market Winner
Since the M-series deep powder models proved to be such big market winners, they receive minimal changes. The M8 HCR, which is aimed at competition, sees the key switch replaced by a tether cord. As with other powder models, the 162-inch track version has an extension on the rear tunnel to clear traction mods. In addition there is additional protection for the rear coolant hose. The 2011 M6 replaces last year's Fox Float rear shock with Fox Zero Pro. The M8 Sno Pro and M8 Limited feature the Fox Zero Pro shock with coil-over-spring in place of the old style torsion springs.
In the utility and touring end, you'll find changes that include use of the Twin Spar chassis with a 570cc fan-cooled twin in a 20-inch wide track. There's also a Bearcat Z1 XT that Arctic Cat describes as a "sport/utility" sled. It comes with the non-turbo four-stroke.
Continuing the two-up segment for the coming season are a T570 fan-cooled model, which should appeal to rental operators and both turbo and non-turbo four-stroke TZ1 models, including the top of the line TZ1 Turbo LXR outfitted with virtually every option known to snowmobiling.
Special Editions
As is the norm for a new season, Arctic Cat offers a select number of "Limited Edition" models for "spring only" buyers. This year you can find five such models, including: Crossfire 8 Sno Pro Limited, M8 Sno Pro Limited, F8 Sno Pro Limited, Z1 Turbo Sno Pro Limited and even a Bearcat Z1 XT Limited styled in "desert red" and available with a 154-inch track.
So, while sled sales may be down to early 1990s levels, you'll find that Arctic Cat has prepared well to weather the current economic storm by building sleds its customers want, managing inventory that its dealers can best handle and preparing to pull in its corporate claws for the time being, but still planning for better times ahead. That might explain why Arctic Cat gained marketshare in a soft environment and saw its stock value rise in the past few months.
For more details about the 2011 Arctic Cat model line, visit your nearest Arctic Cat snowmobile dealer or visit, ArcticCat.com.
Related Reading
2010 Arctic Cat M8 Review
2010 Arctic Cat Crossfire 8 Review
2010 Arctic Cat Z1 Turbo EXT Review
2010 Arctic Cat Z1 Review
2010 Arctic Cat M1000 Sno Pro 162 Review
2010 Arctic Cat Bearcat 570 XT Review
2010 Arctic Cat Sno Pro 500