Northern Ontario's Incredible Gold Rush Tour – Video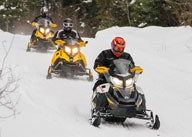 Put this tour in your bucket list!
What exactly is The Gold Rush Tour? This premier Northern Ontario trail destination is perfect for any snowmobiler in search of adventure, cool scenery and an overall epic trail experience.
Developed by several regional tourism representatives, together with media partners, the Gold Rush Tour manages to connect all the communities of the Ontario Federation of Snowmobile Clubs' (OFSC) District 14 – the Timiskaming Abitibi Trail Association.
The main trail on the 660 km loop (410 miles) covers the TOP A Trail to A107C, to TOP C trail to A111C, to TOP A trail, back on A108 to New Liskeard. This allows for easy navigation in northern Ontario, with a goal of offering killer riding conditions as well as a variety of terrain for anyone from a first-time visitor to a seasoned vet.
Despite it's catchy easy to brand name, the Gold Rush Tour moniker was originally chosen because the area in which the route is situated has a rich (literally and figuratively) history in gold mining. Gold was first discovered in the area in 1911. Eight years later a large forest fire exposed much of the bedrock – a blessing to prospectors who discovered more sediment in the area. In 1933 an article in the New York Times (referring to the White Rock mine at Violet Lake and mines at Three Ducks Lake and Beaver Lake) claimed that this was the biggest gold rush since the 49ers of California and the Klondike rush of 1896.
The largest gold mine in the Shining Tree area, The Ronda Mine near Michiwakenda Lake, was opened in 1939 with $6,000,000 invested in it – a huge sum for that period of time. By that time, with the discovery of gold and several lumber camps operating nearby, the population of the Shining Tree area swelled to over 900 residents.
Recently Ontario Tourism, in partnership with Supertrax, BRP and Sleddealers.ca, held a contest where one lucky contestant and a friend would be chosen to ride the epic Gold Rush Tour along with a few experienced guides and journalists – we were lucky enough to tag along as well. Jeff Langevin was the fortunate winner and he brought along his good buddy, Ryan Quigley.
Our trip started off in New Liskeard on Sunday, where we had dinner at Rooster's Bar & Grill before resting up for the next day's ride at the Holiday Inn Express. Monday morning the group hit the trail to Elk Lake in the northwest where we grabbed some lunch at the Elk Cabins. We finished the first day in Gowganda, where the Long Point Lodge hosted us for dinner and a night's sleep.
After breakfast on Tuesday, we continued northwest to Kenogamissi Lake where Marie at Post 392 prepared us a great lunch. From there it was a short ride north to Timmins. After dinner at Cedar Meadows Resort & Spa, we grabbed a good night's sleep at the Timmins Microtel. On Wednesday morning after breakfast, we toured the Wildlife Park at Cedar Meadows before hopping back on our sleds towards Val Gagne and our lunch stop at the Country Inn Bar and Grill. The final stretch on Wednesday brought us southbound to Kirkland Lake for dinner at the Federal Tavern and a much needed sleep at the Comfort Inn.
Thursday was the final day of our tour and we continued southbound to Englehart for lunch at the Esso. Wrapping up our fourth straight day of awesome riding, we rode south back to Temiskaming Shores and the Holiday Inn and said our goodbyes to Jeff, Ryan and the rest of our Gold Rush Tour friends. Both Jeff and Ryan had rave reviews to share about their experience.
"The Gold Rush tour has totally changed my impressions of Northern Ontario and snowmobiling there. As a matter of fact I am currently planning a return trip," says Quigley. "I am planning to bring my wife to show her the area as well as possibly having family or friends along on the trip as well! The drive north was not nearly as far as I thought and the conditions were perfect, making the decision to plan a northern trip yearly part of our snowmobile season."
"District 14 was like nothing I have ever experienced in snowmobiling. It's akin to something you see in magazines," says Langevin. "I had always seen pictures of trails up north and thought to myself, 'yeah, that's just one specific spot.' Nope…it's ALL like that! As a matter of fact, when the trip first started I was pulling over every 10 minutes taking pictures to show people back home – I just couldn't believe how incredible both the condition of the trails were and how beautiful the scenery was. It was incredible for the entire four days! Not to mention the different types of trails…I like to ride fast but it was a little tricky because of all that there was to look at. The logging roads were spectacular; they were two road lanes wide, groomed like a tabletop, and with varying topography. Bridges, waterfalls, forests, hydro right of ways, lakes, and rivers…there was so much variety and all in perfect condition.
With such an amazing trail system in Ontario's Wilderness Region, it makes for easy riding from town to town. And hospitality along the Gold Rush Tour is second to none, making visitors want to return to the area again and again.
The snowmobile season typically runs well into April this far north, so for anyone looking to squeak in one last ride before the warm months take hold, check out http://www.gorideontario.com/ for more information on District 14 and The Gold Rush Tour.
Related Reading Snowmobiling In The Lap Of Luxury – Video World Class Sledding in Sudbury, Northern Ontario – Video Ontario's Interactive Trail Guide Makes Finding Snow Easy Late-Season Snowmobiling in Northeastern Ontario – Video