World Class Sledding in Sudbury, Northern Ontario – Video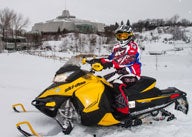 We experienced a multi-day tour we won't soon forget
Ontario, Canada is home to the world's largest interconnected snowmobile trail system. Recently I had the opportunity to explore some of the best trails on the system in the Greater Sudbury area. It's only my second season riding, but my riding companions were all die-hard sledders and assured me that this was some of the best riding around. It was easy to see why.
Over the course of the two days we rode over 400km (250 miles) on impeccably groomed trails with just enough fresh snowfall to create the ideal riding conditions. The temperature hovered between -5 and -10 degrees Celcius (23 and 14 degrees Fahrenheit) and we experienced at least a good dozen distinct types of scenery and trails over those many KMs.
Our basecamp was the snowmobile friendly Chateau Guay Motel. With a massive parking lot, easy access to the trails and spacious rooms with enough BTU's in the heaters to make sure we woke up to dry clothes every day, we were well set for two long-distance days.
On the first day we tackled the 200km Chiniguchi Loop, which was well suited for a novice rider such as myself. I'm used to riding on two wheels in the summer and a snowmobile mile isn't the same as a motorcycle one – but it might be as fun. The trail offered up some interesting scenic changes – we started out with some bunny hops and switchbacks, and then transitioned into a series of long sweeping turns through droopy snow-covered pine trees.
We lunched at Rocky's on the shores of Lake Wahnipitae, and crossing this lake to arrive there was easily one of the most epic moments of the trip. The Sudbury Trail Plan Association (STP) stakes all of the water crossings so that riders unfamiliar with the trails know where it's safest to cross. I can easily say that flying across the wide open expanse of this frozen lake was one of the most exhilarating moments of the entire trip.
Our lunch was perfect snowmobile fare – while some of my fellow riders opted for the healthy options, with salads and chicken breasts, I went whole hog and complimented my side of deep-fried pickles with Canada's national dish, and possibly the official dish of all motorsports, poutine.
After a leisurely ride home, we arrived back at the Chateau Guay and lined up our sleds for a group shot before loading up the trailers. The next morning we'd be waking up early to travel to Hanmer to avoid some of the less interesting connector trails.
That night we dined at Made In Canada in Sudbury, a great restaurant with some authentic Northern Ontario décor and dishes. They have an incredible selection of rare whiskeys, as well a wide range of options for dinner. After my indulgence at Rocky's I opted for salmon for dinner and wasn't disappointed. The faux log-cabin interior of our dining room really made us feel like we were out in the country rather than nestled in a bustling Northern city.
The next morning, we scarfed down a hearty breakfast at the Chateau Guay and trailered out to Hanmer, where we left our trucks and trailers safely behind the Tim Hortons' before tearing off into the wilderness. Our goal for this second day was the larger Cartier Moose Loop. This is not a trail for novices – the long distances, variety of trails and technical complexity of some sections dictates that you have a guide, or have some significant experience with trail riding.
Luckily, there were several experienced riders in our group who coached me through the different sections. The trails started with nice long sweeping curves that led into a series of quick switchbacks following the electrical towers. This changed into some dramatically different territory, with close hanging forests and some quick elevation changes with blind corners. I adjusted my speed more than once to ensure I stayed on the trail.
It makes for a constantly engaging experience when the scenery and trail changes as often as it does here. In the morning we stopped often to take some snapshots, before filling up our sleds and bellies at the Windy Lake Motel and Restaurant. Our afternoon was a long haul back to the trailers, and when we finally arrived back at the Tim Hortons, we all had huge grins on our faces.
That evening we dined at Curious Thymes, a gourmet restaurant inside Science North. Our elevated view of Ramsay Lake, and the delicious succulent ribs were the perfect cap to our day, and we all slept soundly back at the motel.
The following morning, we had the great pleasure of being given a tour of Science North. Riders travelling with kids should absolutely make time for this incredible attraction. Within the first 20 minutes of entering we saw a 3D film, held a tarantula and scorpion, walked with a porcupine, created and destroyed a dam for a river and built and raced four remote control cars.
Although we had a swell time acting like kids, it was riding the snow trails in the area that gave us the biggest thrill. As our guide Chuck had said earlier in the trip, the greatest joy is sharing these perfectly maintained trails with riders from all over the continent.
For complete information of snowmobiling in Ontario, visit http://www.gorideontario.ca/. You can also find out more about sledding in the area by visiting OFSC District 12's website.
Related Reading Ontario's Interactive Trail Guide Makes Finding Snow Easy Late-Season Snowmobiling in Northeastern Ontario – Video Rainbow Country Snowmobile Adventure – Video Ontario's Northern Corridor: Incredible Spring Trail Riding