Two Mountain Snowmobile Shows Ring the 2013 Starting Bell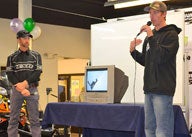 The importance of deep powder snowmobiling is evidenced by these mountain-specific shows
For the past month, two words have given me a rash and an allergic reaction – "awesome" and "epic." I grew tired of "awesome" years ago, and now "epic" just nauseates me, it is so overused. But, I must be the politician here and pull a flip-flop. I recently attended two snowmobile shows, one in Rexburg, Idaho at Rexburg Motor Sports (RMS) and the Intermountain Snowmobile Show in South Jordan, Utah (minutes south of Salt Lake City) – both were "awesome" and "epic." Hand me a glass of water please, I'm choking on my own words.
For mountain riders, four products are essential to their image: one, the mountain snowmobile they drive; two, the truck they drive to the mountains; three, the trailer pulled behind the truck they drive, that hauls the mountain snowmobile they ride; and four, the mountain-tech outerwear they use when riding the snowmobile that matches their persona. All are carefully chosen to radiate who they are. These two shows reinforced the mountain rider's four Freudian personalities.
Rexburg – Awesome
The RMS show was a two-night affair specially tuned to the powder rider. There were many clothing companies on hand – Klim and Motor Fist to name just two. All four snowmobile brands were represented as well as local clubs. For insights into riding the backcountry, tech-riding specialists Bret Rasmussen and Chris Burandt were lending their unique expertise. Plus, performance shops such as Boondockers and Starting Line Products were present to showcase their services, knowledge and products. The sponsoring dealer, Rexburg Motor Sports, is unique in that it sells all four snowmobile brands, thus the two nightly shows attracted all brand buyers. For the manufacturers, regional and district managers as well as factory racers were on hand to discuss the merits of each brand. But, more than that, each night RMS set aside time slots for each manufacturer to capture the audience in individual workshops to discuss the 2013 models.
On the first night, Motor Fist and KIim presented their latest winter wear in a fashion show, each of which was attended by about 200 people. Klim and Motor Fist bring the latest and most high-tech materials to the western snowmobile market – Gore Tex for Klim, eVent for Motor Fist.
On the second night, Rocky Young, the owner of Idaho Falls-based Boondockers, along with Burandt, gave a tech session on turbocharging a snowmobile: the pros and cons, the costs, and understanding the need for such power. Following this, Rasmussen of Ride Rasmussen Style (the Ski-Doo sponsored extreme backcountry tech riding instructor) and Burandt of Burandt's Backcountry Adventure (Polaris sponsored extreme backcountry tech riding instructor) presented their latest instructional video, "Schooled 4," discussed their latest rides – Rasmussen's trick XM Summit, Burandt's modified RMK Pro. Through a question-and-answer session, the pair provided the essentials of tree running and the many forms of wrong-foot-forward riding.
The talk among the attendees focused on the belt driven lightweight RMK Pros and the new XM Summit with its highly nimble chassis. The riders who purchased these new mountain snowmobiles are impatiently waiting for the snow to fall to take the fight to the mountains. The Cat M riders were in the mix, knowing the 800 Suzuki motor is stout and the M8 has 2.6-inches of lug molded to its track. Yamaha riders showed their loyalty by listening to Troy Johnson of Lincoln County Customs, Alpine, Wyo., discuss Yamaha's reliability and the Nytro MTX's natural affection for superchargers and turbochargers. TJ, as he is known, excites the Yamaha faithful.
South Jordan – Epic
The Intermountain Snowmobile Show, a full two-day event, has become a staple in the Rockies. Think of it as the Hay Days of the West, minus the grass drags. It's held at a large equestrian park – a rich man's horse park in South Jordan, but there are no snowmobiles galloping over the steeplechase grounds.
The "who's who" of mountain snowmobiling makes this event an important one for serious deep snow and backcountry riders. They throw a booth into the massive indoor arena and feed on the mountain snowmobiler's questions. The vendor, regardless of product or service, feeds too on the mountain rider's enthusiasm. Yes, it is a feeding frenzy.
At this show, in all its glory, were vintage snowmobiles of the Western Vintage Snowmobile Association (wsvsa.com). Here were snowmobiles ridden by the early mountain enthusiasts. Unlike today, most of these vintage sleds were not mountain-specific.
Our emotion button was pushed big time as my brother Kevin and I recognized two personally meaningful snowmobiles. A 1969 Mercury 220 ER just about brought us to our knees as we recalled it as the first new snowmobile our father purchased when were very young pups.
The second significant sled was a SnoJet 440 F/A ThunderJet oval racer with Jim Noble's name embossed on the hood. The late Jim Noble was the Chuck Yeager of snowmobile racing and mountain snowmobile pioneering in the West. Yes, this ThunderJet is the Bell X-1 "Glamorous Glennis" of the West. Other alloy snapped our attention: a Moto-Ski Sonic 340 and a plethora of Polaris TXs. Mixed with these were early vintage mountain machines – hand built triple-powered and stretched Cats and Polaris' with shiny chrome. A walk through this memory lane made Kevin and I proud to be snowmobilers and humbled to be Snowmobile dot-commers.
The snowmobile show also had an outdoors swap meet. This was the place to go if you wanted to restore a vintage snowmobile, or keep your old iron moving, or wanted to sell old stuff. Also in the big parking lot, many trailer companies displayed their latest purpose-built trailers. The trailer companies who had NASCAR-style trailers were indoors and wowing the crowds with their "uniqueness." Trailers are highly important to the mountain snowmobiler and continue to be of high interest to mountain snowmobilers just as the mountain snowmobile is.
Inside the arena were mod shops and fabricators from Minnesota, Wisconsin, Utah, Idaho, Montana and Canada. Raptor shocks traveled from northern Minnesota and worked hard showing off its latest designs as the company seeks to make it the mountain rider's shock of choice. Raptor views the mountain segment as a very viable and significant segment.
In a final snapshot, these are the highlights we gleaned from the two shows:
• ToBe Outerwear, which was present in the United States and Canada during the early 2000s and who made an exit back to Sweden after a short run, returned in force with its wild colors and "onesies" for those of you who are secure enough in your manhood or womanhood to wear one, and too, whom are just a bit sicko. • Klim and Motor First have highly visible competition with FXR and Scott; FXR and Scott are becoming popular and have big name riders to elevate their clothing vision. • Enthusiastic arguments between the RMK Pro and XM Summit riders were plentiful, with these defending their position on agility. Yet, in the argument were the Cat M8 riders who stood their ground declaring their Ms have the tallest track and the motor with the most horsepower. All are in agreement on what snowmobile is the lightweight king – RMK Pro. • Yamaha, though changes are limited to graphics for the 2013 Nytro MTX, young new riders, those who grew up on four-stroke off-road motor bikes, or fast "bullet" sport bikes, hovered around the Nytro MTX with determination of want, especially the boosted MTXs. • The tunes of "there is never enough horsepower," and "you can never make it too light," remain the number one and two songs in the West. • Shock builder Raptor has the drive to take on Fox and Walker Evans. • Timbersled with its high-end rear and front suspensions, and its Mountain Horse snow bike, proves the Western market remains strong. • Snowmobile riders, who are also faithful ATV riders, defended their companion Yamaha, Bombardier Can-Am, Arctic Cat and Polaris dirt toys with vigor; loyalty to one's favorite color is deep. • Enclosed trailers are becoming more and more a home base for the snowmobiler and his/her groupies. • Vintage snowmobile restoration is becoming a passionate hobby for the westerner. With that, restoring early competition hill climbers too is becoming a passion. • Technical riding personalities Rasmussen and Burandt are respected and very much approachable. • Wallets and plastic were loose, as many attendees were seen walking out with boxes and bags. Ol' Grinch would be proud how these Western 'bilers emptied these two showroom houses.
Overall, shows such as these reflect the fact that the mountain market remains strong and popular. What we also noticed is that most attendees at these shows were at 30 years old and older; with, I'm guessing, the average age at 45. The mountain rider is a mature, aged rider. Furthermore, the mountain market, which historically was about 20 percent of the total snowmobile share, currently represents 30 percent of all snowmobilers. This is remarkable for a market where not much youth is present.
The mountain market is the most visible market, more visible than the other 70 percent – meaning it has the manufacturers' undivided attention as they attempt to begin pulling in the 20-something rider. Over these two shows, enthusiasm was the testimony, and we expect it will trickle down to the younger rider.
Related Reading 2013 Snowmobiles of the Year: Best of the West A First Timer's Visit to Hay Days Inside the Mind of a Snowmobile Test Rider