2013 Snowmobiles of the Year: Best of the West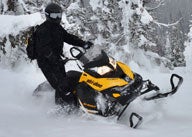 We break down the best mountain sleds in every conceivable category
Every year we hash over what we believe are the best offerings from the Original Equipment Manufacturers (OEMs) for a particular western and high-altitude backcountry niche.
Not all mountain and crossover snowmobiles fill every rider need. However, the OEMs are quite adept at integrating many needs and wants into a specific product. For example, after the 2011 season closed I felt the best mountain sled for MY 2011 was not a mountain snowmobile, but a crossover, which was Polaris' Switchback Assault. Many who rode it agreed. Many did not, but leaned toward the Pro Ride RMK 155. That was then, this is now – MY 2013 is here.
You may recall earlier this year we bundled two mountain snowmobiles as our editor's choice; it was a tie. The two that stood the tallest on the podium were Ski-Doo's XM Summit X 154 with t-Motion and FlexEdge track; and Polaris' Pro Ride RMK Pro 155 with its Quick Drive belt drive system. That was the beginning, listed below are the specifics for our thoughts and choices in different riding categories.
Best Deep Powder
Ski-Doo XM Summit X 154: With its 16-inch wide track, E-Tec 800 power, the XM Summit X (the SP is also worthy) lifts up out of the powder and floats remarkably well. The XM Summit is well balanced and with its new and unique t-Motion rear suspension, FlexEdge track and improved front-end handling and wholly improved balance, the XM Summit is a smart and oh-so-lite-through-the-handlebars snowmobile.
Ski-Doo has refined its Summit line for 2013 and regained, in full panoramic view, its Summit legacy. If Bret Rasmussen will school his students on XM Summits, then you dang well know, this sled is a must have.
Polaris RMK Pro 155 and 163: With its Quick Drive Low Inertia belt drive system, carbon fiber overstructure, new PowderTrac Running Boards, Pro Taper handlebars, moveable kill switch and new Pro Lite seat that is lighter, shorter and shallower, the Pro RMK 155 has the James Bond goodies. Not to end here, the 155 weighs in at 417 pounds.
Honorable Mention goes to Polaris' RMK Pro 163, which has a dry weight of 424 pounds — seven pounds greater than the 155. That is freaking holy cow light for a 163.
The Pros are that in the deep snow on the steep slopes – pros.
Best Four-Stroke Mountain
Arctic Cat M1100 Sno Pro Turbo and HCR: This is a 177-horsepower muscle sled, tuned and boosted with a turbocharger mated to the Suzuki-built, Cat-designed fuel-injected twin-cylinder four-stroke powerplant, which is a 1056cc motor with a single 46mm throttle body EFI. The M1100 with a 162-inch 2.6-inch paddle track is strong in the powder and hits the big bowls and tall chutes with anger. Also, with the vertical steering post, the M1100 Sno Pro Turbo with its weighty four-stroke motor is quite a powder player. It is not an agile tree-picking M8 Sno Pro by any means, but its power stuffed into a ProClimb chassis can handily punch out any mountain chute buried in deep snow.
Best Bolt-On Horsepower
Yamaha Nytro MTX w/MPI Turbo: The 162-inch Nytro MTX is a stable mountain snowmobile, a proven and reliable product that is perfect for bolt on horsepower, specifically, the Mountain Performance Inc. turbocharger. A stock Nytro MTX falls into the 600cc two stroke 103 to 135 horsepower class. Yet, when Yamaha's three cylinder 1050cc four-stroke, electronic fuel-injected Genesis motor is coupled with the MPI turbo, with 7 to 8 pounds-per-square inch boost, 175-ish horsepower pumps down to the track drivers. This seriously reinvigorates the Nytro MTX. The turbocharged Nytro MTX is friendly in the trees when easy-in and easy-out throttle pulses are needed.
Best Crossover
Polaris Switchback Assault w/Powder Track: This snowmobile remains one of my favorite conversation pieces. This Pro Ride chassis crossover is a blend of RMK and Rush components bolted to Polaris' Cleanfire 800 all of which make this the best multi-purpose tool for the snow, in my humble opinion. I believe the optional Series 4.0 RMK mountain track with two-inch paddles makes the Switchback Assault an expressive and a highly competent powder masher as well as a confident trail snowmobile; standard track is the 1.352-inch Cobra. It comes with a 144-inch uncoupled rear suspension, Walker Evans shocks, and ProTaper handlebars. The 144-inch track, with optional RMK track is long enough to keep the sled aloft in the snow, but short enough to dial in the tight rights and loose lefts when clocking along a on a whippy trail.
Best Competition Hillclimber
Arctic Cat HCR 800: This hillclimber from Arctic Cat has awesome power from the Suzuki 800 powerplant. The fuel-injected twin and wide A-arm suspension with tall spindles cinches up the gates when barreling up a hillclimb course. The HCR's ski stance is placed at an adjustable 42- to 43-inches. The 15" x 153" Power Claw track with 2.6-inch paddles is molded with a stiff durometer – 85 – to be strong when hopping over rocks, dirt, and stumps. The HCR has many wins to its credit in the Rocky Mountain Snowmobile Hillclimb Association, due to its proven power and a front end that allows a driver to take a tight line up the course.
Best Four-Stroke Crossover
Arctic Cat ProCross XF 1100 Turbo: Fast, comfortable and may I add again, really fast and really comfortable. This is a crossover that awakens the doldrums when bouncing the whoops on the trail or when flipping snowflakes on a mountainside or meadow. The ProCross XF is not a ProClimb M1100, but it is close. Its steering post is a laydown post that gives the driver clock handle-like swing when throwing right and left hooks. The big Suzuki 177-horsepower twin-cylinder four-stroke motor with turbocharger hauls the chassis with ease, breaking the track loose for that fun power slip around a bend. It breaks powder and trail with ease. In summation, Arctic Cat did well with the XF, giving the rider a crossover with Arctic's new front-end race suspension with FOX Float 2 shocks and sway bar, and FasTrack rear suspension with tri-hub rear axle system, FOX Float 2 rear-arm shock, and a FOX Zero Pro (IFP) front-arm shock.
Best Introductory Crossover
Ski-Doo Renegade Backcountry X 600: It has all the Renegade Backcountry "X" bling with Ski-Doo's reliable and economical 600 E-Tec H.O. This 600 X comes equipped with rMotion rear suspension, KYB Pro 36 aluminum piggyback rear shock with Easy-Adjust compression adjusters, and HPG Plus R aluminum front shocks with no-tool rebound adjuster. The 137-inch track under the Renegade X's tunnel is Ski-Doo's Powder Max with 1.75-inch tall lugs. Remember, the track is 16-inches wide, which gives the Renegade Backcountry X 600 superb flotation.
Best Introductory Mountain
Polaris RMK Pro 600: It is all "Pro" in an RMK Pro body but with a 600 twin and a 155-inch tread. One may think "introductory" is very basic, which it can be, but a 600 is beginning mountain riding. Yet, the 600 RMK Pro brings to the market, "beginning" with "advanced" and "high end." I find the 600 RMK Pro to be the perfect choice for the rider who wants a 417-pound, belt-driven mountain sled with "Pro" amenities such as Pro Lite seat, Pro Taper handlebars, Clean Fire fuel injection, carbon fiber overstructure, and Walker Evans shocks.
Best Four-Stroke Introductory Mountain
Yamaha Phazer MTX: Simple and uncomplicated fun. No horsepower war soldier here. Just a sweet little mountain snowmobile with a 141-inch chassis and a 500cc twin-cylinder four-stroke spinning a 14 x 144 x 2-inch Camoplast Maverick track. At an MSRP of just $8,599, the Phazer MTX has ample torque to carry the sled and its rider in the lower bowls. I consider the Phazer MTX as a beginner boondocker to just below mid-level boondocker. It is a mountain snowmobile that works its way to the top in old school fashion – with skill rather than horsepower.
Best Mountain Utility
Ski-Doo Tundra Xtreme: We are not from Finland, Sweden or northern Quebec. We are mountain guys. A utility sled to us is an XM, Sno Pro, Nytro MTX or Pro RMK. But, as we spent an afternoon on a Tundra Xtreme, we quickly adopted it into our mountain brotherhood as a sled we call: "mountain utility." Quoting Jerry Bassett, "The sled enjoys a huge footprint that measures 16-inches in width and 154-inches of total length. Add in that 2.25-inch tall lug profile and you have a sled that can grip and go just about anywhere in the tundra."
The E-Tec 600 H.O. motor powers the REV-XU utility chassis with ease. Though we rode it in thin air, 5,000 feet and more, the utility sled worked well through the powder near West Yellowstone without complaint. It is strange to see a telescopic front end on a snowmobile, I don't know why – in marketing and engineering speak – Ski-Doo placed these on the Tundra Xtreme, but I do know, the front end bump soakers were stable. I give this utility sled a thumbs up.
Related Reading First Impressions of the 2013 Powder Sleds 2012 Mountain Sled Evaluations: Final Thoughts 2013 Polaris 800 Pro-RMK 155 Review – Video 2013 Polaris 600 & 800 RMK Review – Video 2013 Polaris 800 Switchback Assault 144 Review – Video 2013 Ski-Doo Summit X Review – Video 2013 Yamaha Phazer MTX Review 2013 Yamaha Nytro MTX 162 Turbo Review – Video 2013 Arctic Cat M1100 Turbo Review – Video 2013 Arctic Cat M800 Sno Pro Review – Video