Avalanche Safety and Backcountry Training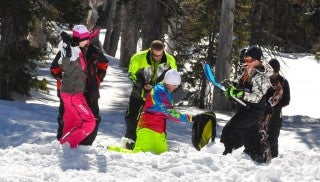 We send a flatlander to the mountains for some training in the steep and deep
Beacons, probes, transceivers and air bags? These were all items that didn't ring a bell for me prior to a recent snowmobile trip out west. I had an idea as to what these things were, but I didn't really understand how they were used. You see, avalanches have never been a real concern to me. Living in Ontario, Canada, they aren't something we have to deal with here and so I only knew about them from watching movies, the news, and reading information online.
When I was planning for a recent snowmobile trip out west, my friend and sponsored freerider, Stephanie Santeford, suggested that we both attend an avalanche safety and skills course to better prepare ourselves for the dangers we might face in the Western Big Mountains. I immediately agreed, because, to be honest, the thought of my first snowmobile trip on a mountain both scared and intimidated me at the same time. I figured that I would prepare myself to the best of my ability should a situation arise while out riding.
To get ready for the trip, I went on the Backcountry Access website and watched videos outlining how to use safety equipment on the mountain. Stephanie and I enrolled in the Driven Workshop, facilitated by Sledchatter.com, which offers an avalanche course presented by Mike Duffy of Avalanche1, and backcountry skills training from Bret Rasmussen.  I remember asking Stephanie at the beginning of our trip if she had ever been in an avalanche. She recalled a time where she almost triggered one with another rider, and also told me about a friend who had been in one. I realized then that the mentality of 'it will never happen to me' no longer applied. Often times, we don't take safety practices seriously until a situation arises that causes us to rethink our strategy for the next time. I know this too well from my travels riding motorcycles and from talking with other motorsports enthusiasts.
Top 10 Things New Mountain Riders Should Know
On our first day of avalanche class in Island Park, Idaho, we excitedly greeted other classmates who were all eager to expand their knowledge about backcountry safety. It was refreshing to see the different ages and skill levels of the riders who were there. Like me, a few were used to riding mainly trails, while others rode primarily mountains. The first day consisted of on-mountain avalanche training. While this sounds somewhat tedious, it was actually a very fun, educational and enjoyable day. We spent time learning about the differences between transceivers, probes, and shovels, and then discussed techniques on how to use the equipment quickly and effectively in an avalanche rescue.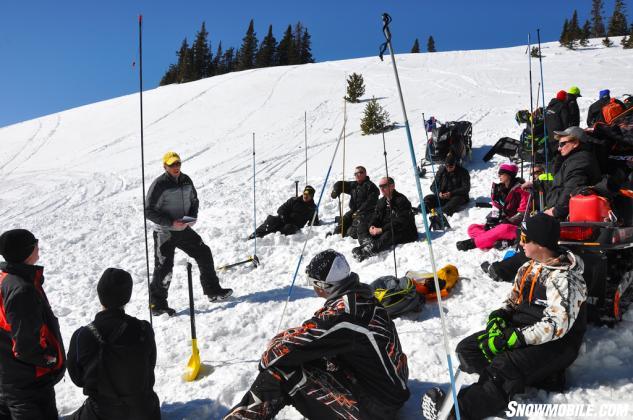 Mike Duffy shares his extensive avalanche knowledge with the group.
Teams were created, and set off one at a time to find transceivers buried deep in the snow by the other team. Rescues were timed with the goal of reaching a buried transceiver within two minutes. We worked as teams to search, probe and shovel snow as quickly as possible, knowing that time is critical during avalanche rescues. The exercises proved effective as we all improved our communication, search times, and digging skills during the span of a half day. I could feel my confidence growing as I became more comfortable with my BCA equipment.
Women Snowmobilers Unite for the 15th Annual Ladies Ride
The remainder of the day was spent exploring the mountain terrain, led by our guide, Tony Jenkins. While taking a break for lunch, I remember looking over and seeing Mike's head peeking out from a four-foot deep pit on the north side of the mountain. Curious, the group gathered around to see what he was up to. He then spent some time explaining the science behind snow layers, and how the different layers provide insight on weather patterns that year, stability, and avalanche potential. While the layers of snow glittered and sparkled in the sun, they also reminded me to have a renewed sense of respect for the mountain, where things can change in a moment's notice. We learned that factors such as wind speed and direction, recent snowfalls and changes in temperature have an impact on the stability of mountain terrain.
In-class training was offered that evening, and gave students the opportunity to watch videos of riders caught in real avalanches. Many of them deployed air bags, which helped to keep them from getting buried deep in the snow. We analyzed each video, determining what the rider did correctly, what they could have changed to avoid getting into an avalanche situation, and how well the rescue went. I found this portion of the workshop very beneficial since I was newer at assessing and judging mountain terrain.
The remaining two days of the driven workshop was spent getting schooled by backcountry instructor, Bret Rasmussen. Each student had the opportunity to individually work with Bret on techniques that were within their skill set. For me, I simply worked on learning how to balance the sled and get it up on an edge, while others worked on honing in more advanced skills. Overall, the workshop offered something for everyone, including a strong leadership team focused on positive encouragement and an emphasis on having fun.
Rocky Mountain Power Teaches Winter Safety Skills
I left feeling more confident as a rider, with valuable safety skills and some long-lasting friendships that will continue for many years to come.
A few other tips I picked up at the Driven Workshop included:
– Wear bright colours (this makes it easier to see you if you are caught in an avalanche) – Smaller groups are better (it is easier to keep track of everyone) – Shovels, probes, transceivers, a radio and an air bag are crucial to avalanche survival – Check the avalanche report before you leave (yes, there is an app for that!) – Always test your transceiver before heading out (test signal strength and battery levels) – Choose a buddy and make sure you keep tabs on them (never ride alone)