Set Your Sled Up Like a Pro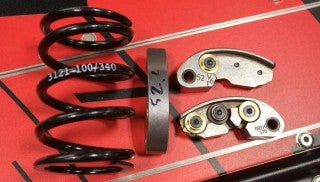 Here's how Tri-City Performance suggests you do it
Tri-City Performance, or TCP as it's better known, is located in Centerville, Utah, where it's been a single line Polaris dealer for 25 years. During that time TCP has established itself as one of the Polaris authorities in the West. Its name is synonymous with quality and performance, because the company's highly qualified and experienced technicians spend time actually running up the snowmobile to make sure that the clutches work as they are supposed to and ensure that before any product leaves the shop it performs exactly as it should. Tri-City customer service has earned the trust of customers who come from all over the West.
Beyond the sale of sleds, Tri-City is well known for its performance capabilities. By conducting relentless hours of testing, tuning, and research and development, TCP knows which aftermarket parts work well on Polaris products and which do not. When there is not an aftermarket part that fills a need, TCP often jumps in to develop its own parts.
Tri-City caters to customers wanting modifications that range from refining the ride to full-blown turbo installations. This year Tri-City put together a very impressive package that improves the performance of the venerable Pro-RMK. These modifications appeal to many RMK owners and promise to give them an edge over their buddies. Lonnie, TCP's service manager, demonstrated the package that TCP determined works great and sets its riders apart from the average backcountry rider.
Wrap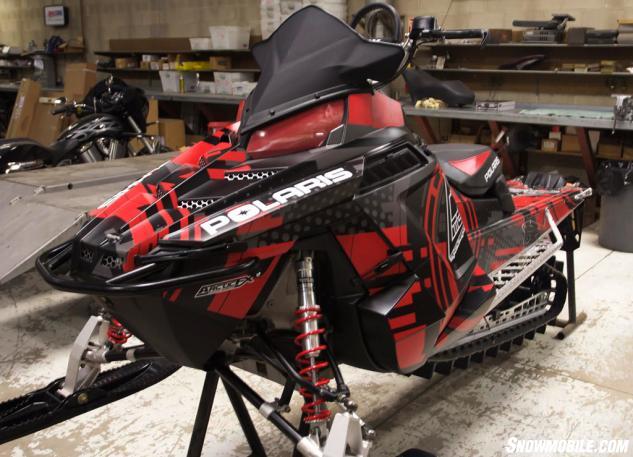 The Arctic FX wrap customized for TCP gives the RMK a distinct look.
Boyesen Rage Cage Install and Review
The black and red TCP themes wrap by ArcticFX visually sets this snowmobile apart from any stock decals. The sheen is flat and gives the snowmobile an almost tactical look. It helps the owner personalize his snowmobile. One of the most noticeable items about the wrap is that while the headlight is covered, it does not reduce the brightness of it.
Front Bumper
Tri-City decided that the factory bumper was inadequate for backcountry use.  Since there were no aftermarket bumpers available that they liked, it designed its own front bumper. Not only does it go where the factory bumper mounts but TCP also added its own mount. The theory behind this bumper is that it will deflect the tree or whatever you are running into and leave the bumper and sled unharmed. This improved bumper also provides the rider with a better handhold to grab when the sled gets stuck. Plus, the TCP bumper definitely gives the front end a custom look.
Challenger Three-Inch Track
Since three-inch tracks were the new rave this season, TCP offered a fix for those that feel their tracks are a little vertically challenged. Tri-City has a kit that will make a 155-inch stock track a 156-inch by three-inch tall, or if you feel like you are going to be lucky enough to score big powder days, a 162-inch track is available.
TCP uses a Challenger X3 track with a 3.0 pitch. Because the track is so much taller than a stock track, the driver must be exchanged for a smaller one that will allow the track to clear the tunnel. Tri-City uses an Avid three-inch seven-tooth driver. The factory driver must be pressed off and the new driver pressed on. Lightweight eight-inch Fabcraft wheels replace the stock rear suspension wheels.
How To Change the Oil in a Snowmobile
What will this three-inch kit do for an RMK? "It's a poor-mans turbo sled," says Lonnie. "The three-inch track is the single biggest mod we do to the snowmobile."
Kurt's Polaris Quick Drive Gear-Down Kit
TCP's full-kitted Pro-RMK also benefits from a gear-down kit made by Montana-based Kurt's Polaris. The kit replaces the factory belt and both sprockets with a Kevlar belt and two billet aluminum sprockets. The kit takes the factory gearing of 2.09 ratio to a 2.42 ratio. Throttle response is greatly improved with a gear-down kit. Top end speed will be reduced with this kit, but we don't know why anyone would buy a mountain snowmobile based on its top end speed. Lonnie noted that you would be quite surprised as to how much deflection there is in the short Kevlar belt. For that reason TCP installed a Fire and Ice belt tensioner.
Tri-City Performance Clutch Weights and Clutching
Anyone who has attempted to mod their snowmobile by adding a few aftermarket parts probably had to learn that if the snowmobile is producing more horsepower, then the weights in the primary clutch must also be increased or the snowmobile will over-rev. Many clutch weights must be purchased and tested to figure out the correct weight.
Saving you that experimentation, TCP conducted its own research and development to create a single clutch weight that could be adjusted to the needs of that application. It is a steel weight that has brass weights along with steel, tungsten, and aluminum hardware that can be moved back and forth to get the desired performance out of the weights. The required RPM that the clutch engages has been effectively reduced, meaning that the snowmobile can maneuver at lower RPM in technical riding conditions. Top end capabilities, however, have not been reduced.
How to Set Up Your Sled's Suspensions
Tri-City also changed the rear secondary clutch spring to a factory Polaris black/purple spring. Tri-City also lightly scrubs the clutch sheaves in order to increase the ability of the belt to turn the clutches. The scrubbing reduces heat and component wear.
Refining the PRO RMK
Anyone who has tried to access the panels of an RMK has likely noticed that Dzus fasteners can be a headache. To make side panel removal easier, TCP installed a Wasatch Recreational Products WRP hood latch kit. Essentially, this replaces the factory Dzus clips with a stud and elastic to hold it in place. These kind of hood latches have been around for many years.
Since backcountry riders typically ride standing up, that causes a bit of a problem when you want to look at the instrument pod. Tri-City installed a gauge lifter kit, also made by WRP, that puts the instrument pod at an easier to read angle. The gauge lifter also adds another location for cooling air to go in the hood.
On this particular setup TCP did not touch the motor. TCP feels that the track, gear-down kit, and clutching gave provided the desired results.
For more information about this impressive build or others, contact Tri-City Performance at 801-298-8081 or visit tricityperformance.net.
The TCP Pro-RMK Set-Up Parts List
Track Kit • 156 – US$1889.23 (plus install) • 162  – US $1939.23 (plus install) • Challenger X3 – 15x156x3 – US$1349.99 • Challenger X3 – 15x162x3  – US$1399.99 Fabcraft composite eight-inch wheels – US$103.90 Avid 3-inch driver – US$299.99 TKI offset axle kit  – US$116.95 Miscellaneous parts – US$126.15 TCP Bumper – US$219.99 (plus install) Kurt's Polaris Gear Down Kit – US$599.99 (plus install) TCP Clutch Kit – US$326.66 WRP Hood Latch Kit – US$69.95 (plus install) WRP gauge lifter Kit – US$74.99 (plus install) Arctic FX custom wrap kit – US$599.99 (plus install)