2017 Polaris 800 SKS 155 Review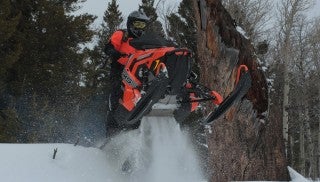 Every bit the Pro, in a Pro-RMK sense
Of all the snowmobiles we tested and evaluated for model year 2016 (last season), the one that pleasantly surprised us and was tested beyond its capabilities was the Polaris 800 SKS 155 with Series 6 2.6-inch paddle track.
Fast Facts
Engine Type:Horizontal In-line
Cylinders:2
Engine Stroke:2-Stroke
Valve Configuration:Reed Valve
Displacement:795 / 48.5
Starter:Pull
Turbocharged:No
View Full Spec
As we poked around the mountain peaks during the winter season 2015 and 2016, we saw a small army of AXYS SKS riders hitting the grinders. Equipped with most of the same components as the AXYS Pro-RMK, the current SKS is all mountain business. Sure, it may have a few pounds of heft over that of the Pro-RMK, but no never mind, it delivers deep-powder and deep-backcountry fun.
Polaris broadcasts SKS dry weight at 443 pounds. With its chaincase, bogie wheels, and additional front heat exchanger, it is believed to be a few pounds lighter than Arctic Cat's 153 M8000 Sno Pro, Limited and Mountain Cat (Arctic Cat does not publish dry weights for its M8000 line). It is three-pounds heavier than Ski-Doo's Gen-4 REV 850 Summit SP 154. Not bad for a mountain snowmobile that competes against these brands, let alone its own brother, the Pro-RMK 155 which is approximately 25 pounds lighter, depending on options.
For model year 2017, the SKS 155 returns as it was in 2016, but with renewed interest from the RMK crowd and media.
First, how is the 2017 SKS different from the highly popular Pro-RMK? First and foremost, the SKS 155 uses a chaincase, which is the same robust drive system Polaris' RMK Assault uses, which as you know, the RMK Assault is Polaris' unshakable competitive hillclimb racer. Second, the SKS 155 uses bogie wheels on the rear suspension as a means to keep the hyfax in cool temps and the track sliders from overheating. Thirdly, it has a front heat exchanger, up near the track drivers, to assure the motor remains cool on warm or low-snow days. Here in the west, we often don't need this additional cooling, but Polaris feels the SKS 155 may be relegated to some crossover and trail duties.
The SKS comes equipped with PowderTrac runningboards, Gripper skis, Pro-RMK seat and the same handlebars –Pro Taper – as the Pro-RMK. You've got that right, the SKS is a Pro-RMK with a front heat exchanger, chaincase and bogie wheels. Given equal riders or a single rider with a high skill set, and place he or she on SKS 155 and a Pro-RMK 155, each with Series 6 2.6-inch paddle track, the SKS will hit the hills, dales, slopes, deep-powder and tree covered sidehills with the same intensity. We've seen it, we've done it.
Other niceties include Polaris' premium interactive instrument pod, high-end Walker Evans piggyback clicker shocks, color-matching front bumper, rear color-matching seat support, and color-matching ski hoops; varied-height Pro Taper handlebar posts (three height choices to choose); and optional Burandt bags.
Shocks for the SKS include a Walker Evans AXYS Premium front track shock, Walker Evans Premium rear track shock and at the skis, Walker Evans Premium IFS shock. These have piggyback reservoirs and dial-adjust compression and dampening knobs.
Regardless of added spring-buy wizardry and bling, the 2017 SKS comes equipped with the patented Raised AXYS RMK Chassis and 800 Cleanfire H.O. Engine, which has three-stage electronically-controlled exhaust valves, lightweight crankshaft (to reduce rotating mass), electronic oil pump and V-Force reeds on the intake; all just like the Pro-RMK. The SKS's drive is clutch is the P-85, and its driven is the TEAM LWT.
The 2017 SKS 155 shares the same rear suspension and front suspension as the AXYS Pro-RMK – AXYS RMK and AXYS RMK Adjustable respectively. It also shares the same laser cut rails as the Pro-RMK. At the front end, ski width is an adjustable 39, 40 and 41 inches. The SKS rides on the same tall forged aluminum A-arms as the Pro-RMK.
Forging is a process where aluminum is beat, under great pressure, into the needed shape. Casting is a process where hot molten aluminum is poured into a mold to produce the parts. Forging produces stronger (than cast), but lighter components.
The forged A-arms have bend points that absorb impact energy, rather than sending said energy to the tunnel, causing it to wrinkle. Wrinkled or bent tunnels are tunnels the insurance representative says "replace."
Given all the above, what did we learned about the AXYS SKS 155 after riding a 2016 for a full season and testing the 2017? Well, the SKS acts very much AXYS Pro-RMK like. The SKS 155, when dressed up in orange, blue or red, is a good looking mountain snowmobile that basically is a bogie wheel- and chaincase-equipped "Pro" 155 with Series 6 track.
Of all the challenges we meet at Snowmobile.com, one of the toughest is choosing our Mountain Snowmobiles of the Year, which includes one overall Mountain Snowmobile of the Year, and one in other categories such as "Deep Powder," "Four-Stroke," and more. If we had a category for "Fondness" or "Our Sweetheart" or "Overachiever and not Forgotten" it would be the SKS 155.
Of the deep-powder snowmobiles we had for the 2015-2016 season – M8000 Limited 162, Pro-RMK 163, SR Viper M-TX 153 – the SKS 155 was the one deep-powder player I kept gravitating to. Photographer Jake Allred snagged it from our Idaho lot and took it for a month for some photography work in Utah, and wow, did I miss it.
Perhaps you are gaining an understanding the SKS is that good. We must blame it on our past love affair with the early Pro Ride Switchback Assault 144 with deep powder Series 4 track. Over a period of several seasons, we had two Pro Ride Switchback Assault 144s, tested them hard, loved them fiercely, and carried this fondness onto the SKS.
The SKS 155 is an overlooked, overachieving snowmobile. Polaris' Series 6 2.6-inch paddle track is phenomenal and we believe it is Polaris' best track at managing the AXYS chassis in most mountain snow conditions.
We've poured out much on to the SKS, which was a Snow Check only snowmobile. There is a standard SKS 155 that is in-season, and is not fully loaded. The in-season non-Pro SKS remains as a 155, but uses the Series 5.1 track which has 2.4-inch paddles.
Front shocks on the standard SKS 155 are Walker Evans Compression Adjustable piggyback, the rear suspension front track shock is a Walker Evans Impact-Extruded Monotube, and the rear rail shock is Walker Evans Compression Adjustable piggyback. Polaris has given the standard SKS 155 a good shock package.
Its tunnel is not painted, nor does it have color matching bumpers, ski hoops and seat support. Rear tunnel and handlebar bags are not part of the ordering program, but can be added as a purchased accessory from a Polaris dealer. The standard SKS looks just as the raw in-season Pro-RMK appears.
Back to our point on the SKS not being "less than" – if we were handed a standard SKS to bang the mountains near Island Park, Idaho, or Alpine, Wyo., we would not head to the truck and drive home. No way and no how. We would dress up in our Klim, MotorFist or FXR gear, grab our camera and avalanche equipment and tear up the slopes. We are just that way. We like the SKS, Pro or Standard.
Polaris has written into its program a renewed interest in its SKS line, which has ebbed and flowed as much as the Mississippi river. But beginning with season 2016 and continuing through 2017, the SKS appears steady, strong and willing to give learning mountain riders (standard SKS) and highly-skilled mountain riders (SKS with Series 6.0 track) permission to be hungry on the mountains. The AXYS SKS is not, and will never be, an SKS with yesteryear's history.
2017 Polaris 800 SKS 155 Specs
Engine
Polaris Cleanfire two-stroke high-performance 795cc; bore/stroke of 85mm/70mm; two-cylinder, liquid-cooled; Cleanfire electronic fuel injection system; dry sump lubrication
Horsepower
160+
Drive
Polaris Chaincase with Polaris P85 driver and TEAM LWT driven
Front Suspension
AXYS RMK adjustable A-arm; Walker Evans shocks; up to 9-in of travel; Gripper skis
Rear Suspension
Polaris AXYS RMK parallel slide rail; Walker Evans gas shock; up to 16-inches of travel
Length
131.0 in
Height
49.125 in
Width
46.5 in
Ski Stance
Adjustable 39-40-41 inches
Track
15 x 155 x 2.4 Series 5.1
Brake
Polaris AXYS RMK LWT hydraulic disc brake
Weight
443 pounds (Claimed)
Fuel Capacity
11.5 US Gal
Features
STANDARD: High rise Pro Taper handlebar; electric start; electronic reverse; Pro Lite seat; digital gauges OPTIONAL: storage bags, windshields
MSRP
US$14,199