2009 Arctic Cat F1000 Sno Pro Review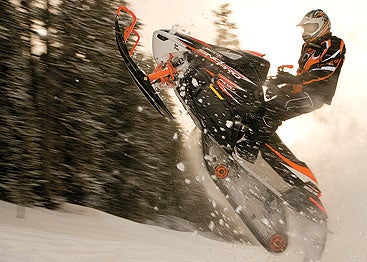 Arctic Cat's one-liter 2-stroker snarls, bites and tears at its competition
As one Arctic Cat rider told us recently, "I'm not really a big engine sled rider, but when I had the F1000, I really liked hitting the throttle and feeling the power." As for his not being a big engine sled guy? The fellow has graduated to Cat's Turbo Z touring model.
Fast Facts
Engine Type:Horizontal In-line
Cylinders:2
Engine Stroke:2-Stroke
Valve Configuration:Reed Valve
Displacement:999 / 61
Starter:Pull
Turbocharged:No
View Full Spec
As for the all-out 2009 Arctic Cat F1000 Sno Pro, it is Cat's king of the 2-strokes. You don't buy this sled if you are the shy and retiring type. You buy the 999cc Arctic Cat sport monster because you like power, handling and the ability to rip across a lakebed ahead of the pack. There's nothing reticent about the F1000 Sno Pro.
Not Subtle
If you want subtle, look elsewhere. A big and bold statement resides under the hood of the F1000. Built by Suzuki to Arctic Cat specifications, the liquid-cooled twin measures 999cc in total displacement from a bore of 90.3mm and a stroke of 78mm. With plenty of stomp, the big cylinders are fed via 50mm throttle bodies controlled by Arctic Cat's proven batteryless electronic fuel injection system. While the 2009 Arctic Cat F1000 is very similar to last year's version, you should expect to benefit from updates and revisions to the electronic control unit, which was remapped in favor of performance and fuel efficiency. But, hey, if you bought a high-performance sled, is fuel mileage really a prime consideration?
The 2009 F1000 uses exhaust pipe sensors and power valves to regulate exhaust pipe temperatures to help maintain peak performance. The big twin of the F1000 is designed to provide torque for quick getaways and ultimate acceleration. With an estimated 160-plus horsepower on tap, the F1000 Sno Pro can give the new Turbo 'Z' model all it can handle off the line. The one-liter 2-stroke is designed to be a torque monster, which makes it popular with powder riders who get it with the long-tracked M versions.
Don't expect any great revelations in the drivetrain. To help assure smooth starts, the 2009 edition relies on the Arctic Cat version of the planetary Diamond Direct Drive that ensures relatively low track speed at clutch engagement. Cat engineers felt comfortable using the system with its performance models like the F1000 Sno Pro because it doesn't sacrifice top speed.
Improvements
However, as with any new model, you can look for improvements. In this case, the drive system gearcase was machined to allow placement of an additional gasket to seal the case and cover. The upgrade gasket replaces silicone that was used in both 2007 and 2008 models.
With Arctic Cat now buying into the Ski-Doo pioneered electronic reverse system on its big-bore 2-stroke, engineers eliminated both gearcase reverse and nine pounds of weight. It simply means less weight but more convenience as the push button reverse simplifies off-loading your new F1000.
Considering that most buyers want performance first, they should be happy to discover that the 2009 F1000 Sno Pro includes top notch ride and handling. While Arctic Cat has gotten its new rider-forward chassis design to work well in accommodating a wide variety of riders, Cat engineers relocated suspension points to improve ride and top speed. The rear arm in the new Slide Action skidframe was moved back to improve top speed as well. Also relocated were the pivot points at the tunnel, rails and rear shock. The rear suspension brackets were also relocated.
Because the mounting point at the rails was moved rearward to reduce wear against the front track drivers, engineers lengthened the front arm limiter strap and added three adjustment holes. You can adjust pressure on the front skis by making adjustments to the strap. You'll note that the front shock arm in the Slide Action suspension is longer so it can work with a new mounting position that is higher than last year's design. Moving the idler wheels forward required gusseting the arm to give it greater clearance.
Racing Lessons
Many suspension changes for 2009 came directly from Team Arctic racing. The use of the U-shaped front arm slot that fits over a shaft bolted across the tunnel came straight from Team Arctic's Sno Pro race sled. The design allows a half-inch of 'sliding' movement that prevents the front arm from torque locking, even during acceleration. The result is improved ride comfort, better control when hitting bumps and keeping the skis planted during acceleration, virtually eliminating ski lift when accelerating through corners. Our test rides in Colorado last spring can attest to Cat's claim. All the new performance Cats bit hard in the turns.
While it's not really a suspension feature, the 2009 F-series features heat exchangers that now bolt on, so they can be more readily replaced if damaged.
Rigid Design
The suspensions work well because the chassis does. The latest Twin Spar chassis was specifically designed and manufactured to be exceedingly rigid. While it was Yamaha that first focused attention to both chassis rigidity and centralizing mass to enhance ride performance, it is Arctic Cat engineers that have worked hard to achieve its goal of chassis stiffness and ride control with the F-series. Arctic Cat's Twin Spar design features two box-aluminum spars triangulated with the steering supports and tunnel spars. To add strength to the design Cat uses self-piercing rivet construction for joint rigidity and durability. By comparison to Cat's previous Firecat chassis, the rider-forward platform is said to be 46% stiffer.
While all of that works in concept, what it all means to you, as the rider, is simple. More comfort and control. The Twin Spar chassis puts you eight to 12 inches farther forward, sitting in the neutral portion of the machine. Your position is maximized with a taller seat and handlebar location, giving you better control in rough conditions.
Power Plus
As a top of the line 2-stroke, the Arctic Cat F1000 Sno Pro comes with more than just potent power. You get the full-featured Infinite Rider Position (IRP) system that gives you a seven-position adjustable seat with both forward and vertical adjustability; 11-positions of handlebar adjustment that includes a full 85 degrees of rotation; and adjustable footholds. All of this adjustability makes this Cat one sled that truly can fit virtually any rider.
While it is performance that makes this one-liter F-series model stand out, it comes with many nice to have standard features to justify its price of US$12,499. Even though the standard windscreen is low, it has wide flares to direct wind away from the hooked-end handlebar and provide added protection for your hands. The bar comes with a five-inch adjustable handlebar riser. Of course, there are the standard high/low settings for the heated hand grips and thumb warmer.
Premium pieces are expected and come standard. There are the latest version of Fox Float ski shocks for control of the Arctic Wishbone front suspension's 9.5 inches of travel. The rear suspension features coupling blocks, adjustable torsion springs and gas-charged Fox shocks to control up to 13.5 inches of travel.
Add in a set of single runner plastic skis and 128-inch Cobra track with 1.25-inch lug profile and you have a king Cat designed to light up the trail from straightaway to hairpin corner and back onto the straights. The 2009 Arctic Cat F1000 Sno Pro won't be for everyone, but if you are a serious hot rod snowmobiler looking for action, you owe it to yourself to visit an Arctic Cat dealership and take a peek at the king of Cat's two-stroke action line.
2009 Arctic Cat F1000 Sno Pro Specs
Engine
Arctic/Suzuki 999cc, two-stroke, liquid-cooled, twin; 50mm throttle body, batteryless electronic fuel injection
Horsepower
160-plus (Estimated)
Drive
Arctic Diamond Drive
Front Suspension
Arctic AWS VII A-arm suspension; Fox Float shocks; 9.5-inches of travel
Rear Suspension
Arctic Slide-Action parallel rail slide with Fox IFP shocks; up to 13.5-inches of travel
Length
118.0 in
Width
47.25 in
Ski Stance
43.0 in
Track
15 x 128 x 1.25 Cobra track
Weight
N/A
Fuel Capacity
12.6 US Gal
MSRP
$12,499
Related Reading
2009 Arctic Cat F6 Sno Pro Review
2009 Arctic Cat Crossfire 5 Review
2009 Arctic Cat F5 LXR Review