2009 Arctic Cat F5 LXR Review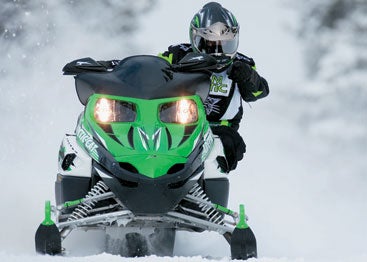 One seriously underrated sport sled
Call the 2009 Arctic Cat F5 LXR one of the most underrated snowmobiles available. With 85 horsepower, modest by sport sled standards, the F5 won't blow away its competition, but it does give you a blend of just right performance that centers around handling and on-trail comfortability.
Fast Facts
Engine Type:Horizontal In-line
Cylinders:2
Engine Stroke:2-Stroke
Valve Configuration:Reed Valve
Displacement:499 / 30.4
Starter:Electric / Pull
Turbocharged:No
View Full Spec
We don't really understand why Arctic Cat chose to make the F5 so mild. Just a few seasons ago, you could get a 500cc sport Cat with 105 horses under the hood. Based on the Firecat chassis, that earlier rendition really was a sneaky performer, capable of 90-plus miles per hour across a long lake. Yeah, we didn't believe it either until we were the ones pulling the throttle trigger and watching the speedometer.
Today's 499cc twin is the milder version that appeared contemporaneously with the Firecat-based 500, but was used in Cat's touring or more modest trail versions. For 2009, the 85-hp motor is used in just two other models beside the F5. You'll find the durable twin powering the Crossfire 5 and T500. Ironically the Crossfire 5 is pretty much a longer-tracked version of the Firecat. Since only three models come with the 500 twin, Arctic Cat probably hopes to simplify manufacturing and ease dealer inventory.
If you are new to snowmobiling and want a sled that will be smooth running, ready to hit the trails every day, and offers above average on-trail handling, then the F5 should fit you fine. For perfect fit, though, opt for the LXR version. This offers what Cat calls its Infinite Rider Position (IRP). Essentially this accounts for the US$700 up charge versus the standard F5.
Infinite Ride Positioning
When this option first appeared, we kidded an Arctic Cat sales rep that he really didn't need to load up his dealers with more than one sled per horsepower category as IRP would fit any customer, leaving engine size and horsepower as their only real choice. He didn't see our point.
Once you step aboard the F5 LXR in a dealer showroom, you will get the point. Whether you are a strapping lad or petite lass, Cat's ride position can be fitted to you and your preferred riding style better than new dungarees.
We have witnessed a mature lady rider take an IRP-equipped Arctic Cat for a brief test ride at a dealership and come back in saying that the sled was all wrong for her. Well, it was! The previous rider had been nearly a foot taller and close to 100 pounds heavier.
The Arctic Cat dealer asked the customer to wait while he adjusted the sled to fit her. He chose the best one of seven seat position changes to lower the ride height. Then he had her reach to the adjustable handlebar and fitted the bar and grips to her satisfaction. He could have further fit her by moving the footrests into a better position. Then he asked her to give the sled another test ride. Bingo! She was all smiles after that ride.
Features, Benefits
That added investment for the LXR model also provides electric start and Arctic Cat push-button reverse which was designed specifically to work seamlessly with Cat's planetary gear-based ACT direct drive. This is not the same as Cat's new-for-2009 electronic reverse found on F8 and F1000 models. That system is essentially the same as the setup used by Ski-Doo and Polaris that stops the engine and reverses it.
Arctic Cat likes the Diamond Drive for luxury models as it engages at low revs and permits very smooth driveaway. Cat also claims that it doesn't sacrifice top speed, but, hey, with only 85-hp, who'd really notice?
We found virtually all 2009 F-series models to be exceptional handling snowmobiles. Cat engineering has really evolved its Twin Spar chassis into one of the best handling designs around. Reworking the suspension mounting points on the chassis sounds like a small change, but it turned out to be a really big thing. Along with suspension revisions, Cat claims the change resulted in improving the F-series' ride and top speed. This change works in concert with moving the Slide Action suspension's skid frame back a bit. All of the changes in relocating the tunnel, rail and shock pivot points helped create a sled that gives you great confidence when putting the throttle in while hugging the turns.
Suspension Cushion
You get up to 13.5-inches of rear travel and 9.5-inches of front travel for a cushy ride. The F5 LXR features Cat's seventh iteration of its double-wishbone front suspension. We think you'll like it, as there is a more progressive ratio steering for reduced effort. Improvements in steering also come from a revised steering angle and reworked settings to better control bump steer.
Both front and rear suspensions use hydraulic shock absorbers. Frankly, despite Cat's obvious attempt to keep the final cost to the customer in check, we'd really like to see more fade-resistant gas shocks used.
What you do get is good. The LXR upgrade includes the better gauge package with digital readouts, including a clock. Yeah, it didn't sell us either. But we do like being able to choose between digital and analog speedo and tach readouts. The dual trip meters, engine hour meter and electronic fuel level indicator are nice to have.
Standard expectations include heated handgrips and a functional windshield. As we've pointed out before, Arctic Cat engineers expect the windshield to not only provide sex appeal in the dealer showroom, but to actually block cold. These guys get it. The LXR midheight windshield does function in the real world. Thank you, Cat guys!
All in all, the US$8,199 you plunk down for the F5 LXR is more than you would pay for the standard F5 or an 80-hp Yamaha Phazer GT, but you receive good value for a sled that will be comfortable and sporty to ride. This 2009 Arctic Cat will fit you and your riding style for many winters to come.
2009 Arctic Cat F5 LXR Specs
Engine
Arctic/Suzuki 499cc, two-stroke, liquid-cooled, twin; 38mm throttle body, batteryless electronic fuel injection
Horsepower
85 (Estimated)
Drive
Arctic Diamond Drive
Front Suspension
Arctic AWS VII A-arm suspension; hydraulic twin tube shocks; 9.5-inches of travel
Rear Suspension
Arctic Slide-Action parallel rail slide with hydraulic twin tube shocks; up to 13.5-inches of travel
Length
118.0 in
Width
47.25 in
Height
47.2 in
Ski Stance
43.0 in
Track
15 x 128 x 1.0 Hacksaw
Weight
NA
Fuel Capacity
12.6 US Gal
MSRP
$8,199
Related Reading:
2009 Arctic Cat F6 Sno Pro Review
2009 Arctic Cat Crossfire R 8 Review
2009 Arctic Cat F570 Review
2009 Arctic Cat Z1 Turbo Review