2010 Arctic Cat Z1 Review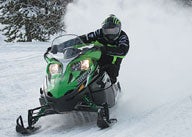 Latest Z1 offers outstanding handling and reliability
Originally referred to as the Arctic Cat Jaguar Z1 when it appeared in 2007, the Z1 featured Arctic Cat's new ride forward technology and a whole new look. As the next generation model and replacement for the popular Firecat, the Jaguar Z1 was condemned or applauded depending on what kind of Arctic Cat rider you were. Hardcore go-fast Cat riders didn't take to it. Long distance riders warmed to it, but for many loyal Arctic Cat fans, the Jaguar Z1 was too much for them all at once. It was a totally departure from the low-slung, quick-handling Firecat. Then, too, it came with an all-new Suzuki-built four-stroke twin that was heavier and not as potent as the much-loved Firecat 700 two-stroke twin.
Fast Facts
Engine Type:Horizontal In-line
Cylinders:2
Engine Stroke:4-Stroke
Valve Configuration:DOHC
Displacement:1056 / 64.4
Starter:Electric
Turbocharged:No
View Full Spec
For 2010 the latest iteration of that breakthrough next generation fares better with most Cat loyalists, but there are those who unwilling to give up their Firecats. For them, Arctic Cat marketing and engineering gives them their butt-back riding style in a Firecat-like CFR series with a choice of either an 800cc or one-liter two-stroke powerplant. Designed to be quick and fast in the Firecat tradition, the CFR models feature a 14-inch wide by 128-inch long track, low handlebars and enough Firecat ancestry to appeal to hardy Firecat hangers-on.
The Z1 brought Cat's Twin Spar chassis to the masses. Only available on the early Jaguar Z1 when it first appeared, the Twin Spar concept dominates the modern Cats from the Bearcat utility model to the hot rod F-Series SnoPro 800. Today's 2010 Arctic Cat Z1 comes in two flavors. There is the standard version that gained updates that make it one of the smoothest riding, surest cornering sport sleds on the market. If you want to go a bit more upscale and spend another US$500, there's the Z1 LXR that adds a deluxe informational gauge, a standard tunnel bag for storage and Arctic Cat's proprietary Infinite Rider Positioning (IRP) system that includes adjustable handlebars, foot rests and seat.
Both come with the 1056cc four-stroke twin that kicks out 120-plus horsepower with a generous 78.2-lbs-ft of torque at 8000 revs. That puts the Z1 models — standard or LXR — in competition with Yamaha's Vector and Ski-Doo's GSX series.
Extra Value
For the extra few hundred dollars, we'd probably opt for the LXR version. But, the base model will satisfy most serious long haul riders as Cat's Twin Spar design effectively moves your riding position forward so you can see the trail better and respond quickly to changing trail conditions. The design also allowed engineers to place the tallish Suzuki four-stroke low and centered in the chassis for best handling. The center of gravity is low and even though you sit taller in the saddle, the sled feels very stable on the trail; especially since Cat engineering revisited the Twin Spar chassis handling capabilities two seasons ago.
Arctic Cat engineers grew very annoyed when they kept reading test editors' complaints that the Twin Spar chassis sleds just couldn't hold a grip in the corners. With a major focus on handling, Cat engineering took the Z1 from trail cruiser to trail aggressor. Today's Z1 bites hard in the corners. That's a darn good thing, because the Z1 serves as the basis for the Z1 Turbo, which adds nearly 60 more horsepower and increases torque to a very serious 121 lbs-ft of fury.
The basis for that power comes from serious turbo boost of the basic powerplant that propels the base Z1. If you were to test ride the turbo version first, you'd say the standard Z1 was underpowered. That's not the case as it meets the challenge of its Yamaha and Ski-Doo four-stroke competitors very well. The latest Yamaha Vector now features electronic fuel injection, something the Arctic Cat Z1 offered as standard equipment right from the get to. And, while its competition uses three cylinders, Cat's Z1 features one less cylinder and gives you the same deceleration feel you were used to with Cat's two-strokers when you ease off the throttle. Heck, for 2010 Yamaha makes a big deal out of announcing that it reduced its four-stroke engine braking — something that Cat offered with the first Z1 model.
Upgrades
For 2010 you'll find the base Z1 appears relatively unchanged from the past year. That's deceptive. Yes, styling may be kept to some new graphic enhancements, but there are changes that make the 2010 version an upgrade. For example, the exhaust and muffler are 10-lbs lighter than before. There's an 8-lbs reduction from a change in the Z1 seat. The new design features an integrated, zippered pouch that replaces the old plastic storage box. The change also allows you to add an accessory attachment system. The Z1's running boards have been designed to keep snow from building up as much. Opening up the snow evacuation perforations in the running board area cut weight as well. The Z1 tunnel now features a more durable heat exchanger and the change led to use of a bright LED taillight and new snow flap design.
As you would expect from a trail sport sled, the 2010 Arctic Cat Z1 blends sport handling with high-mile capability. The four-stroke twin should provide ample range from its 10.8-gallon tank. You can expect smooth on-trail performance thanks to the seventh generation A-arm front ski suspension. The base Z1 uses RydeFX shocks and a sway bar to control its 9.5-inches of travel. You'll note a similar RydeFX shock on the rear suspension assisting the adjustable torsion springs on Cat's slide-action design with its 13.5-inches of travel. There's a 15×128 Hacksaw track with 1.0-inch lug profile spinning around the parallel rail slide suspension.
For convenience, you get electric starting and push-button mechanical reverse. For safety, this base trail model enjoys Arctic Cat's proven hydraulic brake system. Should you pop for the LXR model, you gain the adjustable IRP features as well as an upgrade to Fox Zero Pro shocks on the front and rear suspensions and a heated seat, which makes spending a bit more for the LXR an easier decision.
Overall, the 2010 Arctic Cat Z1 should prove to be not simply a high mileage runner, but a very fun high mileage maker as it is one serious handling trail cruiser with all the proven goodies to make it a solidly reliable runner for seasons to come. In today's economic environment where value for the dollar is paramount, the Z1 stands out.
2010 Arctic Cat Z1 Specs
Engine
Arctic/Suzuki 1056cc, 4stroke, liquid-cooled, twin; electronic fuel injection
Horsepower
123-hp; 78.2-ft/lbs torque
Drive
Arctic rpm-sensing drive and roller cam secondary ACT drive system
Front Suspension
Arctic AWS VII A-arm suspension; RydeFX shocks; sway bar; 9.5-inches of travel
Rear Suspension
Arctic slide-action parallel rail slide with RydeFX gas shock on rear arm; adjustable torsion springs; up to 13.5-inches of travel
Length
118.0 in
Width
47.25 in
Ski Stance
43.0
Track
15 x 128 x 1.0 Hacksaw
Fuel Capacity
10.8 US Gal
MSRP
US$10,299.00 Standard/US$10,799.00 LXR
C$12,699.00 Standard/C$13,299.00 LXR
Related Reading
2010 Arctic Cat Z1 Turbo EXT Review
2009 Arctic Cat Z1 Review
2009 Arctic Cat TZ1 Turbo Touring LXR Review