2010 Arctic Cat Z1 Turbo EXT Review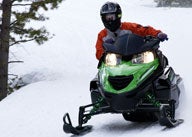 Continuing a proud performance legacy
Arctic Cat's performance legacy dates back to the summer of 1970 when the company added a racing-oriented EXT to a line that included the Panther, Puma and a value-priced Lynx. The 1971 EXT came about as Arctic Cat embraced Kawasaki power, adding it as standard equipment on many models. Flash forward nearly four decades and you'll find the EXT namesake continues as a potent 2010 model.
Fast Facts
Engine Type:Horizontal In-line
Cylinders:2
Engine Stroke:4-Stroke
Valve Configuration:DOHC
Displacement:1056 / 64.4
Starter:Electric
Turbocharged:Yes
View Full Spec
No longer relying on Kawasaki for power, this 2010 version of the EXT brings the most 4-stroke power ever dropped into a production snowmobile chassis in the form of a twin-cylinder, one-liter, turbocharged engine that delivers 177 horsepower and 121 ft.-lbs. of torque. Measuring 1,056cc in overall displacement from a bore and stroke of 98mm x 70mm, the Suzuki-built, Arctic Cat-specified motor uses ramped up Arctic Cat engineered clutching, consisting of an Arctic rpm sensing driver mated to a roller cam driven. Power feels seamless as your throttle thumb engages the intercooled engine's electronically fuel injected intake. There is virtually no turbo lag. And, as we discovered at nearly 11,000 feet of elevation in the mountains around Grand Lake, Colo., the turbo charger gobbles ambient air and packs it with fuel to leave essentially no power drop.
Based on our experience with the short track turbocharged Z1 Turbo and TZ1 Turbo Touring with the elongated track, the Suzuki's power appreciates the bigger paw print of the 144-inch track. It bites instead of slips. The added bonus is that the longer track and suspension eats up mini-moguls for a smoother ride. That's exactly what we liked about the 2010 Z1 Turbo EXT — a smooth ride with incredibly smooth power.
Unique Model
If you want to ride a sled that is uniquely yours, check out the EXT. We suspect that Arctic Cat engineers kept this model in their hip pocket, waiting to see the reaction to the new turbo models. These guys ride what they develop. So, you know, they had to know that a sled with this much power and torque would like putting its ample power to a longer track. Anyone who rode the two turbo models would have known that as well. In some circumstances the touring version with its 144-inch track was actually a better overall performer than the 128-inch equipped Z1 Turbo. We will admit to preferring the longer track's functionality, even if we didn't adore what the two-up, too mature for us touring guise said about us. After all, we still see ourselves liking to mix our gray with some flashy Arctic Cat performance green. The touring version is nice and all that, but it's for older guys isn't it?
There is no doubt that the 2010 EXT is for the performance-oriented rider, graying or not. This sled anchors Arctic Cat's claim to having the "world's fastest" sleds. It does it with style and Cat green flash. As such, you figure right away that the EXT is no entry-level model, but it does have some unique values attached to it. You expect a premium sled to come with premium features and this one does.
Premium Values
We've discussed the 15-inch wide by 144-inch long, lightweight Cobra track. It adds bite with the benefit of 1.25-inch tall lugs and traction setting stance gained from the Arctic engineered slide-action skid frame with coupling blocks that keeps the front planted in both acceleration and deceleration modes. There's a Fox Zero Pro shock with internal floating piston acting on the suspension's rear arm and adjustable torsion springs for fine-tuning your ride. This set up provides up to 13.5 inches of travel.
The front suspension reflects seven generations of Cat's A-arm design. This AWS VII double wishbone suspension delivers 9.5 inches of travel controlled via Fox Zero Pro gas shocks. The EXT is a surprisingly adept cornering machine considering the added complexity of the 4-stroke twin and its attendant intercooled turbo. Designers fitted this personal sport model with 6-inch wide skis, which adds a stiffer and deeper keel for added cornering prowess. The new skis, though wider and deeper, actually reflect a nearly 2-pound reduction versus last year's ski design. A stout sway bar modifies side-to-side movement for cornering agility. To further decrease chassis roll, a third mounting bracket for the sway bar was added.
As with other premium Arctic Cats, the 2010 Z1 Turbo EXT is built around the box-aluminum Twin Spar chassis. You'll find this model incorporates the tipped down front with revised geometry for vastly improved cornering, which were changes added last season. As a premium model, the EXT comes with nearly infinite adjustability for the handlebars. The EXT features a 5-inch riser, which measures two inches taller than the one found on the standard Z1. There's even an accessory mountain strap available as Arctic Cat engineering anticipates this model being used to break trail in heavy snow areas, such as Michigan's Upper Peninsula and the heavy snow areas of Quebec and Ontario.
Analog/Digital Instrumentation
Another premium feature is the combination digital/analog instrumentation. You can set the gauge to read out in digits or watch the sweep of a speedometer arm. There's a dual stage trip meter, electric gas gauge, clock and warning lights if the coolant would overheat or oil runs low. Of course, you get the expected thumb and hand warmers.
New features from Arctic Cat include the integrated storage pouch, which replaces last season's plastic storage box, a new LED tail light said to be brighter for improved on trail visibility, and open pattern floorboards that are both lighter and reduce snow build up. Like the optional mountain strap, the floorboard design is deep snow inspired and further evidence that Arctic Cat engineering views the EXT as an off-trail capable model. If we were betting people, we'd suggest that the Crossfire chassis is living on borrowed time and that the EXT set up will be the future for Cat's "hybrid" models.
Arctic Cat's EXT is not going to be for every snowmobiler. If, however, you like turbocharged performance, the smoothness and other advantages of a 4-stroke, Arctic Cat's aggressively bold Twin Spar styling, and the proven on-trail agility of the latest Arctic Cat models, then you should stop by an Arctic Cat dealership and take a look at this sled.
On or off trail the 2010 Z1 Turbo EXT will more than live up to its EXT legacy and make a mark as it is incredibly powerful, extremely well-mannered on trails, smooth and comfortable to ride, and… did we mention, awesomely quick and breathtakingly fast?
2010 Arctic Cat Z1 Turbo EXT Specs
Engine
Arctic/Suzuki 1056cc, 4stroke, liquid-cooled, twin; intercooled turbo; 46mm single throttle body, electronic fuel injection
Horsepower
177-hp; 121-ft/lbs torque
Drive
Arctic rpm-sensing drive and roller cam secondary ACT drive system
Front Suspension
Arctic AWS VII A-arm suspension; Fox Zero Pro with IFP shocks; sway bar; 9.5-inches of travel
Rear Suspension
Arctic slide-action parallel rail slide with Fox Zero Pro gas shock on rear arm; adjustable torsion springs; up to 13.5-inches of travel
Length
125.0 in
Width
47.25 in
Ski Stance
43.0 adjustable
Track
15 x 144 x 1.25 Lightweight Cobra
Weight
N/A
Fuel Capacity
10.8 US Gal
MSRP
$13,699
Related Reading
2010 Arctic Cat Sno Pro 500
2009 Arctic Cat Z1 Turbo review
2009 Arctic Cat F1000 Sno Pro Review
2009 Arctic Cat Crossfire 5 Review
2009 Arctic Cat F5 LXR Review