2011 Arctic Cat CFR 1000 Review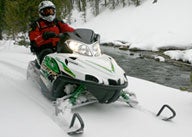 Arctic Cat creates a screamer Muscle Sled
Man has this innate love for speed. Straight. Long. Fast. Viper and Corvette style. Top fuel dragster style. For you, the junkie who seeks speed therapy, your prescription is Arctic Cat's CFR 1000.
Fast Facts
Engine Type:Horizontal In-line
Cylinders:2
Engine Stroke:2-Stroke
Valve Configuration:Reed Valve
Displacement:999 / 61
Starter:Electric
Turbocharged:No
View Full Spec
When evaluating crossover sleds for Snowmobile.com we find these machines take to our abuse quite well. But, now and then, we like to light 'er up a bit. When scheduling mountain and crossover evaluations for Snowmobile.com, we added in Arctic Cat's 2011 CFR 1000.
When we approached that, uh, crossover, at our Yellowstone test site something did not appear right. The sled was low, wide in the front end and had tucked in handlebars and a low windshield. Arctic Cat's Media man said, "Fast sled for lake blasters and mafia lords." So, no deep powder stomping on the menu, but sheer scare and tear down the trail and around the lefties and righties. "We're good with that."
As we learned, CFR is not for Crossfire. The CFR though, is your big man on campus speed sled. Its big Twin two-stroke, with torque meant to twist the Earth on its ear, is sassy and fast and locked in and down for the sharp turns.
Cat blows its trumpet when this sled takes center stage as their go fast, go long, and go straight muscle sled. But, be aware the Cat's AWS suspension holds corners; it is as sweet through sharp right and left turns as it is blowing steam down a straight away.
The Basics
Let's get through the basics. The CFR is powered by Cat's electronic fuel injected 999. The motor's bore is 90.3 mm with a stroke measuring 78mm. Big 50mm throttle bodies feed the motor its fuel and air.
To handle the "handling," the CFR's front suspension is Cat's AWS VI double-wishbone A-arms with lightweight aluminum FOX Zero Pro (IFP) shocks, with adjustable preload springs and a sway bar. Front travel is projected at 9.2 inches. Ski-stance is adjustable from 42-inches to 44-inches.
Out back, the rear suspension is Cat's FasTrack long-travels system with adjustable torsion springs, lightweight aluminum FOX Zero Pro (IFP) shocks with coupling blocks. Travel for the rear skid is 13.5 inches. Track dimensions are 128 inches long by 14 inches wide. Lug height is one inch.
For ergos, the seat is shallow, to position the rider in an aerodynamic position. The handlebars are adjustable: height and tilt. However, these are not like the telescoping bars on Cat's M series (mountain). Height adjustment is minor, yet the tilt forward and backward is needed for aggressive cornering. Handlebar hooks are standard.
Our Opinion
The seat is covered with tough and slippery material, which makes for fast butt action that allows the driver to drop left or right with ease. For me, well, I understand its concept, but I prefer a more tactile feel. I like a seat that is resistant to slip.
The Sno-Pro skis keep the sled positive on the trail. The low lug height track, one-inch is all, does not bully the skis through the corners. However, speaking specifically to the track, I think the one-inch lug height is wrong for this sled. I recommend a 1.25-inch lug height, as the big mill 1000 spins the track more than needed. However it is Cat's intention to allow the rider to dive into a corner while slamming shut the 50 mm throttle bodies for a nano moment, to kick the CFR back into life and allow the track to break loose and swing out to straighten the sled; this is power skidding through the chicanes. Personally, I prefer more hook than skid. Where allowed in your state or province of choice, ice picks would be needed to tame the big twin's torque as it rotates the track at light speed.
Color for the CFR 1000 is white with Cat lime green graphics. Price is estimated at US $11,899 and CAN $14,499.
2011 Arctic Cat CFR 1000 Specs
Engine
Arctic/Suzuki 999, two-stroke, liquid-cooled, twin; 50mm throttle body, batteryless electronic fuel injection
Horsepower
160 (estimated)
Drive
Arctic RPM sensing drive with Arctic roller cam ACT driven
Front Suspension
Arctic AWS VI A-arm suspension; Fox Zero Pro shocks; 9.2-inches of travel
Rear Suspension
Arctic FasTrack long travel parallel rail slide with Fox Zero Pro shocks; up to 13.5-inches of travel
Length
121.0 in
Width
48.0 in
Ski Stance
Adjustable from 42-44 in.
Track
14 x 128 x 1.0
Weight
NA
Fuel Capacity
12.6 US Gal
MSRP
US$11,899.00 — C$14,499.00
Related Reading
2011 Arctic Cat Crossfire Review
2011 Arctic Cat Z1 Sno Pro Review
2011 Arctic Cat Lineup Preview
All Things Arctic Cat on Snowmobile.com