2011 Arctic Cat Z1 Sno Pro Review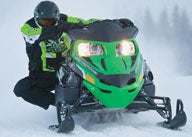 Arctic Cat adds serious sport to its trail cruiser
There's a niche of snowmobiles that exists in a seeming vacuum. These are the normally aspirated four-stroke sport cruisers. Powered by 120 to 130-plus horsepower engines, these models sit in the background while their two-stroke counterparts get the bulk of the attention as they are deemed lighter and more amenable to serious and aggressive trail riding.
Maybe this is true. But, maybe it isn't as for 2011 Arctic Cat decided to add some serious spice to its Z1 trail cruiser by going full Sno Pro. That means the base Arctic Cat four-stroke should gain some followers who felt the base Z1 (first known as the Z1 Jag) was just a bit too much cruiser. The Sno Pro option adds the latest Fox FLOAT 2 shocks for grip and grab action on the Z1 Sno Pro's seventh generation Arctic Cat wishbone front suspension. The rear suspension features a two-inch diameter Fox shock with internal floating piston. This shock package puts the Z1 Sno Pro on the same basis as its "hot rod" two-stroke counterparts like the 800cc Sno Pro version.
Of course power from the normal four-stroke versus the turbocharged motor is a full 20 to 30 hp less, depending on which dyno sheets you want to go by. Still, we were pleasantly surprised at the West Yellowstone sled evaluations by the overall performance of Arctic Cat's Z1 Sno Pro. As one of a special breed of four-strokes, the Z1 engine offers 123 hp at 8500 RPM. That compares to similar sporting rides that include Ski-Doo's 1200 MXZ and Yamaha's Vector GT, all offering similar power and coming equipped with sport suspensions and styling. The Z1 delivers a stout 78.2-ft-lbs of torque at 8000 revs. This gives you the impression of stout pull out of the corners and very smooth bottom end and midrange performance. If you like your four-strokes truly mean, opt for the turbocharged version of the Z1, which gives you 177 hp and 121 ft-lbs of torque.
Sno Pro Upgrades
The non-turbo Z1 Sno Pro gains on-snow traction from the use of an aggressive 1.25-inch tall lug profile on its 15×128-inch track. Then you blend in the carried over features like the slide-action rear suspension and aggressively angled ski spindles. The rear suspension features a unique coupling design that actually slides a half-inch to give the sled more controlled ski lift during hard acceleration. And, despite all the hoop-la generated by some new suspension designs, we found the Z1 Sno Pro to handle all manner of bumps from slight ripples to full on close together stutter bumps as well as anything we rode during our weeklong sled evaluations. Don't let the hype fool you; the Arctic Cat rear suspension works extremely well in all conditions.
Infinite Ride Setup
Tie that in with the Twin Spar chassis' inherent body stiffness and the multiple seating positions available from the Infinite Rider Position and you have an extremely capable trail sport sled that can be set up for your personal preferences as well —if not better than — anything on the market. Our only complaint is that Arctic Cat's IRP seat is inconsistent from sled to sled. On one sled the seat's action is smooth and easy, while on another sled it will stick and require three hands to make an adjustment. The idea is wonderful. The execution needs to be addressed.
Further setting apart the Z1 Sno Pro is what Arctic Cat calls its flyscreen windshield. Frequently we complain about these tiny windshields, but with Arctic Cat, we aren't going to because we know you can visit the accessories catalog and get just exactly the windscreen that'll fit your needs. And, besides, the flyscreen fits the character of this sled perfectly.
As one of a trio of serious sport four-stroke cruisers, the Z1 Sno Pro rates highest with us when it comes to handling prowess versus the Ski-Doo 1200 and Yamaha Vector. The Z1 comes with the least power and you will notice it, especially against the new fuel-injected Yamaha Vector triple. But overall, there isn't all that great a difference other than your own personal preferences between the three sport cruiser four-strokes. But, versus the hot rod two-strokes, you should enjoy the benefits of four-stroke performance — namely superior trail mileage, quiet operation, and long haul durability and convenience. We put the Z1 Sno Pro high on our list of sleds you should check out for 2011. When you want to run hard, the Sno Pro package is there for you. When you want to sit back and rack up a day of miles, the Z1 powerplant gives you smooth, all day performance. Since this sled can be adjusted to suit your style, it should be one of the most personalized snowmobiles you could ever own.
As we said in the beginning, adding the Sno Pro package to the Z1 added a new dimension to what may be one of Arctic Cat's more underappreciated models. The Sno Pro offers a new way of looking at this trail-friendly cruiser.
2011 Arctic Cat Z1 Sno Pro Specs
Engine
Arctic/Suzuki 1056cc, four-stroke, liquid-cooled, twin; dual 48mm throttle body, electronic fuel injection
Horsepower
123
Drive
Arctic RPM sensing drive with Arctic roller cam ACT driven
Front Suspension
Arctic AWS VII A-arm suspension; Fox Float 2 shocks; 9.5-inches of travel
Rear Suspension
Arctic Slide-Action parallel rail slide with Fox shocks; up to 13.5-inches of travel
Ski Stance
43.0 in
Track
15 x 128 x 1.25
Weight
N/A
Fuel Capacity
10.8 US Gal
MSRP
US$11,199 – C$13,549
Related Reading
2011 Arctic Cat Lineup Preview
2010 Arctic Cat Z1 Review
2010 Arctic Cat Z1 Turbo EXT Review
2010 Arctic Cat Sno Pro 500
2010 Arctic Cat M1000 Sno Pro 162 Review
All Things Arctic Cat on Snowmobile.com