2013 Arctic Cat M1100 Turbo HCR vs. Yamaha Nytro MTX SE with MPI Turbo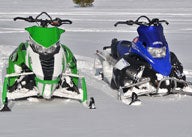 Mountain Turbo Shootout
Sitting in our mountain test fleet, we have a 2012 Nytro MTX SE 162 fitted with the "optional" Mountain Performance Inc. (MPI) turbocharger dealer installed by local Yamaha shop, Rexburg Motor Sports of Rexburg, Idaho. We rode this Nytro MTX last winter and since no changes were made to the 2013s and the sled got to us late, we opted to keep it for another year to forge as better understanding of the Yamaha turbo-kitted "stocker."
When we go out to play, we're left in a quandary. What class does this snowmobile fit into? Without the turbo the Nytro MTX with its 1049cc three-cylinder, four-stroke fits into the 600cc twin-cylinder two-stroke mountain class. But with the turbo installed, it's designed to run with the 800cc two-stroke twins.
Unlike Yamaha, which addresses powder power with its limited availability "optional" dealer-installed turbo kit, Arctic Cat actually has full production mountain turbo sleds. The M1100 can be had either with a turbo (Sno Pro or HCR) or without. The Sno Pro or HCR is the only factory-built turbo mountain snowmobile – it is in a class by itself in this regard. Still, it only makes sense to compare it to the turbo-powered Nybro MTX.
Over a period of two weekends, we secured a 2013 M1100 turbo HCR from Arctic Cat and stacked it up against our 2012 MPI-boosted Nytro MTX. We used Island Park, ID and Garns Mountain near Rexburg, ID as our playground for this evaluation.
Our weekend riding in Island Park was dedicated to general mountain riding and boondocking in sticky powder. Weekend two was much the same as weekend one, but with straight line speed runs and veteran test rider Kevin Allred as driver. Below are the stats we pulled from our speed runs – 500 feet, three-percent grade. For our own sick curiosity we ran the turbos against a 2013 Arctic Cat M8 Sno Pro LE, which was a way to see how two mighty Arctic Cat Ms would do against each other.
Speed Run Results
Model
Run no. 1
Run no. 2
Run no. 3
Average Total
Yamaha Nytro MTX SE with MPI Turbo
7.93
7.61
7.78
7.73
Arctic Cat M1100 Turbo HCR
7.89
7.86
7.67
7.80
Arctic Cat M8 Sno Pro LE
8.53
8.43
8.62
8.52
Analysis: The two boosted snowmobiles' times have a delta of 0.07 of a second, with the Nytro MTX having the quickest time on average. This shows the two are as close as two competitors can be. Of course as any mountain rider knows, snow conditions frequently change, so these results could flip-flop.
Our curiosity about the turbo versus the 800cc Cat two-stroke was satisfied as we discovered that the M1100 HCR had a faster time than its M8 brother, but only by 0.72 of a second. This tells us the M8's strong two-stroke twin-cylinder motor is brawny.
Nytro MTX 162 Turbo
Last winter season, we spent ample time on our boosted Nytro, but it seemed to lack crisp motor and clutch response. Since we were interested in getting the best impression of the turbo Nytro, we put in a call to corporate Yamaha to see if there was a way to resolve our issues. And, of course, Yamaha shared our desire to get the most out of the Nytro test sled and okayed a session with Troy Johnson at Lincoln County Customs, Alpine, WY, for a refresh. Johnson is a Yamaha advisor and builder of Yamaha's modified Nytros for the company's hillclimb team (Rocky Mountain Snowmobile Hillclimb Association – RMSHA). With his vast knowledge, Johnson looked over our sled and updated the MPI Nytro to its finest. He removed the T9 skis to install Yamaha's stock powder ski (in our opinion, the best stock mountain ski in the business), installed a new rear turbo intake tube, fined-tuned the clutches and dialed in the MPI control box for maximum launch. When he was done the blue 2012 Nytro MTX was not as we knew it.
The MPI-boosted Nytro MTX, due to its strong power-to-weight ratio, feels lighter than what the MTX is; boosted power proves strong. However, boosted four-stroke mountain snowmobiles have a drawback, they like to jump out of a launch – they are on-and-off snowmobiles. Basically, smoothly rolling into and out of the throttle is tricky as they tend to hurdle into and out of their RPM. Yet, the Nytro MTX, as tuned by Johnson, did not have a hard on/off feel, though it was present.
The Nytro MTX worked in deep powder quite well. It would roll right and left with ease. However, when placed in thick trees on a steep hillside, the Nytro MTX's horizontal handlebar swing made side-to-side transitions cumbersome. Also, the Nytro's runningboards did not clean snow as we expected.
Overall, the Nytro MTX with MPI turbo will be a mountain snowmobile we will have a hard time parting with. We have come to appreciate its friendly boost, its confident track and its rumble. Yet, the Nytro MTX in is fifth year is dated, it needs a refresh where smoother body lines are needed, and more boondocker-compliant steering to keep the rider's arms parallel to his shoulders.
Arctic Cat M1100 Turbo HCR
Like the tuning Johnson gave the turbo Nytro, Cat assured its M1100 Turbo HCR was settled in for the high noon shootout. Technicians with Arctic's Hillclimb Team double checked the turbo to make certain its intake, charge and boost lines were properly routed, secured and unrestricted, and the clutches were properly configured for the elevations we were going to ride. Furthermore, Cat tuned the front and rear suspension to ensure the shocks were properly set up at optimum air pressure for powder float and trail chatter soak. Time was also taken to tighten the steering and to assure track alignment and tension were spot on.
In our two weekends, we learned the M1100 HCR is a heckuva bump soaker. On launch, it doesn't pack its skis like the Nytro MTX, but it runs scalding fast. We also learned it is a high-alert on-and-off motor. When creeping through the trees, the driver – me – tumbled over the hood when chopping off the fuel. Also, its engagement raps in with suddenness. I had to mind my manners when boondocking at a slow poke pace. The powerful M1100 HCR is a big-bowl and large chute killer.
Yet, regardless of the above, I had a wonderful time on the M1100 HCR and could call one my own.
Kevin Allred's Viewpoint
We are very familiar with Yamaha's Nytro MTX. We took delivery of our MTX January 2012 after Rexburg Motor Sports installed the MPI turbo. If installed by a factory-authorized dealer, Yamaha's warranty remains in effect. Yamaha claims a 45-horsepower gain with this application. Since Cat builds a factory-installed turbocharged four-stroke mountain sled, we wanted to evaluate our Nytro MTX against Cat's M1100 Turbo. Both boosted sleds have similar horsepower ratings in the high 170s.
The boosted Nytro MTX is powered by a 1049cc three-cylinder motor and is fitted with the Yamaha-designed and Camoplast-built 15-inch x 162-inch Ascent track; lug height is 2.5-inches.
The Cat M1100 is powered by the Arctic Cat-designed and Suzuki-built turbocharged and intercooled 1056cc twin-cylinder four-stroke motor. The boosted Cat turns a similar track to Yamaha's Nytro MTX, 15-inch x 162-inch Power Claw track with 2.6-inch tall lugs; this track is an Arctic Cat exclusive. The track on the HCR M1100 is an 85-durometer competition track – the measurement for lug stiffness. The HCR is set up for competition hillclimb racing where stiff lugs help propel the snowmobile over rocks, stumps, frozen dirt and icy-snow.
As you can ascertain, both sleds are comparable in horsepower and track length. Furthermore, both use Fox racing shocks; the Yamaha utilizing Float 2s, the M1100 running on Float EVOLs.
Two noticeable differences in the two sleds are the front end suspension geometry. Both use A-arms, but vastly different steering post configurations; the MTX with horizontal steering configuration, the HCR with a vertical steering post.
The Yamaha Nytro MTX has strong hard-hitting power. It will launch and pack its skis for 20 to 30 yards. Its Camoplast Ascent track is one of the best on a high-horsepower sled; it nicely couples to the boosted power. The MPI uses an exhaust system that exits in the tunnel above the track, which produces a sweet rumble that says "I'm not stock." The MPI turbo requires 91-octane fuel and produces around nine-pounds of boost.
I find with more experience on the boosted Yamaha, I gain more confidence in backcountry handling – the predictable and instant power helps. Simply, the more I drive this sled the more I like it. I admit, it will be hard for me to give up the boosted Nytro this spring.
When I look at the M1100 and our M8, I'm amazed how Arctic Cat built one chassis to handle a boosted four-stroke motor and a fuel-injected two-stroke; this chassis/motor package is used from trail, race and mountain-sleds.
The M1100 HCR has strong and quiet power that's somewhat deceiving. During our speed runs, my seat-of-the-pants feel told me the MTX was much faster than the Cat. But with our Brower timing system telling the truth, the Yamaha was faster by only 0.07 of a second.
The M1100 has an adaptable suspension. Whatever a trail or mountain dished out, the M1100 handled itself with confidence and comfort; I would rate this suspension amongst the best. Backcountry handling on this sled was predictable. The 2.6''x162'' power claw is a perfect match for the high-horsepower sled.
As the manufacturers continue to progress towards cleaner and more efficient motors, the four-stroke motor seems to be here to stay. Will the four-stroke replace two-stroke power? Time will tell, but in the meantime these boosted high horsepower sleds are a lot of fun.
Our Conclusion
Excellent fun. Both turbos are a delight. The HCR is sneaky fast. The Nytro launches like a funny car, but it needs modern runningboards and clean plastic.
Four-stroke turbos have their place, big bowls and chutes; in the trees they are tricky to handle – not my favorite. Still, the grin factor these turbos deliver is well worth the throttle squeeze.
Lastly for us, we did not mind the sleds' weight, we accept that. When the sleds were trenched in, our fun-o-meter dropped to zero. But, when the turbo fire was lit, weight was the last thing on our mind.
Related Reading
2013 Yamaha Nytro MTX 162 Turbo Review – Video
2013 Arctic Cat M1100 Turbo Review – Video
2013 Mountain Snowmobile Shootout: Part I
2013 Mountain Snowmobile Shootout: Part II