2013 Arctic Cat XF1100 Cross Tour Review – Video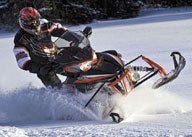 Redefining high-mileage performance
Model year 2013 for Arctic Cat will be one of evolving an all-new sled series into an even better one for the future. Give Arctic Cat engineering credit. That group scored big with the newest breed of Cat when it was introduced last season. It came with an aggressive new look and features that reminded Cat owners of why they preferred Cats in the first place.
The bold, tall-spindled Arctic Race Suspension front end told every snowmobiler that this Arctic Cat was different. A closer look at how the new Cat came together suggested even more that this new breed redefined Arctic Cat as a sled to come home to. And, to the chagrin of the market leader, many former Arctic Cat owners left their current rides in favor of this new in-your-face model. There is nothing subtle about Arctic Cat snowmobiles. And that's exactly what gives the Thief River Falls, Minn. snowmobile brand such enthusiastic loyalty.
Arctic Cat snowmobiles boast of power with no apologies. The Cat's top-of-the-line 177-horsepower turbocharged engine makes trail riders kings of the straightaways. The 800cc two-stroke twin can face down the competition as well. And even the more modest base 1100cc non-turbocharged four-stroke twin makes no apologies in the hotly contested 600 category.
In that class of 120-horsepower snowmobile performance, Arctic Cat went away from the traditional 600cc two-stroke power source in favor of a cleaner, more fuel efficient and oil-thrifty four-stroke. Admittedly, Arctic Cat had to make a change as its own 600cc two-stroke couldn't cut the new EPA standards, but Cat engineering could have opted for a more clean burning two-stroke technology. Instead, Cat rolled out its 1100 four-stroke to contest the class.
According to Arctic Cat sales folks, the move made Cat's 600 alternative a success as Cat claims it sold more four-strokes last season than Yamaha, which is all four-strokes in all models.
A year ago, when we test rode the 1100 non-turbo powered Cats in West Yellowstone's base altitude of nearly 7,000-feet, we came away unimpressed. That four-stroke power package seemed lazy and not quite ready to challenge the 600cc two-strokes. The clutching and power delivery just didn't feel as though it was calibrated for final production. Now, a year later, the drive package is final and it feels blended and works exceedingly well.
We will admit that because we have years, heck make that decades, of experience with two-stroke power, we're taken aback when we push the throttle on a smooth four-stroke. Arctic Cat's 1100 is incredibly smooth. Drive-offs are car-like. Midrange performance is strong and smooth. After longish and deliberate rides on various 1100 Cats, we recognized that the failure of the 1100 four-stroke was ours. We kept waiting and expecting the engine to respond like a 600cc two-stroke with its niche spike and ringy-dingy response. But just when we thought the four-stroke was flat and lazy, we'd look at the speedometer and slowly realized that the Cat four-stroke matched or bettered every other two-stroke we rode in similar trail settings. Then we were at peace.
And that's how we feel about the new-for-2013 Arctic Cat XF1100 Cross Tour. While this sled will compete head-to-head with the likes of the Polaris 600 Switchback Adventure and, possibly, Ski-Doo's GSX 1200, it needs to be taken on its own merits.
Based on the stretched ProCross chassis, the Cross Tour blends features from across the new Arctic Cat line up. Yes, the platform is more trail-rated ProCross, but you'll find pieces that suggest a mountain sled orientation. Let's not forget that the Cross Tour at its soul is a stretched track XF model, which means it can be easily at home racking up miles on a groomed trail or busting trail for a serious cross country getaway. The mountain skis and handlebar set up complete with the grab strap give a rider the tools to maneuver this sled in fresh powder. A single-ply 141-inch long Cobra track with 1.25-inch lug profile will give you grip on the trail but also help power through off-trail snow depths.
Given the smooth power of the 1100cc fuel injected four-stroke, on-trail power riding is a given, made easier with key features of the Cross Tour. Hey, this sled gets an electric heated seat and a plethora of onboard storage bags that include the expected rear tunnel bag and the unexpected handlebar bag, plus a bag for spare goggles.
We noted that the Cross Tour will compete directly with Polaris' Adventure model. While similar, the two sleds are quite different in on-trail feel. That is not to imply one is better than the other, simply different. The Arctic Cat Cross Tour owes much of its cruiser feel to the LXR settings of the XF and F series. The LXR establishes a truly supple on-trail ride, making it a nice alternative to the Sno Pro set ups Cat offers in its sport sled line.
The Cross Tour uses a softer setting on its fade-resistant Fox Zero Pro front ski shocks, which works very nicely with the Fox Float 2 in the rear suspension. Arctic Cat engineers worked very diligently to give the Cross Tour a compliant on-trail ride without giving up good suspension reaction when off-trail. We think they have really hit the sweet spot with this model.
And, since this is a personal luxury all-day mileage maker, you can expect serious goodies like a wind-deflecting mid-height windscreen with rearview mirrors. Quick action hydraulic disc brake, full-featured gauge package, and push-button reverse come standard.
As an all-around package the 2013 Arctic Cat XF1100 Cross Tour proves to be a strong player in the high mile sled category. We especially liked how the tallish seat gave us both an exceptionally good riding position and excellent view of the trail ahead. Riding this sled reminded us of driving a very classy luxury car. The Cross Tour felt responsive on the trail, comfortable and extremely capable of letting us cruise or break away to explore unplowed forest roads. The good news is that if you want more than what the base 1100 four-stroke has to offer, well, there is also a turbo version.
2013 Arctic Cat XF1100 Cross Tour Specs
Engine
Suzuki/Arctic Cat 1056cc 4stroke, twin cylinder; liquid-cooled; EFI with 48 throttle body
Horsepower
125
Drive
Arctic Cat 6-post rpm sensing drive with 10.75-in diameter roller cam driven
Front Suspension
Arctic Cat ARS — 10-in maximum travel; Fox Zero Pro shocks with sway bar
Rear Suspension
Arctic Cat FasTrack slide rail — Aluminum-bodied Fox Zero Pro shock on front arm; Fox Float 2 on rear arm; 14.5-in of maximum travel
Length
125.0 in
Width
48.0 in
Ski Stance
Adjustable 42.0 – 43.0 in.
Track
15 x 141 x 1.25 single-ply Cobra
Weight
NA
Fuel Capacity
10.6 US Gal
MSRP
TBA
Related Reading
2013 Arctic Cat Snowmobile Lineup Unveiled
2012 Arctic Cat XF1100 LXR Review [Video]
2012 Arctic Cat XF1100 Turbo Sno Pro vs. 2012 Arctic Cat XF800 Sno Pro
2012 Arctic Cat F1100 Turbo Sno Pro Limited Review [Video]