2015 Arctic Cat Lynx 2000 vs. Polaris 550 Indy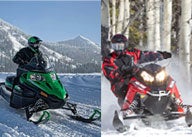 Two similarly priced value sleds with evolved features
With the used sled market depleted after an especially wonderful snow season, those of us looking for good value snowmobiles may very well need to check out brand new 2015 models. There will be used sleds available, just fewer of them and expect them to carry higher price tags than they did in past seasons. We fully expect that the used sled market will be good for the seller and not so good for the buyer. This simply means that you may want to check out the 2015 version of "value" snowmobiles. What will you have to pay to get into the sport?
You'll need to think in terms of spending a minimum of about US$7,000. That amount will put you in the snowmobile manufacturers grouping of value sleds, which start at about US$6,500. And there are only two of those for 2015, the Arctic Cat Lynx 2000 and Polaris' 550 Indy. While these two sleds come with the identical starting price of US$6,499 and are very good sleds overall, they are not exactly identical.
Points of commonality between the two can be seen under the hood, where each model relies on a rather basic, almost vintage fan-cooled two-stroke motor. The Cat's Suzuki-built Twin displaces 565cc and, in our estimation, runs a bit stronger overall than the veteran 544cc Twin used in the 550 Indy. Many years ago, this size engine was relegated to about 50-55 horsepower and the basic engine type powering virtually all snowmobile manufacturers' cross-country racing sleds. Over the years these two engines evolved with refined intakes, longer-lasting materials in the cylinders and capable electronic ignition boxes. The Arctic Cat twin is a Suzuki-built motor that mates with Cat's own drive and driven clutching. The Polaris motor is a Fuji-built carryover that has gained new momentum with the expansion of "value" engineered Indy models. At 544cc the durable Twin has been matched to various Polaris P85 drive clutches over the seasons, but now Polaris finds it more cost-effective to pair the engine with CVTech's Powerbloc 50 driver and its Invance driven. We won't argue. This system is as proven reliable and durable as the Fuji Twin.
We did notice that for 2015 Polaris engineers must have felt that the 550 fan-cooled Twin needed more cooling, which explains a proliferation of air vents helping this two-stroke get and extract air. Of course, more venting means an increase in noise levels as fan-cooled two-strokes thrash a bit more than liquid-cooled motors with their tighter basic clearances. Oh well, we like fan-cooled two-strokes and find their ambiance charming.
Read our review of the 2014 Polaris 550 Indy 144
Indeed, for US$6500, either of these two sleds would be welcomed into our sled barn alongside our fan-cooled 2006 Ski-Doo MXZ 550. Like the Polaris, the 2006 Ski-Doo 550 fan-cooled Twin works with a Powerbloc drive system, albeit an earlier version and known then as Bombardier Lite. But that Ski-Doo model no longer exists as virtually all Ski-Doo fan-cooled Twins have been retired and replaced by the 60hp ACE 600 four-stroke. Last season, you could get a fan-cooled and sporty MXZ 550F for the same price as a 2015 550 Indy. No more. The lowest priced Ski-Doo MXZ for 2015 – the MXZ Sport 600 Carb – costs US$7,299. The MXZ Sport 600 ACE model, with the engine that replaced the 550 fan-cooled Twin, starts at US$8,549.
That makes the Lynx 2000 and 550 Indy look more and more like good values. Of the pair, the Indy has the newer chassis – the aluminum Pro-Ride platform with up to 300 percent more stiffness than previous straight back chassis designs. It also comes with the latest Pro-Ride double A-arm front suspension with more than seven-inches of travel and RydeFX MPV front shocks to help position the Pro-Steer skis, which were made standard on the base Indy.
Cat's Lynx 2000 uses the familiar Twin Spar chassis design with the seventh generation of Arctic's wishbone front suspension. Both fan-cooled models feature coupled dual rail rear suspensions with more than a foot of travel. The Lynx 2000 rear unit uses adjustable torsion springs to complement a set of hydraulic shocks damping the ride on its slide-action unit. We've found both sleds ride very well for their intended price points, but we might just give the edge to the Lynx. We definitely like the Polaris front suspension with the Pro-Steer skis better, though.
Read our preview of the 2015 Arctic Cat Snowmobile Lineup
From an ergonomic point of view, the two sleds need to be compared on your own likes. Because the Indy bears a closer resemblance to the top of the line 2015 models like the new Rush and Switchback, we tend to favor it. We also like the seating position a bit better, too. But for "feel," we can't ever fault any Cat. That handlebar set with the intuitive curvy bar is about the best we've come across. You can get hooked ends for the Indy, but they cost extra. Plus basic Cat "goodies" for the Lynx 2000 include electric start. It's an extra cost option with the Indy. Do you need it? Probably not, but on a morning when the engine just doesn't want to start right up, it's darn nice to have. Right?
Both of these "value" sleds offer electronic push button reverse, which like hand and thumb warmers has become mandatory in 2015. When you look at what these less than US$7000 models give you, there's not much you're missing. Yeah, there's always that speed and acceleration thing. None of the 550 engines will stomp a 125-horsepower four-stroker. They will be strong and reliable with smooth drive away up to midrange. Top end will start to peter out beyond 60 miles per hour and they won't push through two-feet of unbroken snow as fast as an 800cc sportster either. But, either the Cat Lynx or the Polaris 550 Indy will get you to your end of the day rendezvous in comfort, leaving you with a smile and extra cash for a nicer end-of-the-day stop over. Being a thrifty Yankee we'd welcome the cash savings and either the Lynx or Indy into our sled stable.
2015 Arctic Cat Lynx 2000
2015 Polaris 550 Indy
Engine
Arctic Cat/Suzuki 565cc, fan-cooled, 2-stroke twin; 2xVM34 carburetors; oil injection; CD ignition
Fuji/Polaris 544cc, fan-cooled, 2-stroke twin; 2x VM 34mm Mikuni carburetors; digital ignition; 2-into-1 exhaust
Horsepower
55
55
Drive
Arctic Cat 6-post rpm sensing drive with 10.4-inch diameter Arctic roller cam driven
CVTech Powerbloc 50 drive with Invance driven
Front Suspension
Arctic Wishbone Suspension (AWS VII) with hydraulic coil-over-shocks; 9.5-in maximum travel
Polaris Pro-Ride double A-arm with coil-over RydeFX MPV shocks; up to 7.1-inches of travel; Pro-Steer skis
Rear Suspension
Arctic Cat parallel rail Slide-Action suspension; adjustable torsion springs and hydraulic twin tube shocks; 13.5-inches of travel; plastic ski with dual carbide skegs
Polaris Indy parallel slide rail with RydeFX MPV shocks; up to 13.9-in travel
Length
118.0 in
114.0 in
Width
48.0 in
48.0 in
Height
N/A
48.0 in
Ski Stance
43.0 in
42.5 in
Track
15x128x1.00
15x121x0.91 Shockwave
Weight
N/A
422 (claimed)
Brake
Radial master cylinder with disc on driveshaft
Hayes hydraulic disc
Features
Standard: Twin Spar aluminum chassis; push button electronic reverse; electric start; digital/analog gauge; curved handlebar
Optional: 2-up seat; rear rack; front sport bumper; varied height and/or colored windshields; storage bags
Standard: Pushbutton electronic reverse; Mechanical fuel gauge; Analog speedometer with multi-function gauge; Indy Pro-Ride seat
Optional: rearview mirrors; storage bags handlebar hooks; electric start
Fuel Capacity
10.8 US Gal
11.5 US Gal (87 octane)
MSRP
$6,499
$6,499