2015 Arctic Cat M6000 Sno Pro 153 Review + Video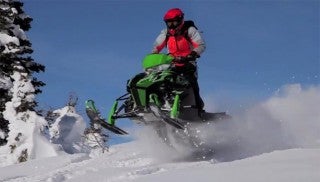 A new domestic motor brings a new deep powder player
Arctic Cat moves like a Cat, stalking out new ideas. Like the idea the public wants a clean fuel and oil burning mountain snowmobile. As a new model introduced in 2014, the M6000, in its three flavors, M6000 standard, M6000 ES and M6000 Sno Pro, is refined for 2015. The M6000s are meant to fill a niche in Cat's mountain line to offer a smaller M8000 and one that is environment friendly.
Arctic Cat has several M models to choose from, the M6000 Sno Pro, which we cover here, the M7000 Sno Pro, which motors along with Yamaha's three-cylinder four-stroke motor, and the M8000 Sno Pro, which uses the tried and true Suzuki two-stroke motor.
What is unique about the M6000 is that it uses Arctic Cat's own designed and built (domestic) two-stroke motor, ushering in Cat's move to produce its own U.S.-built motor. To be clear here, there are two other M6000s, the standard M6000 and standard M6000 ES – ES for electric start.
Arctic Cat, being smart here, is producing three mountain snowmobile M variants that fill virtually all a customer wants and needs. The M6000, being a 125-plus horsepower snowmobile, gives beginning riders a sound-and-sure mountain snowmobile to start their mountain riding skill-set building. Also, the M6000 helps those older seasoned veteran riders, who are slowing down, a mountain specific M that is smaller in size than the bigger bore 800.
Now, the Arctic Cat M7000 Sno Pro produces slightly more horsepower than the M6000's C-TEC2 599cc two-stroke twin. The Yamaha-powered four-stroke triple Sno Pro M7000 Sno Pro bangs out just a bit over 135 horsepower. The M7000 Sno Pro is a Sno Pro-only, no standard M7000 exists.
COMPARISON: Read our review of the Polaris 600 Pro-RMK 155 + Video
With the M6000 and M7000, buyers have the opportunity to choose a 125- and a 135-horsepower mountain snowmobile – a two-stroke or four-stroke, of same track length. With the weight differences between the two, the M7000 Sno Pro being slightly heavier, power-to-weight ratios are similar.
The M6000 Sno Pro is a 153 only; no other longer or shorter track lengths are available. The Sno Pro uses the 2.6-inch PowerClaw track, whereas the M6000 and M6000 ES use the 2.25-inch PowerClaw.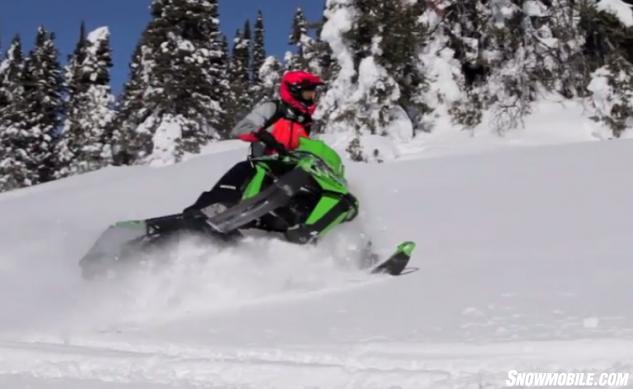 If you want the short story to the M6000 Sno Pro, it is all M8000 Sno Pro 153, except for the smaller motor. But, let's not call it here and close down this tech article. Here are the specifics starting with motor, suspension, and driver impressions.
The motor is Arctic Cat's C-TEC2 that is 10 pounds lighter than the previous Suzuki-built 600 twin-cylinder two-stroke used in the original M chassis, the M6. It has an electronic oil pump (electronic oil injection) that accurately meters fuel/oil ratios by RPM and by altitude, which, according to Arctic Cat, improves oil and fuel consumption. Furthermore, a dual-stage injection provides a clean-burn that generates low emissions.
The M6000 Sno Pro's engine is a two-stroke twin with liquid cooling. The motor has a displacement of 599cc from a bore and stroke of 73.8mm x 70mm. In the intake is a dual throttle body system where each throttle body has a bore of 47mm. Like the M8000, it is a batteryless motor where the first pull charges the dual-rail direct fuel-injection system and ignition system, and the second pull starts the motor. Routing out the spent fuel and oxygen is the Arctic Power Valve system with tuned pipe, which includes a pipe sensor and stainless steel muffler
Arctic Cat says it designed and manufactured the dual-stage direct injection two-stroke motor to develop class-leading horsepower with low emissions. Like the other two-stroke M Sno Pro, the M8000, the M6000 Sno Pro comes with push-button engine reverse.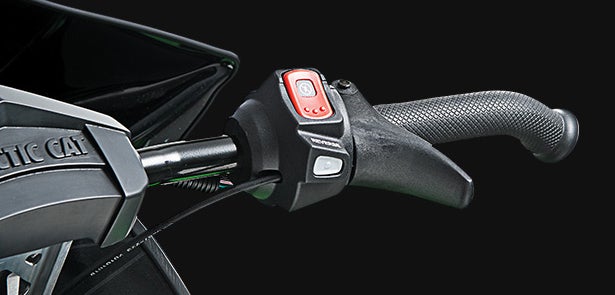 The all-new dual-stage electronic injection 599cc Cat-built two-stroke twin was designed to accept the push button electronic reverse system common to other Cat two-stroke models.
Sr. Editor, Jerry Bassett wrote extensively about this motor in an article, "Inside Arctic Cat's 6000 C-TEC2 Engine," April 04, 2013, which I highly recommend your link up with and read.
COMPARISON: Read our review of the Ski-Doo XM Summit SP
The front suspension is the Arctic Race Front Suspension (ARS) that uses tall and lightweight ski spindles that provide robust torsion rigidity and strength. This suspension angles shock load back toward the rider's mass. According to Arctic Cat, this gives the ARS optimal caster and camber, improving comfort and handling. Impact energy is managed by a FOX FLOAT 3 air shock at each spindle.
Arctic Cat claims its ski is a mountain ski, but, well, in our opinion, it is a trail ski. It is adequate, but not wholly sufficient at deep powder wrangling. The ski works best on the ProCross models rather than the ProClimb models, which the M6000 Sno Pro is.
The rear mountain-specific suspension is a springless rear skidframe that also uses a FOX FLOAT 3 air shock. Riders can increase or decrease air pressure based on need. As well, Cat boasts that the rear suspension does not hold much snow and ice.
The track is the most-excellent 2.6-inch PowerClaw 153 that is 15 inches wide. We like this track. Arctic Cat has a three-inch PowerClaw, which we do not recommend placing under the M6000 Sno Pro, as it will rob much engine power to spin.
Like the M8000 Sno Pro, the M6000 Sno Pro uses Cat's famed telescoping handlebars and lightweight mountain seat that is shorter and lower than the earlier Sno Pro seats of yesteryear. With the height-adjustable handlebars, which has end hooks and a center mountain strap, handling the M6000 Sno Pro is simple work. Additionally, with the ProClimb Sno Pro mountain-specific seat and generously opened-up runningboards, the M6000 Sno Pro is serious about its job on mountain taming.
COMPARISON: Read our review of the Arctic Cat M8000 Sno Pro
Its main competitor in the high-end small-bore mountain class is Polaris' 600 Pro-RMK 155. This is an admirable foe. From Ski-Doo, it has the XM Summit SP – not an X – that is smart and sassy too.
After test riding the new Cat M6000 Sno Pro in West Yellowstone, these are Sr. Test Rider Kevin Allred impressions:
Arctic Cat's 599cc C-TEC2 found its way into the M chassis (ProClimb) beginning in model year 2014. This domestic-built two-stroke motor boasts lower oil and fuel consumption, which in turn, produces lower emissions than Cat's other two-stroke motor, the 800. The C-TEC2 motor fits easily into the same M chassis as its bigger brother, the M8000 Sno Pro.
I found the 153-inch PowerClaw track with 2.6-inch tall lugs to be a perfect match to the 599cc motor and its power. The overall performance from the 600 powerplant is decent and respectable. I am not saying it will run with the 800s, but it will hang closely with the 8s.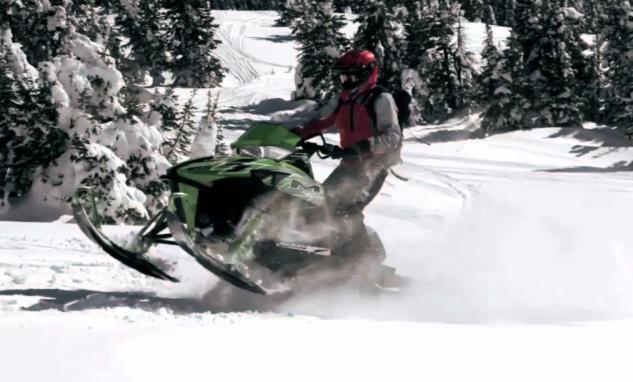 When I started and idled out the M6000 Sno Pro, it emitted a distinctive, albeit a different sound than the M8000, from the motor's intake side. This is understood, as this C-TEC2 motor has a unique intake and charged fuel and oxygen transfer system that's different from the two-stroke 800 Suzuki motor in the M8000 Sno Pro.
For many reasons, there is quite a developing market for a 600-class mountain snowmobile. After riding the M6000 Sno Pro, I can fully understand and appreciate why Arctic Cat knows and believes the public will (for those who want a 600) purchase this snowmobile.
In closing, we like M6000 Sno Pro. It is all Sno Pro, and shows the green crowd (Cat and eco-minded), that Arctic Cat is serious about developing clean two-stroke technology. We would like to see eight to 10 more horsepower from the C-TEC2 599, as it has to compete against Polaris' much lighter RMK Pro 600 that comes in with a claimed dry weight of 417 pounds. The Sno Pro M6000 is about 30 pounds heavier than the RMK Pro 600 and it could use more power to propel few extra pounds. To that end, the M6000 Sno Pro is Sno Pro fun. It has a muscular look, and a track and front and rear suspensions that master deep snow mountain riding quite well.
2015 Arctic Cat M6000 Sno Pro 153 Specs
Engine
Arctic Cat 6000 C-TEC2 — 599cc, two-stroke, liquid-cooled, twin; 47mm throttle body injector dual stage electronic fuel injection; bore & stroke 73.8mm x 70mm
Horsepower
130 (claimed)
Drive
Arctic 6 post rpm-sensing drive with 10.75-in Arctic roller cam driven
Front Suspension
Arctic Race Suspension (ARS) twin A-arm suspension; Fox Float 3 shock; 9.0-inches of travel
Rear Suspension
Arctic M parallel rail slide with Tri-Hub rear axle assembly; Arctic internal floating piston shock on front arm and Fox Float 3 shock; up to 15.5-inches of travel
Length
131.0 in
Width
44.0 in
Ski Stance
Adjustable from 38-39 in
Track
15 x 162 x 2.6 PowerClaw
Weight
NA
Brake
Hayes radial master cylinder hydraulic with lightweight rotor on driveshaft
Fuel Capacity
11.7 US Gal
Features
Standard: deluxe digital gauge with tach & speedometer; electric gas gauge; clock; reverse; push button reverse; dual halogen headlight; belt bag; 6-inch mountain ski Optional: key start; storage bags; rack; tank pads; optional windshield sizes
MSRP
US$11,399