2015 Arctic Cat M8000 Sno Pro Review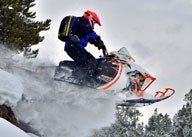 Still a great sled, the M8000 is struggling to keep up with the competition
At 5,000 feet in Island Park, ID, sits Arctic Cat's high altitude research and development center its mountain snowmobiles – the M6000, M7000, M8000 and M9000. The staff at the test facility work hard. We've been there to witness the intensity. Todd Tupper, who oversees the day-to-day operations, is a hard driver. He is a former professional snowmobile hillclimber who's passion and ego push him to help Arctic Cat develop the best mountain snowmobile money can buy.
But it has been hard.
The M8000 Sno Pro and Limited have not produced the sales numbers for Arctic Cat as the direct drive M8 models of 2009, 2010 and 2011 did. Hillclimbing teams and hillclimb racers such Tapio Racing (Russ, Kyle and Nels), Rob Kincaid and David McClure have pushed the M8000 through insane ascents and through social networking and marketing savvy. Yet, outside of Tupper's and Team Arctic's hillclimbing efforts and marketing, the M8000 has not become the darling of mountain snowmobilers like Polaris' 800 Pro-RMK and Ski-Doo's XM Summit X, to include the soon-to-be thoroughly public-tested, Summit T3.
But when we spend a day on an M8000 Sno Pro or Limited bashing mountains and trees, we return home with a large grin. The Suzuki motor is strong and the PowerClaw track is stellar.
So, what keeps the M8000 from achieving star status? First is weight. We'll grant that for model year 2014, it did loose approximately 20 pounds. The Ski-Doo XM Summit X nearly matches the M8000 in weight. Let's talk skis. We support that one. The skis are not wholly powder-compliant and they pull the font end down when zipping by a tree's blowhole. The blunt nose and sharp-angled side panels deliver a less-than-adequate slippery profile. Many other brand riders who spend some saddle time on the M8000 complain the runningboard angle is too steep. Lastly, the driven clutch, on rare occasion, will snap a belt under heavy loads on warm days, most notably when throttling up a long and steep pull.
COMPARISON: Read our review of the 2015 Ski-Doo XM Summit X 800R
But what keeps the M8000 in the penalty box is its weight. Again, we've mentioned the M8000 and Summit X are nearly identical in weight, with the Cat M8000 being a bit lighter, but the public wants the Minnesota-based builder to continue in the lighter-is-better charge because they – Arctic Cat – perfected this with the M7 and M8. Also, many in the buying public view the M8000 as a stretched out ProCross trail sled, though it is a ProClimb chassis. The commonality of parts shared across the two platforms – ProCross and ProClimb – adds to this belief.
But, many of these negative-attitude gawkers have not spent much time on the M8000 Sno Pro and Limited. If they would just take some time throttling the mountains on the M8000, they would learn for themselves the M8000 ProClimb Sno Pro and Limited are top gun steep-n-deep powder players; our writing this may not squash the naysayers words.
The other high-end two stroke-powered mountain snowmobiles have their fair share of mechanical follies. It seems to us the mountain-rider public will forgive Ski-Doo and Polaris quicker than they will forgive Arctic Cat. We may be wrong here, but talk on the mountains leans this way.
The Snowmobile.com mountain wrecking crew enjoys the M8000. When we hit the trigger and light up the "SooZook" motor, we know the 2.6-inch PowerClaw track will tear 'em up. We like how the M8000 sidehills and then cuts back up a steep slope when a wrong foot forward stance is initiated. We like the telescopic handlebars.
The M8000 Sno Pro and Limited are robustly built snowmobiles. These mountain-specific snowmobiles will take a beating like no other – tough, tough, tough the M8000 is.
Under the Hood
The M8000's motor is a laydown twin-cylinder two-stroke (exhaust and intake ports on the front side). The motor, known as the 800 High Output (H.O.), is a brute. The battery-less fuel-injected twin is reliable and has a history of minimal mechanical problems.
COMPARISON: Read our review of the 2014 Polaris 800 Pro-RMK
The M8000's gearing is 19/50, which allows gentle launches and keeps the motor spinning about 8000 RPM when hillclimbing. The secondary clutch, though, wavers when underhood heat builds and belt temps climb. We reported last year the gear changes would reduce belt heat, which it has, but the M8000 team needs to roll some additional engineering into the driven clutch (helix, spring, rollers) to reduce belt temps even more. Perhaps Cat could tap into Team Industries for its clutch technology, as it has done on its Wildcat Side-by-Side. Seems that relationship is already established.
These gear changes did decrease belt temperature from the 2013 (2014 is when the 19/50 came to be), and does give better throttle response at the bottom-end by better managing the M8000's launch by taking the slam out from its clutch engagement. Also, the 19/50 gearing improves boondocking and is a good match to the 2.6-inch lugs on the Power Claw track.
The M800 also benefits from telescopic handlebars, goggle/glove warmer behind the bars, minimal and protected handlebar controls that are hidden from an unsuspecting body bump, and an instrument pod that rotates, allowing full pod display when the rider stretches up on his or her legs. As well, its two-piece tunnel allows a repair shop to swap out tunnel portions that are bent, rather than the whole tunnel, and its runningboards are built with strength and ample openings for snow dump.
We look at the M8000's aggressive swept lines, its color schemes and how its eye-appeal spells fast and nasty, though some of its blunt surfaces affect deep powder maneuvers. The M8000 gets our vote for looking tough.
Our conclusion is that the M8000 Sno Pro and Limited are two mountain snowmobiles that are truly mountain-specific. We do understand the mountain snowmobile buyer has not warmed up to the M8000 ProClimb like they have toward the 800 Pro-RMK and XM Summit X and T3, for the reasons listed above. But we also implore potential riders to give the M8000 a chance. Unfortunately, we fear the less-than-favorable perception is locked in and Cat will have to reinvent the M8000.
Perhaps with a change in administration – a change of guard at the CEO level – the rebirth process for Cat's mountain line will begin. Or, as Cat studies its sales figures and those of their competitors, deep motivation will set in to build a chassis that is wholly different looking than the ProCross chassis. Perhaps Cat's board of directors and shareholders will push it to dissect its business model. Perhaps Cat's M ProClimb program needs new skis and less weight to keep it afloat.
We believe in Arctic Cat, the company. The folks are hardworking and passionate. We also have found the M8000 to be more exciting to ride than the M8 it replaced, though it took a year for us to warm up to it. Now we love it, even if we know it needs some refinement. And we do know Cat is working on our to-do list.
The M8000 continues to evolve. It's been a challenge for Cat to make a common chassis niche specific, that is, mountain specific. However, Arctic Cat's M team continues to remain focused on regaining its footing. Hopefully, the new captain (CEO) in the pilot's seat will charter an aggressive course to put Cat on top on the mountain podium by understanding demand drives supply and there is a strong demand from the mountain snowmobile public to purchase M8000s that are light and uncommonly mountain, not trail.
2014 Mountain Snowmobile Shootout
Would we ride an M8000 Sno Pro or Limited day-in-and-day-out? Absolutely and without hesitation. Is there room for improvement? Yes. Will Arctic Cat get there? We believe so. "We believe so," if Cat's new leadership allows the ProClimb chassis R&D folks to forge ahead to meet customer demand, rather than short term bean-counting demands by those who may have not spent a week or two at Cat's Island Park, Idaho test and engineering facility or who have not attended RMSHA races.
Three-Inch Track Exchange
Let it be known, track wars are in full swing; a three-inch tall PowerClaw is available for the 2015 M8000 on a new track-for-track exchange. Polaris has a three-inch paddle track for the RMK Pro, and now Arctic informed us it has a PowerClaw track exchange program. Cat's media office tells us, "If you [the consumer] are interested in exchanging your current, brand new, unused track for a different size or model, please visit your local Arctic Cat dealer to inquire about the Arctic Cat Track Exchange Program."
As a side note, if swapping out the 2.6-inch PowerClaw or any mountain specific track for the three-inch paddle track, the three-inch PowerClaw track requires a seven-tooth drive shaft kit as the M8000 has eight tooth drivers; these seven tooth drivers are standard though on the M 7000 and M 9000 models.
Ski-Doo's XM Summit T3 forced Arctic Cat and Polaris to respond in what we'll call: "Catch up."
2014 Arctic Cat M8000 Sno Pro Specs
Engine
Arctic/Suzuki 794cc, two-stroke, liquid-cooled, twin; 46mm throttle body injector electronic fuel injection
Horsepower
160+
Drive
Arctic 6 post rpm-sensing drive with 10.75-in Arctic roller cam driven
Front Suspension
Arctic Race Suspension (ARS) twin A-arm suspension; Fox Float 3 shocks; 9.0-inches of travel
Rear Suspension
Arctic "M" parallel rail slide with Tri-Hub rear axle assembly; Arctic internal floating piston shock on front arm and Fox Float 3 shock; up to 16.5-inches of travel
Length
136.0 in
Width
44.0 in
Ski Stance
Adjustable from 38-39 in
Track
15 x 162 x 2.6 PowerClaw
Weight
NA
Fuel Capacity
11.7 US Gal
Features
Standard: digital/analog tach & speedometer; electric gas gauge; clock; reverse; push button reverse; dual halogen headlight
Optional: key start; storage bags; rack; tank pads; optional windshield sizes
MSRP
US $13,149