First Impressions of the 2013 Powder Sleds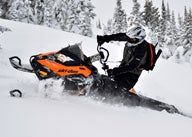 New technologies prove how viable the powder segment has become
As the 2012 Model Year closes, a new Model Year begins. Makes sense, right? With the current season wrapping up, we have a fresh perspective on what's new for Model Year 2013 powder sleds as we just got back from spending a week-long ride session on them knocking around the avalanche-ripe snows in West Yellowstone.
West Yellowstone was the backdrop for Polaris, Arctic Cat, Yamaha and Ski-Doo to show off its new line of trail, mountain and crossover snowmobiles. Some models evolved, some did not. Some made great first impressions and that's what we have here — our down and dirty first thoughts based on nearly a week's worth of riding, photographing and trying out the key 2013 powder sleds.
Polaris
The current deep snow segment leader continues to drop weight from its Pro RMK, both the 600 and 800, to give its mountain riding customer excellent power-to-weight. With a claimed dry weight of 417 pounds for the 155 Pro RMK chassis, a new drive structure called QuickDrive Low Inertia Belt Drive System, new Powder Trac runningboards, lighter and shorter Pro RMK seat and carbon fiber used on the front suspension, the Pro RMK remains king of light and strong. Based on our 2012 model powder sled evaluations, we "guesstimate" the Pro RMK 155 is approximately 47 pounds lighter than its key rivals of same track length. That alone will pull customers into showrooms and send them packing for the mountains.
Polaris' exclusive production belt drive system is not an idea from a geek engineer, but a stout drive system that allows more power to be thrown to the track by reducing rotating mass; and that is crucial when thin air robs horsepower. Additionally, the belt drive really favors the 163 RMK, as proficiency helps the long track spool up and builds track speed. Yet, the 155 Pro RMK is wicked sweet with the belt drive. Remember, for two years now, the Pro RMK 155 has been the industry's best-selling snowmobile — of all brands and models, according to Polaris, and this may continue for MY13. This makes Polaris the OEM with a target on its handlebars.
Lastly, Polaris' 600 RMK, also with belt drive system and weight reduction, is a robust sled. Simply folks, the 600 Pro RMK 155 is phenomenal, awesome, and just plain mind-blowing. Running it against an 800, any 800, is not a worry. If you are contemplating this sled, don't feel weak about buying it; you will not be a less-than mountain pilot.
Ski-Doo
The Canadian-based sled maker kept a lid on its new 2013 Summit until now. Built on the company's innovative new REV XM chassis, Ski-Doo aimed its 2013 Summit directly at Polaris and deftly shot an arrow next to Polaris bull's eye shot. We expect the competition will be fierce this year as Ski-Doo is grooming its Summit to be the mountain sled that steals customers from the other brands.
The XM-chassis Summit is far ahead of Ski-Doo's XP S-36 equipped Summits of 2011 and 2012. The XM makes the XP chassis seem severely outdated. We will discuss in more detail the XM Summit in an individual feature, but know, the XM Summit with its bidirectional two-degree swing rear suspension called tMotion (for a total four degree right and left swing), flexible 16-inch wide Powder Max-II track (12-inch fiberglass reinforcing rods centered into the track to allow two-inches of flex on the track's outer edges) with 2.5-inch lugs, new deep-keel powder ski, and moved-forward front spindles, and 800 E-TEC power is as fine a mountain sled that anyone could ride. Again, we will cover this in more detail, but we were impressed and can tell you that the tMotion setup is a system that likes deep snow.
Since the XP chassis was introduced, I have chided Ski-Doo for its ill-handling Summit mountain sled with heavy bar control, handlebar slap and tendencies to keep its skis on the ground when attacking a sidehill. Well that is history! Ski-Doo has humbled me and shut me the heck up. Sr. Test Rider Kevin Allred and I will debate this over the course of a couple weeks, but I believe Ski-Doo may have the best mountain sled on the snow for MY13.
Arctic Cat
Before the Polaris Pro RMK regained leading powder sled market share, Arctic Cat's M8 was the leader. Heading into 2013 we feel that the current M8 Sno Pro is a work in progress. For 2013 Cat has cleaned up its M8 Sno Pro and HCR by correcting what we felt was an out-of-sync steering ratio and trenching. Cat does significantly upstage the competition by stuffing under the M8's tunnel the tallest lugged track of all 800s, 2.6-inches to be exact. But, the mighty M8, though a proud mountain sled with excellent steep-n-deep characteristics, may once again fall behind the Pro RMK in MY13 sales and could possibly be overshadowed by the 2013 Ski-Doo Summit due to the Summit's very nimble and light handling XM personality.
While we feel that Cat needs to dump some weight to regain its heritage, be assured that the M8 has muscle. The Suzuki twin is brawny and hauls the M8 down the trail and up mountains with viciousness. The M8 remains a hot snowmobile that is easy to maneuver in the trees, and rolls into a sidehill easier than the M8s of yesteryear, however some customers feel somewhat let down with the weight that appears over the M8's nose.
Yet, Cat has a competitive heart and will not sit idly by.
On Cat's four-stroke side, its M1100 Sno Pro with turbo boost is an all-out super sled. I can't say I would like take the M1100 Sno Pro into tightly-spaced trees and play on a steep slope all day, but the big twin boosted four-stroke is muscular and agile for its size. In deep powder the M1100 has a very forgiving nature and can pummel chutes and bowls.
Yamaha
If you look closely at Yamaha's MY2013 Nytro MTX it will appear unchanged from 2012. Its reliable motor and chassis continues to be just that, reliable. As last year, Yamaha again offers a special early-season power boost for the Nytro MTX four-stroke triple with a Mountain Performance Inc. (MPI) dealer-installed turbocharger. With the kit installed the Yamaha four-stroke blows out approximately 180 horsepower from 1,000 feet elevation to 10,000 feet elevation. The Nytro MTX with turbo boost is worth the ride.
The other Nytro MTX models, the 153 and 162, both non-boosted, are dependable snowmobiles. The MTX's ride on the rough trails is good, in the deep powder bowls, the 1050cc three-cylinder churns along nicely, and the chassis is comfortable.
In a lean and mean two-stroke world, Yamaha holds firm to its belief that four-stroke technology is the best technology. You can't argue Yamaha's passion and its notable engine reliability.
However, I think it is time for Yamaha to clean up the chassis by giving the Nytro MTX cleaner and smoother body lines that is compliant to mountain riding, more aggressive running boards that dump snow, a more standup steering post and a weight loss plan.
Closeout
Shortly, unique features on the sled makers' specific mountain snowmobiles will begin populating Snowmobile.com. Stay tuned. Yet know, the OEMs understand that mountain snowmobiles are a viable and very visible market segment. In 2010, Cat's M8 Sno Pro 153 was the industry's best selling snowmobile. For the past two years — 2011 and 2012 — Polaris' Pro RMK 155 has held that top honor. When a mountain snowmobile out sells fast attack trail snowmobiles, then you know technology has caught up with trail sled technology. Mountain snowmobiles are no longer an afterthought where a trail sled is stretched to accommodate a longer track and suspension.
Related Reading
2013 Polaris Snowmobile Lineup Unveiled
2013 Ski-Doo Snowmobile Lineup Unveiled
2013 Arctic Cat Snowmobile Lineup Unveiled
2013 Yamaha Snowmobile Lineup Unveiled