2013 Yamaha Snowmobile Lineup Unveiled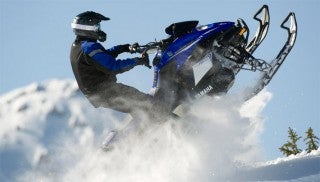 Yamaha adds a new crossover and targets youth riders
Yamaha's snowmobile group poses a unique challenge for its corporate parent. It represents one of the smallest product lines in the corporation, trailing motorcycles, outboards, and golf carts. But like its sibling product lines, Yamaha snowmobiles enjoy a reputation for world-class quality. Currently Yamaha's snowmobile sales ranking falls behind its three competitors. That provides an opportunity for some imaginative marketing and pioneering technology.
Model year 2013 marks the beginning of Yamaha's second decade with four-stroke engines powering its line of snowmobiles. When the company first showcased its RX-1 four-stroke powered snowmobile, many non-Yamaha owners simply derided the effort as the RX-1-Ton, implying that its four-stroke weight disadvantage meant it could never compete against lighter two-strokes. They were wrong as Yamaha has proved at various straightline performance events.
Heading into model year 2013, the market place has changed and presents a growing four-stroke presence from the competition. While competitors dawdle between two-and-four-stroke engines, Yamaha has evolved into a totally four-stroke snowmobile company. While some may still deride the four-stroke as heavier than a two-stroke, the facts are not so black and white as the technologies to clean up two-strokes adds both weight and complexity. While direct injection two-strokes claim to be nearly as clean as Yamaha's four-strokes, the Japanese company has turned its four-stroke footprint into an asset. Yamaha claims that its sleds use less oil, are more fuel efficient, and tend to be both more reliable and durable than two-strokes. These claims are starting to sink in with the snowmobiling population.
In recent market surveys Yamaha reports that snowmobilers consider ride comfort and dependability ahead of acceleration and performance as considerations when buying a new sled. The issue of sled weight factored in to the overall survey, but came in at 15th in order of importance. The concept of power-to-weight struck home with riders ahead of overall weight considerations.
There is little denying that four-strokes weigh more than traditional two-stroke powerplants. But when a Yamaha Apex delivers 160-plus horsepower, it offers a very respectable power to weight ratio. And, now that all of Yamaha's competitors offer four-stroke options, it doesn't serve them well to hammer away at the weight issue.
Yamaha has worked at four-stroke sled development for more than a decade with its production models and doesn't consider its brand of sled power as a liability at all. Quite the contrary, Yamaha sees its sleds' longevity, quality, durability and reliability as stone-solid assets. When you add in the silky smooth operation of these Yamaha engines and the "green" factor of cleaner emissions and better fuel mileage, then a Yamaha snowmobile owner looks like a pretty savvy snowmobiler.
For 2013 Yamaha seeks to bring in new riders. Earlier. Enter the all-new 2013 Yamaha SRX 120, a nifty Yamaha blue kid-sized sled. Powered by a diminutive 123cc Yamaha four-stroke motor (of course!), the SRX 120 gives Yamaha a family presence at its dealerships and revives a famed model name in SRX.
If the SRX 120 seems a bit familiar, it should. The product is a joint effort between Yamaha the engine supplier and Arctic Cat the chassis supplier. Since Yamaha was supplying Cat with the 123cc engines, why not sell more of the 120cc singles by offering a youth sled under the Yamaha banner? We imagine you'll see a good number of these Yamaha-blue sleds in driveways and backyards next season.
While Yamaha sought to appeal to the kids, the company used its survey data to create a uniquely Yamaha crossover model for serious on- and off-trail riders in the Nytro XTX 1.75. This new for 2013 model puts all of the latest "option" pieces like the 1.75 track, tuner skis, and super-slick hyfax into one model. Combine that with some sharp graphics and, of course, the performance Genesis triple common to all Nytro models. The idea is that the Nytro XTX 1.75 will cross over in appeal to both on-trail and off-trail riders as well. Yamaha feels that the timing is right for this sled.
The Nytro XTX performance series is designed to appeal to the rider who wants the everyday reliability of Yamaha power combined with an extended length chassis and track to get him in and out of fresh snow. The Nytro RTX with its premium shocks and features appeals to the true big bump rider who seeks out pitted trails and pushes hard into the turns and deep moguls. And for value in this category Yamaha offers the base Nytro with the hard-hitting three-cylinder common to all Nytro versions.
At the top of the Yamaha food chain sits the Apex. Its high-revving, one-liter, four-cylinder is a technological marvel. Based on one of Yamaha's all-conquering street bike engines, the Apex quad comes with enough computerized programming to make Bill Gates proud. Not only does the electronic control center read settings for the fuel injection, but it sets performance for Yamaha's unique-to-snowmobiling EXUP internal/external exhaust system. And the ECU monitors steering inputs for the exclusive-to-Yamaha electric power steering. Oh, yes, did we mention that this Yamaha develops more than 160-hp without turbocharging, making it one of the most powerful "basic" engines in sled-dom — two or four-stroke!
For 2013 Yamaha continues to offer the premium Apex in a base short track version, a stretch track XTX model and the premium SE version.
Backing up the quad-powered Apex is the triple-cylinder powered Vector, which gained electric power steering last season. This is the "fit" for the 125-hp category where it slams head-to-head with Arctic Cat's various base 1000cc four-strokers as well as Ski-Doo's 1200 4-TEC models like the GSX or MXz. None of those offer power steering, though.
Not much changes with the Vector and it comes in the base model with EPS and a luxury cruiser LTX with elongated track.
Borrowing from the Vector is the 2013 edition of the two-up Venture GT, complete with power steering and the same power system as the Vector. There will be two other Venture-inspired versions for the new model year. The base Venture uses the older carbureted Vector-based triple. But, the new for 2013 Venture TF is fitted with the EFI triple, power steering and a 151-inch long track. While new to the US market, this sled was sold in Canada this past season and is a combination touring/utility model.
Another Canadian import into the US market is the Venture MP, which bears DNA coding from both the Venture Lite two-up and the Phazer MTX. Fitted with the 500cc, 80-hp twin, the new Venture MP (multi-purpose) is kind of a pickup for the snow and suited for small utility chores. It features two-up versatility and a 16-inch wide by 144-inch track.
Other Phazer-derived models include the stretched out two-up Venture Lite, perfect for rental or two-up touring, and the Phazer MTX, a light duty powder sled. Both models return for 2013 with negligible changes.
The short-tracked 2013 Phazers include the bump-rated Phazer RTX and the groomed trail sportster Phazer GT.
Last year, Yamaha deep powder models literally gained a boost from a specially priced, pre-season special purchase turbo or supercharger promotion to move sales of the Nytro MTX 162 and 153 tracked sleds. The 2013 powder Yamahas will also have a very limited, specially priced "Spring Only" purchase window boosted offering.
Of course, the standard Yamaha Nytro MTX will be offered all season long. The sled will have features including the two track lengths and an all air suspension on the MTX with 162-inch tracks.
Yamaha continues to offer exclusive test rides at select locations. To find where the new Yamahas will be and grab a test ride of the latest sleds visit YamahaDemos.com. It will give you the most up-to-date listings and a chance to feel for yourself Yamaha's four-stroke advantages.
Related Reading 2013 Yamaha FX Nytro XTX 1.75 Preview 2012 Yamaha Nytro MTX 162 "Boosted" Review [Video] 2012 Yamaha RS Vector EPS Review [Video] 2012 Yamaha FX Nytro RTX Review 2012 Yamaha Phazer RTX Review 2012 Yamaha Apex Review