2010 Polaris 800 IQ Review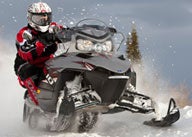 Polaris' "budget" big bore trail shredder
Polaris certainly doesn't give its performance sportster much for sporty nomenclature — 800 IQ. We figure that a 150-horsepower snowmobile with positive action long travel front and rear suspensions and quick-reacting drivetrain merits a name that sounds a little less like the results of a college entrance exam. 800 IQ, indeed! At least the more expensive and upgraded version carries a fire-breathing name —800 Dragon IQ.
Fast Facts
Engine Type:Horizontal In-line
Cylinders:2
Engine Stroke:2-Stroke
Valve Configuration:Reed Valve
Displacement:795 / 42.7
Starter:Pull
Turbocharged:No
View Full Spec
But, other than a more aggressive name and an extra US$700 to account for the spiffier Walker Evans shock package and some other incidentals, the two 800cc sport models reveal more similarities than differences. The US$10,099 base model 800 IQ remains an attractive purchase in the big bore trail sled wars for no other reason than the ski-lifting power of its Polaris Liberty Twin. You will want to find your owner's manual and study the "how-to" section about tuning the suspensions. The Liberty Twin amply relays torque to the trail and you'll want to fine-tune the sled's ride to make it work for you.
Versatile Suspension
The beauty of the 800 IQ isn't simply its power. Its IQ suspensions offer very versatile tuning options. You can dial in that "hard hit" lift of the skis if lake drags are your thing. You can adjust the front end and complement the rear suspension for extra ski pressure if you relish cornering grip. And, of course, there are degrees of tuning in between. Polaris' IQ suspension may be one of the most versatile suspensions around. Plus, as you read the tuning section of the manual, you'll see that it all makes sense. Rather than simply accept the set up your dealer gives you, we suggest you play with the setup and see what suits you and the conditions of the day. Granted the Dragon version comes with more options, but the base 800 IQ gives you mood-altering choices as well.
Fundamental to all IQ models is the double A-arm ski suspension. The 800 IQ features relatively simple RydeFX Pro high-pressure gas shocks with an internal floating piston. The major adjustment is screwing the coil-over-spring tension in or out. The more expensive Dragon gets the exclusive Walker Evans shocks with piggyback reservoir. For the vast majority of sport riders, the RydeFX Pro set up will be just f-i-n-e!
If there weren't the Dragon option, most performance riders would be blissfully satisfied as RydeFX Pro shocks work very well and are tuned to accommodate the occasional big blast of macho stand up riding that most of us do. But they are also calibrated to sustain those real miles of smooth sit down riding that we actually do. We prefer to think of the 800 IQ as the performance Polaris for the real world, with the Dragon version offering an ego option for more serious stand-up riding.
Bump Soaking Travel
The front end supplies a bump soaking 10-inches of travel that will be more supple than the more stiffly sprung Dragon. Everyday riders looking to wax miles will be quite content. They will find the rear suspension's ability to absorb nearly 14-inches of travel equally supple. The differences in tracks may be noticeable as the 800 IQ uses a 15-in wide by 121-in long Hacksaw design with one-inch tall lugs. The extra quarter inch of the Dragon's RipSaw track may be felt as you dig out of a corner under throttle. However, if you are truly that aggressive, you probably would move up a notch and spend the extra money for the Dragon in the first place. For moderately aggressive riders the 800 IQ works quite nicely and leaves extra cash to purchase "custom" upgrades — like storage bags.
Upgrade Options
The Polaris sport models are woefully shy of places to stow on-trail necessities, like bottled water, granola bars, extra mitts, goggles or whatever. Thankfully, you'll find fitted gear expressly designed for the IQ chassis in the Polaris parts catalog. Consider a tunnel bag or tank/map bag to get some needed storage.
The standard windshield provides fair protection, but if you are serious about covering a lot of miles in a day, we suggest you look for a taller screen with flares to divert wind away from your hands. You'll note that the 800 IQ handlebar is the standard design without bar hooks. The standard riser measures 2.4-inches, so you should do a "showroom" fit and feel before you sign off on the purchase. The fit is fine for the majority of riders, but if you are not satisfied look into Polaris or aftermarket riser and bar hook options. We just don't get why Polaris hasn't followed Arctic Cat and Yamaha in offering a more comfortable curved bar set. Of course, Ski-Doo hasn't followed suit either.
Comfy Ride
We enjoyed the tamer 800 IQ for its more comfortable ride, but readily admit seriously aggressive riders will need the Dragon option and will find spending an extra $700 to be money well spent. We would probably do a bit of customization to the base 800 IQ, but not for overall speed performance, but rather for on-trail livability. For $150 or so we'd go with some combination of tunnel bag and handlebar or tank bag. We'd also pop for a 20-inch tall tinted windshield for those wicked cold January jaunts. That should still leave us with some extra cash to upgrade to a room with a Jacuzzi tub to enjoy after a high-mileage weekend run.
The 800 IQ may be the base model among Polaris big-bore hot rods, but with its twin cylinder, 800cc Liberty motor pulsing through a P85 Polaris drivetrain, straight line performance is a given. Overall ride and handling will be very good with the stock combination of RydeFX and Fox shocks controlling the terrain. If you need to get a grip on the brakes, you have a proven Phantom hydraulic system. All around satisfaction is key to this sport sled and the 2010 Polaris 800 IQ hits the mark for the majority of sport riders.
2010 Polaris 800 IQ Specs
Engine
Polaris Liberty 795cc twin cylinder; liquid-cooled; Cleanfire fuel injection
Horsepower
150+
Drive
Polaris P-85 drive; LWT Team
Front Suspension
Polaris IQ — 10-in maximum travel; RydeFX Pro High pressure gas shocks with internal floating piston
Rear Suspension
Polaris IQ — 13.9-in of maximum travel; RydeFX IFP gas shock on front arm, Fox PS5 on rear
Brake
Polaris Phantom hydraulic
Length
115.0 in
Width
48.0 in
Height
48.5 in
Ski Stance
42.5
Track
15 x 121 x 1.0 HackSaw
Weight
482 lbs
Features
Electronic reverse
Fuel Capacity
11.5 US Gal
MSRP
US$10,099.00
Related Reading
2010 Polaris 550 IQ Shift Review
2010 Polaris Rush Review
2010 Polaris IQ Turbo Dragon Review
All Things Polaris on Snowmobile.com