Boondocker Provides a Boost for Ski-Doo and Arctic Cat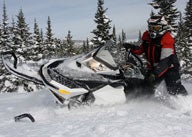 Turbo power for Ski-Doo, fuel controller for Cat
We knew it was coming. It was a matter of time.
First, Ski-Doo has been oh-so patient with itself and with its new 800 E-TEC technology; preparing itself to be in the boxing ring with Polaris and Arctic Cat; slugging it out in the turbocharged two-stroke arena where Polaris and Arctic Cat have dominated for years in the deep on the steep. As we know so well in the West, bolting on a turbo to a two-stroke 800 leads to product sales; sales and garage talk that Ski-Doo has missed out on for numerous years.
Similarly, Arctic Cat and its M8 have enjoyed a superb reputation as being a favorite mountain snowmobile for attaching to a Boondocker Pump Gas Turbo (PGT). Bret Rasmussen from "Ride Rasmussen Style" clobbers many mountains with his Boondocker boosted M8s. Now that Cat's solid and studly Suzuki-built four-stroke twin cylinder with factory-installed turbo is stuffed into Cat's new ProClimb chassis (specific ProClimb chassis for the big twin), Boondocker's techno savvy pulls many additional ponies from the turbocharged motor via a control box.
Chatting with Boondockers' crew we can report on the technical side for the E-TEC 800 twin and M1100 Turbo, with that knowledge we'll share our opinions once we follow-up with thumb on the throttle on-snow impressions.
Throughout the years, we've spent many days and logged considerable hours aboard various Boondocker equipped sleds, beginning with a 1M / King Cat 900 with liquid nitrous to all the variants of turbocharged power on a Polaris RMK or Arctic Cat M. We have come to know that Rocky Young and Jared Session do their homework. Owner Young has succeeded by completing assignment one for any entrepreneur, hiring successful and smart people.
As with any company, Boondocker has learned key lessons now and then, which results in producing better products. Because of good people like Sessions, the growing pains have been rare as Boondocker products are thoroughly tested and are motor-friendly. To that end, I will safely bet the new products will be sweet enhancements for the 800 E-TEC and M1100 Turbo rider. For you Ski-Doo E-Tec 800 Summit riders, your wait is over.
Summit 800 E-TEC
Finally, the wait for a power surge is over.
Boondocker's E-TEC kit uses a Garrett GT 2860 turbo charger that mounts inside the body panels. The pre-assembled turbo unit features Boondocker's proprietary no-spill vented oil tank along with a turbo exhaust flange that mounts directly to the stock expansion chamber without any welding. Aluminum charge tubes feed an extruded aluminum intercooler that is mounted under the front hood; an electric fan ensures air flows continuously through the intercooler.
The E-TEC turbo kit uses an air box, which has dual tubular runners that feed air to the throttle bodies. This design increases low-end torque.
Auxiliary injectors inside the air box feed additional fuel to the motor. A Boondocker Control Box controls these injectors. The snowmobile pilot can make fuel rate adjustments at the push of a button using the Control Box – 3D tuning allows for easy adjustments based on boost, throttle position and RPM for precise fuel mixture.
Turbo boost is adjustable thanks to the Electronic Boost Controller (EBC). This electronic module allows for effortless boost fine-tuning, along with the option to use a handlebar-mounted button that, when pressed, further increases boost. The EBC also features throttle position sensor (TPS) Smart, which controls boost relative to throttle position; TPS Smart ensures instant boost at any throttle position and prevents over boosting with a closed throttle.
The US$5,995 turbo kit comes complete with all turbo and electronic components, vents, clutching components and a quart of TC2 turbo oil. Boondockers' Ski-Doo E-TEC turbo kit becomes available after two seasons of testing.
Since Ski-Doo introduced its Summit XP, the company saw sales slip through its catcher's mitt because aftermarket companies shied away from the XP Summit as it originally came with the carburetor-fed Power-Tek 800 R motor – no electronically controlled fuel-injection. With that, Cat and Polaris were the victorious turbo kings on the slopes. This translated to sales. Now the XP Summit owner, who has E-TEC power, has the mojo. So, Summit 800 E-TEC owner, beat your chest and say…"See you on the slopes."
M1100 ProClimb Sno Pro and Sno Pro HCR
Built on knowledge gained from developing the original Arctic Cat Z1 Turbo HI Jacker, Boondocker moved this technology to a new product titled "EZ Jacker 1.9" for the Arctic Cat M1100 Turbo in the ProClimb chassis.
The electronic EZ Jacker simply plugs into factory-supplied connectors to make performance enhancing boost and fuel adjustments. The electronics are housed in a compact waterproof metal enclosure that is similar in size to a credit card.
Think of it this way. Electronic control boxes are a means to an end. We motor muscle guys throw control boxes on our Cummings, Powerstroke and Duramax diesel motors. Not to mention what we do to our new Challengers, Mustangs and Camaros. Modern electronically controlled fuel injection has computer codes, which can be modified. Some call this reflashing, recoding, or rewritings. Whatever the term, "got a code, change a code."
The EZ Jacker is also equipped with a handlebar mounted rapid response button that when pressed at low turbo boost, boost increases faster leading to quicker acceleration.
The EZ-Jacker requires no tuning or adjustments and is designed for users looking for a simple yet effective performance upgrade that will provide maximum power on premium pump fuel.
Priced at US$399.99, the EZ Jacker is a simple and inexpensive upgrade for the M1100 turbo. The EZ-Jacker was thoroughly tested on all models equipped with Arctic Cat's 1100 turbo 4-stroke twin cylinder engine.
As written above, we will add rider impressions as the snow continues to fall in the Rockies. Stay tuned for Part II.
For more information on these Boondocker products, go to Boondockers.com or call 877-522-7805.
Related Reading 2012 Ski-Doo Summit 800 Review [Video] 2012 Arctic Cat M1100 Turbo Sno Pro Review New Products from Boondockers and SLP Add-Ons For Your Polaris Do-it-Yourself Ideas for Your Yamaha