2010 Polaris Rush Final Impressions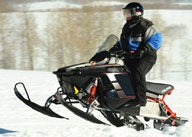 Our thoughts after a winter on the Rush
When we first rode the early pre-production 2010 Polaris 600 Rush, we knew this was a sled we'd want to have in a demo fleet. Aww, heck, we wanted our Rush to be our demo fleet so we could get a real feel for what Polaris engineering envisioned for us all season long. Once we got the "okay" from Polaris to specify exactly how we wanted our Rush demo outfitted, we made it our sole project for the winter.
Fast Facts
Engine Type:Horizontal In-line
Cylinders:2
Engine Stroke:2-Stroke
Valve Configuration:Reed Valve
Displacement:599 / 36.6
Starter:Pull
Turbocharged:No
View Full Spec
In terms of 2010 model year snowmobiles, the 600 Rush stood out if for no other reason than the unique outside the skid frame engineering of its Pro-Ride progressive rate rear suspension. Polaris marketing saw this new suspension as key to a hot new line of ditch bangers. We saw it as the near perfect terrain cruiser. We were both a little right and a little wrong.
Long Haul Cruiser
Because we viewed the 600 Rush as a true high-mile cruiser, we outfitted it that way. We went with a tall windshield. Well, tall by 2010 standards, but midsize for 2011, as an even larger windshield has been added to this coming season's accessories catalog. We insisted on electric start, although Polaris' light pulling 600cc Liberty two-stroke Twin really doesn't need it, but what the heck, we're going for a full luxury ride! The standard push button electronic reverse proved terrific for offloading the sled from a narrow trailer. And standard features like the premium Walker Evans shocks, electronic instrument cluster and unique styling made us feel pretty darn special out on the trail where we saw plenty of other riders but none on a 2010 Rush.
In addition to the standard gear, we added a full complement of bags to hold a diverse amount of gear. We had a handlebar map bag and a complete set of rear saddlebags. That is definitely the way to go as many modern sport sleds —including the base 2010 Polaris Rush— don't allow space for much more than a spare drive belt and a set of sparkplugs. At least the base Rush offered a tool bag set under the seat, but that was pretty much it. Our addition of accessory bags can be taken as a strong recommendation if you want to carry a water bottle or two and a little granola snack for nibbling. We used he rear seat bag to store an extra fleece top, spare gloves and face masks.
Big Boy Setup
Our Rush came with the "Big Boy" accessory shock and spring as recommended by Polaris. We noticed at this year's introduction, Polaris engineering still strongly suggested the Big Boy setup for a fully dressed rider weight of 250-pounds plus. We'd move that base setting up to 300-plus pounds.
This past season we followed the guidelines. But we found the Big Boy setup simply to stiff. We moved the shock and spring as far to the softest setting as we could and we still couldn't achieve the level of ride we wanted. At this year's sled introductions, we rode both the heavy spring and standard spring setups. Polaris engineering determined that we would like the ride of the hefty spring better. We determined that the standard setup with some fine-tuning of the spring gave us the ride we sought. If we had to do it over, we would have specified the standard setup, which would have allowed us to calibrate a better level of ride. We don't know how Polaris engineering arrived at its final shock and spring settings, but we find it hard to imagine that the base setup can't satisfy the vast and bulky majority of riders.
To us, the idea of suspension tuning is to set the suspension setup soft enough to bottom a few times and then work the stiffness from there. After all, to get the most from the shocks you want to work the entire stroke don't you?
Diverse Personality
In our trail riding with the 600 Rush this past winter, we spent a lot of time getting to "know" the sled. For some reason, we had some effort to get the feel for the sled in all conditions. For straight cruiser ability, there is little that can beat our spec'd out Rush with luxury fixes. We can't help but note that the 2011 Rush LX is pretty darn close to what we specified for our demo unit. We must have been on to something.
As for pure all-out sport riding, we noted that the front end liked to pop the front skis a bit more than we liked, even when we hung our body out. That made us think that perhaps the height necessary to accommodate the Pro-Ride's external shock adds to the ride height and raises the sled's overall center of gravity.
With the highly adjustable and very rider-friendly Walker Evans shocks, we were able to finalize a front suspension ride that satisfied us. Plus, it was fun to play with the shocks' easy tuning dial settings. The Walker Evans shocks are a definite plus for the 600 Rush.
As for power, at sea level on flatland trails, the 600 Liberty is all you really need for some serious trail cruising. The addition of the 800cc Twin for 2011 will placate the hot rod set, but we find the 600 Twin more than adequate. We were disappointed with the mileage. On our last trip we filled up the 11-US gallon fuel tank and rode just under 120 miles. As we went to load the sled, we noted that the low fuel light was on. You do the math. My 2006 fan-cooled 550cc sport sled does better than that. We expect more from modern snowmobile engines with their computerized fuel injection and highly tuned intake and exhaust systems.
Related Reading
2010 Polaris RUSH Review
2010 Polaris RUSH and IQ Updates
2011 Polaris 800 RUSH Pro-R Preview
2011 Polaris 800 RUSH Pro-R LX Snowcheck Select
All Things Polaris on Snowmobile.com