2011 Polaris WideTrak LX Review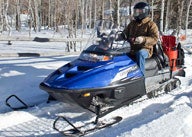 A bulletproof work sled built around traditional values
When the Indy existed as the only Polaris snowmobile option, we and most snowmo-writer types tended to denigrate it when the other sled makers migrated to newer platforms and suspension setups. Polaris seemed too focused on its other product lines at the expense of its snowmobiles, which surrendered its #1 sales position to Ski-Doo and its rider-forward REV models.
Of course, the marketing geniuses that many of us snowmo-writers tend to be failed in grasping the Polaris reality, where by 2009 the ATV off-road group represented 67 percent of Polaris' business and snowmobiles only 20 percent. With finite resources Polaris made the proper decision to stay with the Indy, which was always a very good and profitable snowmobile, while the company built up its ATV and side-by-side aspects of its business. As snowmobilers we were a bit shortsighted, but that's why the world's CEO types get the big bucks!
Today, Polaris offers modern, advanced technologies to match any sled maker in the business. The all-new mountain sleds have become lighter and more powerful. The performance sleds showcase out of the skid frame rear suspension technology with an exclusive to Polaris Pro-Ride design. Borrowing technologies outside of the sled business brings structural bonding that reduces weight, manufacturing complexities and increases overall chassis rigidity. Polaris engineering is definitely on its game once again and this season's early sales results reflect it.
Indy Nostalgia
With all that said, we can look at the Indy with a certain nostalgia. After all, its trailing arm suspension and distinctive "wedge" shape set the standard in snowmobiledom for more than a decade. While retaining the essential Indy "look," Polaris parlayed the Indy from base fan-cooled trail model to ferocious fuel-injected triple cylinder trail racer. It was the Indy that gave us liquid-cooled hydraulic braking. It was the Indy that brought Walker Evans components exclusivity to Polaris. And it was the Indy that gave Polaris more than a decade of sales dominance in snowmobiling.
Before we wax too sentimental, let it be known that a vestige of that direct Indy heritage lingers on in the current 2011 Polaris lineup. One of the very last Indy-style models is the 2011 Wide Trak LX, a serious utility sled built around traditional values.
Today's Wide Trak LX is the last of a breed as the newer IQ-style suspension and ride-forward chassis have almost entirely replaced the Indy-based utility models. Still, the Wide Trak LX and the newer chassis versions — 600 IQ Wide Trak and FS IQ Wide Trak — share some crossover in the powertrain as all three rely on the dual range Hi-Lo gearbox. Both the four-stroke engined FS IQ Wide Trak and Wide Trak LX feature a geared reverse. The 600cc two-stroke version uses Polaris' push button electronic reverse system. All three drives have a neutral position.
Basic Bargain
The bargain priced Wide Trak LX features Polaris' proven 488cc liquid-cooled twin. A staple of Indy models over the years, the 488 two-stroke fuels the cylinders via twin VM34 Mikuni carburetors. Although Polaris' other utility models feature electronic fuel injection systems, the Wide Trak LX traditional induction and proven CD ignition make it especially well suited to remote areas where most any veteran snowmobile mechanic can make inexpensive repairs.
The same holds true for the trailing arm front end, which has been around in various versions since the 1980s. The current version uses Nitrex shocks to control the IFS' 7.25-inches of available travel.
The rear suspension is based on a wide and long skid frame to accommodate the 20-inch wide by 156-inch long Shockwave track with its somewhat modest one-inch lug height. Combining this much track foot print with a modestly powered engine geared for low end and midrange lugging gives the Wide Trak LX an uncanny snow capability. Even the flattened Jon boat type prow allows the Wide Trak LX to rise up in powder to float when breaking trail in the back woods.
Serious Worker
Unlike some of the modern breed of utility type snowmobiles, the Wide Trak LX is best when used strictly for utility. It is not really a dual-purpose work and play sled. You can ride two, but we'd keep that to a minimum, like when you need to get a mechanic to a broken down piece of grooming equipment or a paramedic to an injured skier. This is a utility sled in the truest sense.
The windshield sits high and wide in front of a tall handlebar set, which comes with a rubberized grab strap. This will give you added leverage when manhandling the sled through tight stands of trees. The wide, but shallow under seat storage gives you room to secure tow straps, an ax or saw, and miscellaneous gear.
Because Polaris built this sled around its historic strengths of durable Indy suspension and chassis, nearly bulletproof 488cc motor and high flotation track, the 2011 Polaris Wide Trak LX makes an ideal unit for a club to own as its everyday support sled. It can be used to haul a sleigh full of firewood to a remote trailside warming shelter. It will pull a small groomer to keep those often-neglected "feeder" trails open from the main corridor to the local off-trail watering holes and fuel stops. It can be used for emergency search missions. Of course, it is well designed to let a woodsman check a wood lot or get an ice fisherman out to his favorite lake.
Built around the solid virtues of the Polaris Indy, the 2011 Wide Trak LX shares a heritage with Polaris' past that was historic in making the half century old company the success that it has become in the 21st century. The Polaris Indy may be fading into snowmobiling history, but the 2011 Wide Trak LX gives us nostalgic and sentimental types a singular look back at all that was right with that design.
2011 Polaris Wide Trak LX Specs
Engine
Polaris/Fuji 488cc twin cylinder 2-stroke; liquid-cooled; 2—VM34 Mikuni carburetors
Horsepower
NA
Drive
Polaris P-85 drive; P2 driven with Dual range Hi-LO gearbox with reverse
Front Suspension
Polaris Indy-style trailing arm — 7.25-in maximum travel; Nitrex shocks
Rear Suspension
Polaris adjustable coupled parallel slide rail; 9-inches of travel; Nitrex shocks
Length
128.0 in
Width
43.5 in
Height
51.0 in
Ski Stance
38.0 in
Track
20 x 156 x 1.0 Shockwave
Weight
613 (claimed)
Fuel Capacity
11.0 US Gal
Features
Mechanical speedo/odometer gauge; cargo rack; under seat storage; backrest
MSRP
US$8,799
Related Reading
2011 Polaris FS IQ WideTrak Review
2010 Polaris WideTrak IQ Options
2009 Polaris WideTrak LX Review