2013 Polaris 600 Pro-RMK 155 Review – Video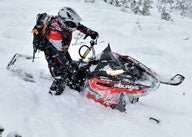 The best alternative to a Polaris 800cc RMK is the Polaris 600 Pro-RMK!
Not long ago, a friend of mine showed up to worship service wearing a pale pink shirt accented by a black tie. I said to this friend, a strong family man and an athlete, "You must be secure in your manhood?" He retorted back, "I am, and so are you." I was in a plum-colored shirt highlighted with a black and gray tie. I am very much secure.
Secure enough to declare I ride a Polaris 600 Pro-RMK 155. To that point, I will take a 600 Pro-RMK and mix it up with any stocker 800, even a Pro-RMK 800.
Last month, I declared the 2013 800 Pro-RMK and 2013 XM Summit X as our choice mountain sleds, but given what the 600 Pro-RMK has to prove, and did prove for model year 2012, the 600 Pro-RMK is very much a winner and close favorite. In fact, the way it flexes its muscles from its skinny skateboarder arms, you'd think it was a mixed martial arts cage-fighting master. You see, the 600 Pro-RMK is secure in its 600 manhood.
Because of its over-achiever status, I place it on the same energy level as Polaris' 800 Pro-RMK 155. The 600 Pro-RMK 155 is that good and is worthy of every good word we've bestowed upon the 800 Pro-RMK 155.
As season 2012 came to a close and we returned our 2012 600 Pro to its receiving Polaris dealer, a tear trickled down our cheeks. That 600 Pro was tested beyond any snowmobile we had in our stable for several seasons, the last being a 2010 Polaris RMK 700.
Except for its smaller displacement motor, the 2013 Pro-RMK 600 155 is a mirror of its 800 Pro-RMK 155 brother. Check out the 600 Pro-RMK list of standard "Pro" goodies:
* Quick Drive belt system? You bet.
* Carbon fiber overstructure? Yes.
* Bonded A-arms? Uh huh.
* Pro-RMK Lite seat? Of course.
* Walker Evans shocks? You got it.
* ProTaper handlebars with minimal controls and adjustable kill switch? Sure enough.
* Ice scratchers on the rear skid? Yup, just like big brother 800 Pro.
* Flickable? Absolutely?
* Fun? Wide-open throttle fun.
* 417 pounds? Take it to the bank.
The Liberty CleanFire electronic fuel injected motor has a displacement of 599cc and a bore and stroke that is 77mm x 64 mm. The motor comes complete with throttle position and detonation sensors and the handy PERC – Polaris Electronic Reverse Control. The fuel-injected motor, with factory-installed single exhaust pipe, is well into the high 130-horsepower range.
Like the 800, the 600's side panel lines are flat and flush with the width of its runningboards. This results in clean lines from bumper-to-bumper, allowing effortless and uninhibited sidehilling.
Polaris' 600 Pro RMK is smartly equipped with ice scratchers on the rear suspension. It has the capable Series 5.1 2.4-inch paddle track, Pro Ride RMK front suspension and RMK coil-over rear suspension. Track length for the Pro 600 is 155, nothing shorter, nothing longer. You can get a non-Pro 600 with either the 155-inch or a shorter 144-inch track, which comes with the Series 4 track and 2.0-inch lug profile. And, of course, the regular 600 RMK lacks the exclusive-to-Polaris Walker Evans shock package.
Gripper skis, lightweight spindles, shortened Pro Lite seat, and Polaris' new PowderTrac runningboards with aggressive-traction platforms and minimalist runningboard frame for reduced weight; these round out the 600 Pro-RMK's treasure trove.
Paring weight is critical for the 600. Check out the front suspension with its carbon fiber overstructure that contributes to the Pro's weight loss. The suspension torque arms have shed weight, but, says Polaris, are as robust as the previous year's Pro.
Polaris' first-ever in a full production sled Quick Drive belt drive system, which includes lightweight brake, extruded drive shaft and maintenance-free belt, reduces the 600's weight from 2012 by more than 6.5 pounds. It reduces rotating mass inefficiencies by 21 percent.
The Pro-RMK 600 will, in our opinion, put some lost fun back into backcountry boondocking. Today's 800 breeds, with their lightweight chassis and high horsepower motors, will, with little effort, slap any mountain and knock it down a notch or two. The 600, due to its smaller bore motor, will make us mountain guys earn the summit. I like that. I like the fact that with some good old school mountain climbing skill, smarts, planning and scoping, I can stitch out a line on a freakish ascent. You too can take a mountain with some country-boy geometry.
Most mountain riders are 600 fellows anyway, but we mountain riders like big numbers (read, 800) because, well, we are guys. Yet, I believe those who jockey this 600, with some dedication, will keep up with the 800s. The 600 Pro-RMK, by all intents-and-purposes, is not a less-than sled.
I have spoken at length with Jerry Mathews of Starting Line Products in Idaho Falls, Idaho, who suggests that riders who do not want to put down the greenbacks to purchase an 800, but might see purchasing a 600 Pro-RMK as a good value, especially as they'd have some cash left over for upgrades. He figures that a "…piped 600 Pro-RMK is an 800 sleeper and more." If a 600 Pro-RMK rider wanted to prove a point, he could add a single tuned pipe and minor motor mods and give riders with stock 800s and some improved-stock 800s a hard time.
Do not misunderstand; I am not want to relocating my opinion here that the 600 Pro-RMK 600 receives aftermarket components to make it run like a scalded ape. It will handle the deep stuff just fine the way it comes out of the box. Since most riders as we noted think bigger "cc's" are the only way to climb a mountain, we have to ask again if you are man enough for the 2013 Polaris 600 Pro-RMK! Test ride or buy and see! I can handle it, how about you?
2013 Polaris 600 Pro-RMK 155 Specs
Engine
Polaris Liberty, 599cc two-stroke, liquid-cooled, twin; Cleanfire electronic fuel injection
Horsepower
130-ish
Drive
Polaris P-85 drive with TEAM LWT driven; Quick Drive Low Inertia final belt drive
Front Suspension
Pro-Ride RMK adjustable A-arm suspension; Fox Float Walker Evans shocks; 9.0-inches of travel
Rear Suspension
Polaris RMK coil-over parallel rail slide with Walker Evans shocks; up to 16.0-inches of travel
Length
129.0 in
Width
46.5 in
Ski Stance
Adjustable from 39-41-in
Track
15 x 155 x 2.4 Series 5.1
Features
ProTaper handlebar riser; electronic reverse; digital gauge; Gripper ski; Pro-Lite seat
Weight
417 (claimed)
Fuel Capacity
11.5 US Gal
MSRP
$10,899
Related Reading
2013 Polaris 800 Pro-RMK 155 Review – Video
2012 Polaris 600 Pro-RMK 155 Review – Video