2012 Polaris 600 Pro-RMK 155 Review [Video]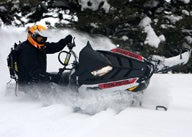 What the pros ride
There is magic when a featherweight boxer competes against a heavyweight and gives him the ol' one-two and sends him kissing the mat. I don't know if Sugar Ray Leonard could have matched round for round with Ken Norton, but if history serves me right, Sugar may have given some quick lessons to the man with big guns. Now on to the boxing ring on the mountain.
Fast Facts
Engine Type:Horizontal In-line
Cylinders:2
Engine Stroke:2-Stroke
Valve Configuration:Reed Valve
Displacement:599 / 36.5
Starter:Pull
Turbocharged:No
View Full Spec
When Polaris offered a 600 RMK in its RMK Fusion chassis, that particular RMK was Polaris' glitter of hope in some dark days. The 600 RMK took on the role of trailblazer, mapping the road for the first RMK Dragon, the 700. The 600, being a successful and groundbreaking twin, instilled into Polaris and the mountain-snowmobile buying public, the 700 RMK Dragon was fit for duty. Well then, the 800 Dragon soon followed giving way in 2011 to the Pro Ride RMK Pro 800.
During the RMK Dragon years, Polaris dumped its 700 Dragon and offered a 700 RMK that, in the tradition of the earlier 600 RMK, never let the 800 riders speak snowy ill of the smaller bore mountain sled. In the 20 some odd years evaluating and writing about Polaris RMKs, two RMK bore deep into my fave list, the 700 RMK Vertical Edge 151 and 2010 RMK 700.
Why all this background? Polaris builds killer small bores and the company's rich history for small-displaced sleds continues for model year 2012.
The most successful selling snowmobile for model year 2011, regardless of category, was Polaris Pro Ride RMK 800 Pro 155. That same year, Polaris, dropped its 700 RMK, and we mountain riders at Snowmobile.com grumbled. For MY2012, Polaris fanned its fire and with mallet, steel and heat, forged out a Pro Ride RMK 600, both Pro (155) and standard (155 and 144).
When we heard this at Polaris' technical school, my hand shot up and I gritched, "You had a successful 700 motor…I don't get it; where's 'my' 700 RMK Pro?" I received a wink, a nod and a CEO-like answer from the RMK project team, "Just wait. Our 600 RMK Pro overachieves and makes the 700 RMK from 2010 feel old."
The Rocky Mountain King 600 Pro is beautifully and masterfully built as a "Pro" as we've come to know the "Pro" since 2011. When compared to the 800 RMK Pro, the difference between the two Pros resides in motor only.
Now, many may shout, "Woo Hoo," and some may say, "Why not buy an 800?" Well, to the "woo hoo" crowd, "woo hoo" all you want (I'll join in). To the 800 trumpeters, the answer is: money.
If you want the full RMK Pro amenities and only have the bucks for a 600, then reach out and touch this sled, it'll touch you back. Now, some riders may look at the RMK 600 Pro as the perfect mountain snowmobile to pump up their mountain skill. Meaning, ambitious adrenaline newcomers will find the 600 RMK the snowmobile that will elevate their extreme backcountry boondocking to new heights – with class and high-tech lightweight muscle.
Now, I don't want to give the impression the 600 RMK Pro is a slightly improved teenager's, wife's or rental sled, it is not. The 600 RMK Pro, built on the lightest mountain chassis for MY2012, can take on any serious backcounty shenanigans.
As mentioned, Polaris' RMK development team said the 2012 RMK 600 Pro ran circles around the 700 RMK from MY2010, the 700's last year. I would have to agree, in theory to this, due to the Pro's light chassis. However, the 700 RMK, for MY2010 was a Snowmobile.com sleeper and fave sled. So, for us, we are going to expect much from the 600 Pro.
In the 600 class, the RMK Pro 600 has only one two stroke competitor, the E-TEC powered Ski-Doo Summit 600. I think the two will square off and battle well. The "Pro" equipped 600 RMK may force Ski-Doo to build a 600 Summit X or a Free Ride 600. Yamaha's FX Nytro MTX is in the same horsepower class, but its weight works against it when it is matched against the Pro 600 RMK.
Here are the details on the motor. The Liberty CleanFire motor has a displacement of 599 cc and a bore and stroke that is 77 x 64 mm. The motor comes complete with throttle position sensors, detonation sensors and the famed PERC – Polaris Electronic Reverse Control.
Like the 800, the 600's lines are flat and flush with the width of its runningboards. This results in a seamless line from bumper-to-bumper. This translates to killer sidehilling and tight turns from descent to ascent.
The Pro-Ride 600 RMK has a laydown steering post that delivers flat handlebar swing.
The 600 Pro comes as a 155 with the capable 2.4-inch paddle track. It has the Pro Ride RMK front suspension and RMK coil-over rear suspension, Gripper skis, lightweight spindles, RMK freestyle seat, and runningboards with large snow evacuation holes. The fuel-injected motor, with factory-installed single exhaust pipe, is well into the high 130 horsepower range.
The Pro has Walker Evans shocks at all front and rear points and Pro Taper handlebars; color is RMK Pro white.
The RMK Pro 600 will, in our opinion, put some lost fun back into backcountry boondocking. Today's 800 breeds, with their lightweight chassis and high horsepower motors, slap any mountain and knock it down with little effort. The 600, due to its smaller bore motor, will make us mountain guys earn the summit. I like that. I like the fact that with some skill, smarts, planning and scoping out a line; I can take a mountain with some country-boy geometry. More so, most mountain riders are 600 fellows anyway, but we mountain riders like big numbers (read, 800) because, well, we are guys. Yet, I believe those who jockey this 600, with some dedication, will keep up with the 800s. The 600 RMK Pro, by all intents-and-purposes, is not a less-than sled.
Polaris offers the 600 in other variants as well. The company offers a second 600 in a 155 that is a Standard, and third that is a 144. The 155 also mirrors the 800 RMK 155 Standard in that it utilizes Ryde FX shocks on all corners, standard RMK handlebars with mountain strap, and multi-function digital display.
The 144, is similar to the 155 Standard except in track and track length. The track is Polaris' 144-inch long Series 4.0 with 2.0-inch lugs. I like shortly sleds and believe this one will be just a hoot.
In closing, Polaris is good researching out public wants and needs. Apparently, the 700 was too close to an 800 and comparatively so, too close to a 600. By clearing out the 700, the 600 comes to its own, and communicates a clear distinction. With that said, this 600, from early rides, is a 700 at heart and in performance. So, did Polaris really loose the 700? Yes and no.
This is Snowmobile.com's small-bore 600-class mountain sled of year.
2012 Polaris 600 Pro-RMK 155 Specs
Engine
Polaris Liberty, 599cc two-stroke, liquid-cooled, twin; Cleanfire electronic fuel injection; two-into-one exhaust
Horsepower
130+
Drive
Polaris P-85 drive with TEAM LWT driven
Front Suspension
Pro-RideRMK adjustable A-arm suspension; Walker Evans gas shocks; 9.0-inches of travel; uses Polaris "Gripper" skis
Rear Suspension
Polaris RMK coil-over parallel rail slide with Walker Evans shocks; up to 16.0-inches of travel
Length
129.0 in
Width
46.5 in
Height
51.0 in
Ski Stance
Adjustable from 39-41-in
Track
15 x 155 x 2.4 Series 5.1
Weight
431 (claimed)
Fuel Capacity
11.5 US Gal
MSRP
$10,499
Related Reading
2012 Polaris 800 Pro-RMK Review [Video]
2011 Polaris RMK Review
2011 Polaris 800 Pro-RMK Preview
2010 Polaris 700 & 600 RMK Review