2012 Mountain Sled Evaluations: Part 1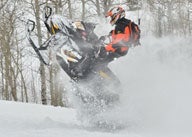 Our test riders found the 800 powder sleds close, with each having strong points
In Snowmobile.com's Mountain Team dugout we have Arctic Cat's ProClimb M8 Sno Pro 153, Polaris' RMK Pro 800 155, Ski-Doo's XP Summit X 800 154 and, the spoiler, Polaris' RMK Pro 600 155 – a snappy little thing.
In the four-stroke class, we have a Yamaha 162 Nytro MTX SE with a Mountain Performance Inc. (MPI), turbocharger, which Yamaha dealer, Rexburg Motor Sports (RMS) installed for us. Although we ran it with the two-strokers, we don't include it here, but will report on it in a separate feature as we stack it up against Arctic Cat's M1100 Sno Pro Turbo.
In order to make our powder evaluations a reality, we needed the help of some friendly dealers and we thank these sponsoring dealers for setting up our rides: RMS of Rexburg, Idaho for prepping the two Polaris RMKs and the M8, and Bott Yamaha/Ski-Doo of Idaho Falls, Idaho for preparing the Summit X.
A Glimpse
On New Year's Eve, we had an Allred family ride with me, brothers Kevin and Eric, and my son in-law, Kyle Martin, on a ride near Island Park, Idaho. This was a ride for first impressions.
The lightest snowmobiles, the two RMK Pros, felt the heaviest through the bars for Kyle, but not Kevin; he thought they were the lightest. Conversely, the heaviest of 800s, the Summit and M8, felt the lightest to Kevin, but not to Martin.
Martin did not like the M8's steering control until I jacked up the bars for him, then the mountain sled came to him. Cat wins points here with its telescopic handlebars.
For style, Martin thought the Summit was killer looking. Regarding the M8's bold orange look, he scoffed. I disagree, there is never enough orange. Kevin and Martin thought the RMKs were sexy. Both thought the M8's seat was perfect.
Both liked the Summit's handlebar rotation for trail use, but found it awkward when standing to make off-trail maneuvers.
These first thoughts were just a warm up to our more comprehensive evaluations that occurred for two days at Poker Peak, near Palisades, Idaho, when we compiled unbiased opinions from our experienced guest test riders. These powder veterans have been with us for several years and include, Greg Huntsman, Jerry Mathews and Danny Stowell.
We conducted a two-part evaluation, this being general rider impressions and opinions. We followed this up with on-snow results of timed events near Alpine, Wyo.
For the two-day Poker Peak evaluation, Stowell describes the conditions. "Rain where we unloaded, which turned to wet heavy snow as we climbed in elevation; 10- to 12-inches of new snow on top of a hard six-inch mid-layer, followed with two to four feet of zero-base fluff.  The six-inch hard layer was good, but raised havoc when we broke through." Snow depth was a total 37- to 43-inches.
Each guest evaluator offered firsthand riding impressions based on these conditions and share their views on each sled after thorough saddle time.
Impressions
Arctic Cat ProClimb M8 Sno Pro
Hunstman — Big improvement in looks, best of the bunch.  Good ergonomics.  Comfortable seat.  I was disappointed in the performance compared to the older M8 model.  Felt heavy compared to the Ski Doo 800 when climbing in heavy deep snow conditions.  Sticks a side hill well, even when rutted.  Stiffest suspension of the bunch; I prefer a little softer.
Stowell — The ProClimb 800 Arctic Cat was another machine I instantly felt at home on.  It felt well-balanced and easy to side hill; maybe too easy as I tipped it up hill a time or two. Smooth power – it went where I wanted it to go. Yet at times, the square nose stopped the machine instead of allowing it to glide over snow obstacles as the others did.  The old M chassis had a V-nose, like a boat, and it floated the nose. The new M8 Sno Pro looks good though.
Mathews — I really like the balance of this sled — it is easy to maneuver in the deep snow and has a good feel. The track worked well (as it has in the past), and I love the handlebars on this model (best bars of any manufacturer). But I did notice several negative items.
First, the skis don't turn as far as I'd like them to, the steering ratio (bar rotation verses ski rotation) is too low; I have to crank the bars for a given amount of ski movement; I found I continually had the handlebars at full travel one direction or another and wanting the skis to turn farther yet. This put the end of the bar in my belly or my chest depending if I was standing or sitting.
The skis are not very aggressive. I found this sled pushed in the corners on the trail and I also found that I had to put in more rider input to get the sled to carve as I wanted it to. A set of aftermarket skis, such as Powder Pros would correct this.
Second, we found snow and ice builds on the sides of the tunnel and on the rear of the running boards. I suspect that since the heat exchanger is in the center of the tunnel, once the snow melts that is around the heat exchanger it runs to the edge of the tunnel and freezes there.
Third, the sled felt a bit heavier than its predecessor.
But even with these three issues in mind, this sled is a strong performer. I wouldn't hesitate to own and ride one, but mine would have a set of Powder Pro skis on it before it went on its first ride.
Polaris RMK Pro 800 and 600
Stowell — The 800's handling is the same as last year's, but a noticeable difference in the power. The powerband on the 800 gave it to me in an instant. Hang on! It had me wore out early in the ride. But when climbing in the conditions we had, it would carry the skis all the way up a hill, which was fun when using body English to maneuver up the chutes.
Hunstman — The Pros have great looks and great ergonomics make for an effortless ride. The power for the two is good. Yet for a 600, I was grabbing for more throttle on the trail. The Pro RMK's track hooks up well in deep heavy snow. For the 600 the track allowed it to keep up with the 800s. Good suspension that ate up the bumps. Best of the bunch at holding a side hill.
Stowell — The 600 and 800 Pros worked great in the snow conditions we were in and had no problem climbing the terrain. The powerbands were smooth and manageable. The front and rear suspensions on the two RMKs were, in my opinion, too stiff for my liking. I don't think I would downgrade to the standard suspension on the RMK, but I would adjust the shocks and springs for a more compliant ride.
Mathews — For the 600 RMK, in my opinion the best 600 mountain sled ever made by any manufacturer. Polaris brought together a great performing 600cc engine with its lightweight and playful Pro Ride chassis to rule the 600 mountain market. And rule it does. This sled is extremely capable. It can run in the same company as 800 class sleds, and do almost anything they can short of the steep, long hill climbs and the really deep snow where extra power is mandatory. It is a great sled, especially for a beginner to intermediate rider with a rider weight that is less than 200 pounds.
Ski-Doo 800 Summit X
Hunstman — Good looks. Awesome power. The track hooked up very well in deep heavy snow conditions. Most difficult of the bunch to hold a side hill, especially when following other tracks. It tends to dip the outside ski more easily than the others. Great suspension that smoothes out the bumps.
Stowell — Easy to maneuver. It felt well balanced. The Summit X has an easy and smooth powerband, with a strong pull when needed. Not much change noticed from last year's S36-equipped Summit X.
Mathews — The big change to the 2012 Summit 800 E-Tec is the new 2.5-inch lug track. I was expecting this sled to act like Summits of the past, much to my surprise, the track performed superbly in the conditions we were in. The difference in performance was quite substantial. If I were to quantify it, I would dare say the 2.5-inch lug track out performs its predecessor by 15- to 20-percent. It is truly an amazing track for the conditions we were in; three- to four-feet of bottomless powder snow. Combine that track with the power of the 800 E-TEC motor and wow, you really have a potent weapon.
Now the Ski-Doo has some matters to understand. First, the bars swing in an up and down motion rather than the traditional back and forth motion. This fouls my balance when standing and trying to negotiate those technical areas. This is caused by Ski-Doo choosing to run the steering column over the front of the engine rather than under the rear of it. Second, remember the track is 16-inches wide. When following other sleds, choose your line wisely because a 16 wide track doesn't fit in a 15-inch wide rut, ride the side of the rut or choose a line that allows you to cross it. Ski-Doo Summits like to lead, not follow, and this new track is no exception, in fact, it makes leading a little bit easier.
A Final Word
There you have it. This is what our guest evaluators thought of each sled in these snow conditions on the day of the ride. Different conditions, obviously, could provide different results, but for overall feel these were the thoughts our crew of veterans came away with.
In Part II of our on-snow deep powder evaluations, we will roll out the weights – wet – of our fleet; we call this ready-to-ride (RTR). Not to end with weight data, we will provide information on degree of angle before rollover, turning radius, and two different speed runs. Stay tuned.
We end this portion of our evaluations with a quote from guest rider Danny Stowell, "I've thought much about why I felt more comfortable on one snowmobile over others.  There was a time I was deeply brand loyal, but through peer pressure I switched brands. This new brand I rode I hated for the first two outings. I was used to how my old machine worked, and I naturally wanted to make this new snowmobile work like my old favorite brand. Then I learned how to ride it. In a short period of time though, I came to like my new one as much as the old.
"Each one of these MY2012 mountain snowmobiles mentioned here, will take a different technique to handle the terrain – how you like to ride. Learn how. After these evaluations, I am asked which sled I would buy. I would take any one of them and would be very happy. But I believe my decision would come down to how my dealer treated me. If you have a dealer that is loyal to you (and you to them), go with that brand and dealer, and you'll be happy. The technology going into these current machines is incredible – and so comparable.  Just get out and ride."
Meet Our Test Riders
Danny Stowell
From: Rigby, ID Occupation: Paramedic/Firefighter Years riding: I've been riding for 40+ years with my first snowmobile being a 1972 Arctic Cat Cheetah. I perform medical support for Mountain West Racing, and am an official with Mountain West Racing, this for the past 17 years. Current snowmobile: I don't own a snowmobile at this time, but last owned a 2008 Yamaha Nytro. How many snowmobiles owned: 15 over the years. Favorite riding type: Boondocking. I desire to learn more about technical mountain riding.
Greg Huntsman
From: Idaho Falls Occupation: Project Controls Engineer at the Idaho National Laboratory Years riding: 21 Current snowmobile: 2007 Ski-Doo Rev 800 Adrenaline How many snowmobiles owned: 4 currently, 9 total Favorite riding type: I like to mix it up. I find myself looking for a new adventure, and that is technical riding mostly; especially at the beginning of a ride when my muscles are fresh and full of energy. The most enjoyable rides are those where new areas are discovered. It's fun to shoot through the trees and climb the next mountain to see what's on the other side.
Jerry Mathews
Years Riding: I have been actively riding for 24 years, but if you take into account my first experience with snowmobiles, you could say I have been riding for 28 years. How Many Snowmobiles Owned: I have personally owned 22 sleds over the years. This does not include all of the sleds that I have owned through SLP, and most of the sleds I have owned over the past nine years have been spare sleds that I have purchased and kept around for my family and close friends to ride when I wanted them to go with me. The SLP sleds have been the ones that I would have had most experience with, and if you count all of those, then the number would be much higher, I would guess somewhere over 100 (and that's being conservative). Current Sled: Well, we have at least one of each brand currently in the stable that I have access to. I tend to ride something different each time out so I know how our products are working on each of them. My personally owned sleds (separate from SLP) are spares that I let others ride most of the time when we go out, so I don't think they really count. Favorite Riding Type: I love mountain riding in tight, technical areas usually in the trees.
Related Reading 2012 Polaris 800 Pro-RMK Review [Video] 2012 Polaris 600 Pro-RMK 155 Review [Video] 2012 Ski-Doo Summit 800 Review [Video] 2012 Arctic Cat ProClimb M800 Review [Video] 2012 Arctic Cat M1100 Turbo Sno Pro Review 2012 Yamaha Nytro MTX 162 "Boosted" Review [Video]