2013 Polaris Indy 600 SP Review: Real World Test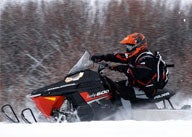 The production model is better than we remembered
The last – and only time – we rode Polaris' new 2013 600 Indy SP we liked it. It made a very positive impression on us and left us looking forward to having one of our own to ride this winter.
Fast Facts
Engine Type:Horizontal In-line
Cylinders:2
Engine Stroke:2-Stroke
Valve Configuration:Reed Valve
Displacement:599 / 36.6
Starter:Pull
Turbocharged:No
View Full Spec
Well, winter in the supposedly frozen terrain of our Minnesota base has been reluctant to stay. The first – and pretty much only – real storm of the season dropped an impressive 17 inches of snow in the driveway. We measured it with the "official" Snowmobile.com editorial yardstick. We didn't want to rely on television weather reporters who probably would freak out with such a reading. And, besides they weren't in our driveway. They didn't use our plow-equipped ATV to move the snow so we could make room for snowmobile trailers and free up parking spaces for our test sled fleet. Plus, they would have relied on "official" snow depths, which varied all over the area from a few inches in a northern locale to 10-plus inches near us. Our measurement was real world and a testament to the return of winter.
A short winter it has been to date. As we called around seeking trail depth reports, the weather went from great for snowmobiling to absolute crap. Before we could load up and head out, our snow suffered a near fatal wash out from rainy days! We had 17 inches of very rideable snow one day and just a few days later we had virtually nothing! And that's been it for serious snow.
But, you can't sit around all winter and whine. We headed up north. Way up north. To the borderlands of Minnesota and Canada. Snow wasn't great there either, but we had enough to get a reading on our most anticipated real world test sled – the 2013 Polaris 600 Indy SP. We wondered if we would be as impressed with it in the northern wilds of Minnesota as we were in the groomed powder of West Yellowstone. We certainly figured that the 599cc twin-cylinder Liberty engine would have more go-power being 5,500 feet closer to sea level during our initial test run in International Falls, Minn. It did, but the engine was fresh and not fully broken in, so we expect even better performance as the miles add up.
Let's give you a brief background on the test route. The trails were rough. Snow was sparse, but a fresh overnight dusting of a couple inches gave the slides plenty of lubrication. These were trails that could cost a snowmobile club a ton of repairs to their grooming equipment. The previous day temperatures rose to 40-plus degrees. Overnight winter returned, bringing a drop of 30 to 35 degrees, some snow and plenty of wind. We would ride lakes. Long ones. Wide-open ones where we could get a real feel for onboard wind protection, which was okay, but not great.
Those side winds, well, you can't do much about them but suit up well. The wind coming over the cowling and around the windscreen? We have some recommendations and they are readily available from the Polaris accessories' book at your local dealership.
Our sled had the sporty short, not too short windshield. There are taller and wider ones and you might want one if you frequently ride in sub-zero climes. Our sled was okay, but if the day's temperatures dipped another 10 or 15 degrees, comfort would have been compromised. As it was, our riding buddy thought it was cold enough for a bigger windscreen. So, see, different tolerances to cold demand different remedies. We were fine.
What we did notice was a cold stream coming around the side of the cowling and blasting our knees and up onto our thigh area. We know Polaris has side panel wind deflectors to direct snow and wind away from you. That might be a serious consideration. They work and they won't emasculate the sled's "look." The new Adventure Switchback uses them and a taller windshield. Pieces to defeat wind and cold are available. Heck, you can outfit the Indy SP with mirrors if you want.
Frankly, we like the basic unit pretty much as is. Even over the rough trail, we found the SP rode very well. Granted, since we did some running in Voyageurs National Park, we had to adhere to a 45 miles per hour maximum speed limit. And we were running in a pack. A moderately paced pack, not the pack of weekend guys many Indy riders will run with. Of course, we did fall behind once we got out of the park and had to rejoin our group, which gave us an opportunity to work out the suspension in the rough stuff. It was all rough stuff for this ride!
We like the Indy SP and for us it would be a better choice than a Polaris Rush with the external shock Pro-Ride suspension. The SP suspension is old school with shocks and travel contained inside the skid frame and a coupling link between the front and rear action to control ski pressure and that front to rearward action upon quick wide open throttle. Even though the SP is the top level Indy for 2013, the shock package, seat, and track won't measure up to the 600 Rush Pro-R, which costs $1,800 more. That sled gets Walker Evans premium shocks, the nifty Adventure seat and a more trail-aggressive Ripsaw track with 1.25-inch lug height. The SP features Fox gas shocks, the older Freestyle seat, and a Hacksaw track with 1.0-inch lug height.
The Indy series comes with the Pro-Ride front suspension, just like the Rush. The Indy SP uses Fox shocks to control the 9.0 inches of travel. Here again, we could easily live with the SP as our everyday sled. The front end with the new Pro-Steer skis works extremely well. We liked how flat the sled cornered in the rough conditions. The steering was light and consistent. The ride position seems totally natural as the new one-piece handlebar and its curved ends provide great control. Yes, the newer Adventure seat would be nice to have, but the Freestyle seating position works great. Overall, we found the rider ergonomics rivaled those of Ski-Doo's Rev XP models.
From a performance standpoint the Indy SP shares the underhood components of Polaris' other 600 Liberty-engined models. The drivetrain works extremely well in the Indy SP with very good off-the-line acceleration, strong midrange and, if we had opened it up crossing the lakes, we're certain we'd have seen high double-digit readings. The running gear is very good, on a par with Ski-Doo's two-stroke MXZ 600 series.
When it comes to the 2013 600 Indy SP, we find a great deal to like. There are some "wouldn't it be nice to have" features like a taller lug profile on the track, the newer seat and the top-level instrumentation, but overall, this sled is a bargain at US$8,999 in the "real" world of 2013 snowmobiling. It is even better in production form than it was in its test review set up.
Let's put it another way, the original Indy TXL 340 has always been one of our all-time favorite Polaris snowmobiles. Now we have a new all-time fave! This sled is simply and basically just plain fun to ride. If you like pure fun snowmobiling, the 600 Indy SP understands.
2013 Polaris 600 Indy SP Specs
Engine
Polaris Liberty Cleanfire 599cc twin cylinder 2-stroke; liquid-cooled; Cleanfire semi-direct fuel injection
Horsepower
120-plus
Drive
Polaris P-85 drive, P2 driven
Front Suspension
Polaris Pro-Ride; 9-in maximum travel; Fox IFP shocks
Rear Suspension
Polaris Indy slide rail; Fox IFP shocks; 13.9-inch maximum travel
Length
114.0 in
Width
48.0 in
Height
48.0 in
Ski Stance
42.5 in
Track
15 x 121 x 1.0
Weight
449 (claimed)
Brake
Polaris Phantom hydraulic
Fuel Capacity
11.5 US Gal
Features
Standard: Pro-Steer skis; 3.5-in riser; electronic reverse; one-piece handlebar; multi-function display
MSRP
US$8,999
Related Reading
2013 Polaris 600 Indy SP Review – Video
2013 Polaris Indy 600 vs. 2013 Ski-Doo MXZ Sport 600
2012 Polaris 600 Rush Review
2012 Ski-Doo MXZ TNT 600 E-TEC Review