2015 Polaris 550 Indy Adventure 144 Review + Video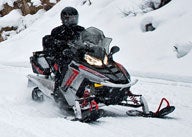 An incredible and versatile solo or two-up Indy all-day cruiser
In my many years of reporting about the snowmobile industry, I can't recall a sled maker essentially creating a subordinate snowmobile brand like Polaris' Indy. Even market leader Ski-Doo through its decades of dominance from the 1960s up to now, always worked under the Ski-Doo umbrella with model lines ranging from Olympiques to MXZs and such. In its market leadership heyday Polaris, like now, offered an extensive line of Indys as well as non-Indys like the Cutlass and Gemini.
Fast Facts
Engine Type:Horizontal In-line
Cylinders:2
Engine Stroke:2-Stroke
Valve Configuration:Reed Valve
Displacement:544 / 33.2
Starter:Electric
Turbocharged:No
View Full Spec
In reality Polaris can be said to have gone down this trail before, but probably not quite in the same way. We have Polaris totally abandoning its decade-plus of trailing arm Indy market dominance and bringing forth its "IQ" chassis with A-arm front suspension. Cleaning up that Fusion 900 fiasco of the mid-2000s, Polaris salvaged the IQ platform and innovated with progressive action Pro-Ride suspensions for its Rush and Switchback models. A traditional Indy-esque one-piece aluminum tunnel survived, got updated and found a home in Polaris' deep powder and backcountry models.
This heritage became the foundation for Polaris' born-again Indy line. First there was an Indy 600. Well, actually there were two versions – a base model and the trail performance Indy SP, complete with premium pieces including shocks and styling. Once Polaris marketing determined the Indy name enjoyed positive name recognition, the company expanded the line to what we see for model year 2015. There is something for virtually every snowmobiler from the high performance 800 Indy SP to the 550 Indy Adventure two-up cruiser.
In effect, the Indy line is a virtual standalone brand. No other snowmobile manufacturer has done that within its own pedigree. Of course, Arctic Cat builds a separate line of Yamaha Vipers based on tried and true Arctic Cat platforms, but Cat doesn't own or control the Viper, Yamaha and its dealers do. Even with all of its many models, Ski-Doo hasn't created a singular series like the Indy that effectively contains virtually every subset of models, except an Indy Mountain. In reality there is such a sled in the Polaris line, but it bears "RMK" branding.
2014 Polaris 550 Indy Adventure – Real World Test
You could almost open a separate Indy-only snowmobile dealership by forgoing the AXYS and RMK models. You'd have a sled for the high performance trail guy complete with an 800cc twin and premium Fox shocks. You'd sell to the two-up types with the 550 LXT or off-trail runners with the Voyageur models. And you could offer premium features for long haul riders by fitting them with a 550 Indy Adventure, with either a 144-inch or 155-inch footprint.
We know that Polaris isn't likely to open "Indy-Only" dealerships, but the Indy brand could almost stand on its own model merits. We've found the Indy re-emergence not simply surprising but compelling as well. Look at the 2015 550 Indy Adventure series as an example. For a fairly priced US$8,399, you can own the 144-inch tracked version. Add another US$500 and you can move to the super-length of the 550 Indy Adventure 155.
Here again, Polaris looks outside the North American snowbelt, offering an appealing sled for what has been a strong growth Russian market where trail networks and sport snowmobiling remains in its infancy. Industry followers state that business volume has represented nearly a 20 percent annual growth in the past decade up to now. As Russia has grown to be a significant importer of snowmobiles, the industry, notably Polaris and Ski-Doo, have tailored models for that region. The 550 Indy Adventure 155 could be considered such a tailored model.
With the drop in oil prices and troubles with Russian currency (rubles), Russian consumers have seen their buying power shrink by at least 22% from just two years ago when Russian sales were third behind the US and Canada. That likely will impact all brands' specialty models like the Adventure 155 worldwide, but probably not so much in North America where the 550 Indy Adventure 144 reigns.
To us, the 2015 550 Indy Adventure 144 tops the list for value satisfaction. Is it fast? Not really. Is it noisy and old-tech heavy? Positively, but when you look at the price difference between the fan-cooled 550 Indy Voyageur 144 and the liquid-cooled 600 Indy Voyageur 144, you could figure a quick price boost of about US$3000! For that US$8400 price tag, the 550 Indy Adventure 144 makes for a wholesome and versatile trail cruiser.
COMPARISON: Read our review of the 2015 Ski-Doo MXZ TNT ACE 900 + Video
The Fuji-built old school two-stroke fan-cooled twin takes you back a bit, but it works well enough, offers good drive away and mid-range performance for one or two passengers. The 550 engine works well through a time-tested CVTech Powerbloc 50 drive clutch. This drive system enjoys a proven low-maintenance history, plus they are so easy to tune even a snowmobile magazine writer can do it!
Obviously we'd prefer modern electronic fuel injection over the 550's dual 34mm Mikuni carburetors, but that's not happening. The cost can't be justified against the model's sales numbers and maintenance simplicity is a plus for non-North American markets.
The ride is good, not great. The 144-inch slide rail suspension bridges many mini-moguls on the trail and its base package of RydeFX MPV shocks handles the 14.1 inches of travel quite well. The Pro-Ride front A-arm suspension uses similar RydeFX MPV shocks to control the 7.1 inches of front ski travel. You can expect ride and handling commensurate with the 550's performance.
You do benefit from a Cobra track, which provides a lug height of 1.35 inches from the 15-inch wide by 144-inch long rubber track. The Pro-Steer skis are the best Polaris offers for trail sleds for 2015 and really bites into the snow for consistent cornering.
As you look at the Adventure 144, it appears heavy-ish, but Polaris claims it comes off the scale at less than 500 pounds (498 pounds, to be precise). That heavy look comes from the Adventure's standard add-ons. Having enjoyed a 550 Adventure this past season, we learned to remove the convertible passenger seat and leave it behind when we went solo. Those Lock & Ride saddlebags came in handy for on-trail storage. And we really liked the versatility the rear rack offered.
On-trail comfort proved to be surprisingly good. The Pro-Ride seat narrows down at the console, but its widened fanny perch makes for a great and comfy ride on long trail rides. As for wind, the Adventure's generous tall windshield and side-mounted wind/snow deflectors move cold away from you and your passenger.
COMPARISON: Read our review of the 2015 Yamaha Phazer M-TX
When we worked the Adventure over a miles-long jaunt, we came to truly appreciate how much Polaris engineers brought to this sled. Despite its value price point, the Adventure is fitted with the latest one-piece handlebar with its improved ergonomics and use of full-length grips. The front end gains a protective and rugged front bumper. And, of course, the 550 twin readily fires up as you twist the key of the electric starter. A pushbutton electronic revere system lets you back away from trouble spots and a proven hydraulic disc brake provides ample whoa-power.
Either 550 Indy Adventure in 144-inch or 155-inch track length will be a proven reliable value ride, but for long-haul on-trail riding, we'd stay with the Adventure 144. You adventurous types who break trail and have fewer groomed trail networks will probably find the extra length and wider skis of the Adventure 155 more to your liking. Either way, Polaris' Indy line satisfies the wants and needs of snowmobilers. Trail touring? The 2015 550 Indy Adventure meets that need. High performance? The 800 Indy SP! Whatever you want for the flatlands, there is an Indy model suited to you. Check out the line at your local Indy dealer.
| | | |
| --- | --- | --- |
| | 2015 Polaris 550 Indy Adventure 144 | 2015 Polaris 550 Indy Adventure 155 |
| Engine | Polaris/Fuji 544cc twin cylinder 2-stroke; fan-cooled; dual VM34 carbs | Polaris/Fuji 544cc twin cylinder 2-stroke; fan-cooled; dual VM34 carbs |
| Horsepower | 55+ | 55+ |
| Drive | CVTech Powerbloc 50 drive with CVTech Invance driven | CVTech Powerbloc 50 drive with CVTech Invance driven |
| Front Suspension | Polaris Pro-Ride; 7.1-in maximum travel; RydeFX MPV shocks; Pro-Steer Ski | Polaris Pro-Ride RMK; 9.0-in maximum travel; RydeFX MPV shocks; Pro-Float Ski |
| Rear Suspension | Polaris Indy slide rail; RydeFX MPV shocks; 14.1-inch maximum travel | Polaris Indy Articulated slide rail; RydeFX MPV shocks; 15.0-inch maximum travel |
| Length | 124.0 in | 132.3 in |
| Width | 48.0 in | 48.0 in |
| Height | 54.0 in | 56.0 in |
| Ski Stance | 42.5 in | 39.0 in |
| Track | 15 x 144 x 1.35 Cobra | 15 x 155 x 1.6 |
| Weight | 498 (claimed) | 524 (claimed) |
| Brake | Polaris RMK hydraulic | Polaris RMK hydraulic |
| Features | Standard: electric start; electronic reverse; mirrors; one-piece handlebar; tall windshield; Lock & Ride storage | Standard: electric start; electronic reverse; mirrors, tow hitch; one-piece handlebar; tall windshield; Lock & Ride storage |
| Fuel Capacity | 11.5 US Gal | 11.5 US Gal (87 octane) |
| MSRP | $8,399 | $8,899 |