2015 Polaris 800 Switchback Assault 144 Review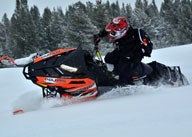 A sled for the 50/50 crowd of off and way off-trail riders
For flat land riders who find deep powder and Rocky Mountain air refreshing, then consider Polaris' Switchback Assault as a do-it-all-very-well crossover.
Fast Facts
Engine Type:Horizontal In-line
Cylinders:2
Engine Stroke:2-Stroke
Valve Configuration:Reed Valve
Displacement:795 / 48.5
Starter:Pull
Turbocharged:No
View Full Spec
Many years ago when we first rode a Switchback in the Pro Ride chassis, Polaris also introduced its Pro Ride chassis RMK, to include the RMK Pro and RMK Assault.
Remember, Polaris builds two Switchback variants, such as the AXYS Switchback Pro S and Switchback Pro X. The Switchback here is the Assault, which spins a 144-inch track whereas the AXYS style Switchback rotates a 137-inch track.
As Snowmobile.com's mountain rider guys, we get just as excited about crossover snowmobiles with deep-powder personalities as we do about mountain snowmobiles. We like the Switchback Assault with Polaris' Series 4.0 powder track where its lugs are two inches tall.
We do this the Switchback Assault 800 is feeling its age for 2015. No, it has not become a less-than Assault, but we see the mystical light in the crystal ball, and speculate the Pro Ride Switchback Assault 800 may give way to a stretched out AXYS-style Switchback Assault for 2016. But, this does not mean you and I can't have fun on the Pro Ride Switchback Assault 800. For winter season 2013-2014, we sure did as we put it outside its comfort zone, and ours too.
COMPARISON: Read our review of the 2014 Arctic Cat XF 8000 High Country
The Switchback Assault comes in two variants: 1) Deep-powder and trail, and 2) Powder and trail. Variant number one is the model I am most familiar with. Its track is the 15 x 144 Series 4.0 RMK track with two-inch paddles. This track is the same track the standard RMK 600 144 uses
Variant two, powder and trail, uses the 15 x 144 Camoplast Cobra track that has a lug height of 1.35 inches. We have labeled the Switchback Assault 144 as Polaris' crossover sled to its crossover line. It is a trail burner that hits the banks through a tight turn, holding the driver to a controlled whip, and floats over moguls. In the powder, when equipped with optional RMK powder track, it's a capable player that can hit the slopes with determination.
When equipped with the Cobra track with a lug height of 1.352 inches, its gearing is matched to the track's length, lug height and the foreknowledge a rider will take the Assault off-trail and dip into some deep powder. The Cobra track spins fast on the trails, has sufficient hook up, and gives the 800-powered Switchback Assault 144 adequate slip when powering into and out of a corner when full-throttle is applied. In three feet-deep snows the track will falter, though. Yet, in a foot of powder and less, the Cobra track works well.
The Switchback Assault's handlebar swing allows the driver to cinch up to the seat, drop a knee to the right or left, and keep the snowmobile in a solid camber. The 144-inch uncoupled rear suspension with tipped-up rails gives the 144 Assault nimbleness and "flickable" handling.
Unlike the RMK Assault, the Switchback Assault uses Polaris Pro-Steer ski rather than the RMK Gripper ski. A narrow surface area and deeper bite for trail use and cornering are hallmarks of the Pro-Steer ski. For mountain riding or off-trail deep powder riding, we recommend swapping out the Pro-Steer for the Gripper, this to give the Assault more nose flotation and improved sidehilling capabilities.
COMPARISON: Read our review of the 2011 Ski-Doo Renegade Backcountry X 800
Wide runningboards give the rider confidence when standing and provide ample room when sitting. The "fishbone" reinforced platforms do not flex when stomped on for hard sidehill cuts, when out chasing your deep-powder pals. Rush-like stirrups give the rider the lock down when rocking the mountains or wire brushing the trails. But, come to understand these, a big fat boot can get caught in these, making a quit exit a slow exit.
Standard Pro-Taper handlebars lack a mountain strap, but we do not miss it. We have learned to ride without using the center pull strap. Also, the Switchback Assault's lower-than-RMK-Pro handlebars give you the leverage to place the Assault into difficult situations and take it out of said situations with ease; the bars keep the driver properly positioned over the track drivers.
Let's talk function. We are mountain riders. We know a crossover sled is not expected to bang with big long track mountain sleds, the 150s and 160s, but the 144 Assault with optional RMK powder track comes close. While a crossover sled is not agile like a 130-something trail sled, the 144 Assault with Cobra track comes close.
As you know, the 800 Switchback Assault 144 comes with Polaris' crisp running 795cc twin-cylinder Cleanfire two-stroke with semi-direct injection. The motor carries the chassis and its rider with no complaint. Unlike the RMK Pro, the Switchback Assault 144 does not come with Polaris' QuickDrive belt drive system. It matches the RMK Assault by relying on the tried, true and robust chaincase system. Not a problem, folks.
The drive clutch is Polaris P-85. Companion to the drive clutch is Team Industries' lightweight (LWT) driven clutch. These two clutches work well together. The Team driven has a rapid up and down shift. But, if high mountain riding is in your upcoming winter plans, ensure the correct weights and springs are installed to help the motor dump power to the track as horsepower and torque drops with elevation gains.
COMPARISON: Read our review of the 2015 Polaris 800 Switchback Pro-X + Video
Suspending the rear end is the Switchback 144 uncoupled skidframe with tipped up rails. Tipped up rails give the Assault the nimbleness of a 136, yet it maintains good flotation in powder. Vertical travel for the 144 rear skid is 15 inches, of which the Assault uses every inch. The front rail shock is a Walker Evans piggyback compression-adjustable, whereas the rails' rear shock is a Walker Evans compression-adjustable (non-piggyback).
Up front is the Pro-Ride front suspension with a fixed ski width of 42.5 inches. Bump soak is handled by Walker Evans piggyback compression-adjustable shocks. Vertical travel is 10 inches.
For ergonomics, we prefer the RMK Pro Lite seat. We prefer a shorter seat without the rear bun. But, mountain guys are wired different. Trail guys will find the Switchback's seat perfect for long hauls.
What are the chassis differences between the Switchback Assault 144 chassis and the RMK Assault 155 chassis? Simply, how are they similar? And, how are they the same?
Similarities:
• Bulkhead
• Tunnel
• Fuel tank
• Console
• Handlebars and controls, minus center mountain strap
• Chaincase drive (no Quickdrive belt drive system)
• Engine
• Steering hoop tubes
• Walker-Evans compression-adjustable shocks.
Differences:
• Rush IFS and steering system
• Cooling system as the standard RMK
• Rush, 42.5" ski stance
• Pro-Steer ski
• Foot stirrups
• Wider running boards
• Torsion spring rear suspension
• Wider seat and longer seat (not the new RMK Lite)
• Aluminum rear bumper
• Over-molded aluminum front bumper
• Tipped rails
• 144" track length, 1.352" Cobra track or Series 4.0 powder track.
The Switchback label is a staple at Polaris, be it in the AXYS chassis or the RMK-like Pro Ride chassis; and its name has a strong legacy at Polaris. Crossover snowmobiles are smart snowmobiles, giving owners a 50/50 snowmobile that does its part well across two riding niches.
The beauty of this snowmobile is that it can be built as you want, fast attack trail with Cobra track, or off-trail with the Series 4.0 powder track. It is as versatile as you, provided you understand your and its limitations. The Switchback Assault contends with Arctic Cat's ProClimb 800 High Country and Ski-Doo Renegade Backcountry X. All three crossover snowmobiles mentioned here are capable of delivering exceptional trail riding and within reason deep-powder boondocking. For purposes here, the 800 powered Switchback Assault is nimble and fun to ride.
If you are expecting the Switchback Assault to be an AXYS Switchback, it will not be, but close. If you are expecting it to be a RMK Pro 800, it will not be. But, if you want to roll these two together, without incurring high cost, with the want to go backcountry exploring, then this is the Pro Ride for you.
2015 Polaris 800 Switchback Assault 144 Specs
Engine
Polaris Cleanfire two-stroke high-performance 795cc; bore/stroke of 85mm/70mm; two-cylinder, liquid-cooled; Cleanfire electronic fuel injection system; dry sump lubrication
Horsepower
150+
Drive
Polaris P85 driver and TEAM driven
Front Suspension
Pro-Ride double A-arm; Walker Evans piggyback adjustable shocks; up to 10-in of travel
Rear Suspension
Polaris parallel slide rail Switchback 144 Tipped; Walker Evans adjustable gas shocks; up to 15-inches of travel
Length
126.0 in
Width
48.0 in
Height
48.0 in
Ski Stance
42.5 in
Track
15 x 144 x 1.135 Cobra
Features
Optional storage bags, windshields
Brake
Polaris Phantom hydraulic disc brake
Weight
460 lbs (claimed)
Fuel Capacity
11.5 US Gal
MSRP
US$12,499 – C$13,499