2015 Polaris 800 Switchback Pro-S Review + Video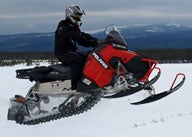 The best sled to get you to your happy place this winter
If you didn't pre-order a new 2015 Switchback and have been scouring Polaris dealerships, you know that the only model left is the Switchback Pro-S, with either a 600cc or 800cc motor. So, you're in luck!
Fast Facts
Engine Type:Horizontal In-line
Cylinders:2
Engine Stroke:2-Stroke
Valve Configuration:Reed Valve
Displacement:795 / 48.5
Starter:Pull
Turbocharged:No
View Full Spec
By only offering the stiffer riding all-new Switchback Pro-X as a pre-season "early buy," Polaris gives your ego an out. Between the two models – Pro-S or Pro-X – the new AXYS chassis Pro-S is by far the more versatile and, in our opinion, the preferred ride. There's nothing wrong with the Pro-X and it would appeal to your "Ricky Racer" ego that sees you as the second coming of Polaris snocross star Levi LaValle. But your reality-based, everyday rider will embrace the Pro-S. It's truly most excellent!
When Polaris lengthened the Rush's Pro-Ride suspension to fit the previous generation Switchbacks, it solved all the Rush's handling and ride issues. Oops, but it wasn't as a short wheelbase Rush. The extra length of the slide rail and the stretched out Pro-Ride gave the Switchbacks everything that we had hoped the original Rush would have been. But, moving ahead to model year 2015, Polaris totally re-imagined on- and off-trail performance and arrived at the AXYS platform, the basis for both the Rush and Switchback models.
Let's just acknowledge that the new Switchback AXYS chassis is 93 percent all new. Let's accept that Polaris has blown by the whole rider-forward thing and created true rider centric control. While it may sound gimmicky and certainly advanced marketing-speak, Polaris' Rider Balanced Control is actually that simple. The sled invites you to sit in the center of its centralized componentry. You move forward to add ski pressure for flatter turning. If you move back you gain a holeshot advantage by transferring weight for improved track grip and less ski pressure. It's simple playground technology learned as a kid on a seesaw.
COMPARISON: 2014 Polaris 600 Switchback vs. 2014 Ski-Doo Renegade 600 E-TEC
Of course, Polaris engineers did more than that, but the basics are pretty much in line. The Switchback's all-new Pro-XC rear suspension geometry enhances the riding environment, which features moving the rider hand position forward by 4.5 inches, the foot location ahead 2.0 inches and going to a more neutral seating position by moving the seat ahead 4.5 inches as well. Technical terms and geometry are explained simply as: move forward for ski pressure, move back for lift.
Whether riding on or off trail, the 2015 Switchback Pro-S allows you unrivalled rider inputs. Fast cornering and into the turn set up comes from a move forward and a shift of weight to the inside of the corner. Off trail banging comes from standing up and literally stepping back to bring the sled's nose up to ride out rough stretches.
You'll find that the new-for-2015 Switchback puts it technology to work with top of the line components. The XC rear suspension has new pivot point and crank movement that are controlled by exclusive-to-Polaris Walker Evans external reservoir gas shocks. The Pro-XC rear suspension shock harkens back to the original Rush where it sits at the rear of the tunnel and is readily accessible for immediate tuning. The Walker Evans gas shocks on the front are equally accessible and readily tune-able!
While we found the new Switchback styling too familiar to the previous version, the sled is new, new, new. It's also techie with a full-color 4.3-inch interactive digital display that can generate on-the-trail information much like your smart phone. Indeed, Polaris has an app for that!
This information display provides the usual: speedometer, tach, trip metering, fuel level, operating temperatures, maintenance warnings and such. But it also adds Bluetooth capability to mate with your smart phone so you don't miss out on texts and incoming calls. Really?!? That's a bit much.
The ability to map your location via an add-on GPS component allows you to track your location, incorporating electronic "bread crumbs" to mark your way points and such. This could be handy when hitting unfamiliar off-trail sledways or breaking new routes.
COMPARISON: 2014 Yamaha SR Viper XTX SE Review + Video
That appeals to the hardcore tech junkie, but what makes the sled a proper trail friend to every rider is the little things like well-thought out wind protection and storage. The sled's design is not simply style for style's sake. Those ridges and outcroppings on the hood and sides actually force cold winds away from your hands, knees and torso. This is a truly rider-friendly snowmobile that just doesn't bludgeon you with its clever design content. Plus, engineering effort shows itself in the overall fit and finish. Finally snowmobile manufacturers are giving us sleds that fit together better than a Legoland display.
Of course, with all of this being said about the fit and finish, the new AXYS chassis refinements and all, how does it work? Fabulously!
We admit that we are fans of the 600cc category of snowmobiles. It's not that we are afraid of the 160-horsepower generation of modern two-stroke 800cc powerplants, we're afraid of our throttle thumb. A guy's throttle thumb has no conscience and knows one setting, full wide open!
COMPARISON: 2014 Arctic Cat XF 8000 High Country Review
Fortunately Polaris' latest 800 Cleanfire HO two-stroke is very docile at low to moderate trail speeds. Very 600-like! But with more than 160-hp on tap, you will want to challenge the straightaways – and you can! The acceleration of the 800 Switchback is enthusiastic and very capable of getting you a very serious and expensive speeding ticket. The latest Cleanfire is new, much more efficient than any other Cleanfire that preceded it, and only available in the AXYS chassis sleds. The reason for that is the engine and new AXYS models were developed concurrently. That's why the Switchback and Rush air intake channels and cooling areas are unique. The intake feeds air in greater volume and more efficiently to the all new Cleanfire injection system's reed valves. Developed in cooperation with VForce, the new intake reeds are designed for greater durability and to improve throttle response.
The engine spins a bit faster than previous 800s because its crankshaft weighs 2.25 pounds less than before, helping it to throttle up faster for holeshots and powering out of turns or off moguls. The fuel pump is new. The exhaust valves feature three electronically monitored and controlled stages for improved response from idle to mid range and up to top end.
The 600cc Switchback benefits from the intake ducting, but it does not get the attention to performance detail found in the new for 2015 800cc Cleanfire twin. But, you'll want the big twin and its very trail-able 160-plus horses.
Yes, indeed, Polaris put a great deal of effort into its all-new AXYS chassis and 800cc Cleanfire twin. The 2015 Switchback is the end result. Don't fret about not getting a Pro-X version; the Pro-S is the right choice for the vast majority of us! If you can get a Pro-S, it quickly will take you to your "happy" place. That's where you want to be this winter.
2015 Polaris 800 Switchback Pro-S Specs
Engine
NEW for 2015 – Polaris Liberty 795cc twin cylinder 2-stroke; liquid-cooled; Polaris Cleanfire electronic fuel injection; two-into-one exhaust with 3-stage variable exhaust valve; CD ignition
Horsepower
160+
Drive
Polaris P85 drive with Team LWT driven clutch
Front Suspension
AXYS dual A-arm with Walker Evans adjustable piggyback competition-type shocks; 9.3-inches of travel
Rear Suspension
Pro-XC parallel rail slide suspension with external Walker Evans adjustable piggyback competition-type shock on rear, front suspension control arm with Walker Evans adjustable piggyback competition-type shock; 13.4-inches of travel
Length
121.0 in
Width
47.0 in
Height
46.0 in
Ski Stance
42.5 in
Track
15 x 137 x 1.25 Ripsaw II
Features
STANDARD: Pro-Steer skis; electronic reverse; AXYS performance seat; multifunction gauge/display
OPTIONAL: electric start, Lock & Ride storage
Weight
446 (claimed)
Fuel Capacity
12.0 US Gal
MSRP
$12,799