2012 Ski-Doo Tundra Review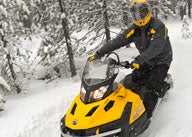 This off-trail sled simply fills a unique niche
Ski-Doo's 2012 product line up seems quite amazing given today's economics. There are at least 20 "in-season" product packages that range from extreme trail sport to luxury-appointed two-up touring to long-tracked deep powder machines to a series of utility models. Within those models, blend in engine choices, shock packages and a variety of track lengths. And that's before you even open up the parts and accessories catalog.
Fast Facts
Engine Type:Horizontal In-line
Cylinders:2
Engine Stroke:2-Stroke
Valve Configuration:Reed Valve
Displacement:553.4 / 33.8
Starter:Pull
Turbocharged:No
View Full Spec
With all these choices, you'll see that Ski-Doo leaves no snowflake unturned. That will prove good for those who may wonder what they can get to replace their good ol' Yamaha Bravo or vintage Ski-Doo Elan. There is a relatively inexpensive option that offers more power, more traction but similar simplicity as a replacement.
The 2012 Tundra may be the one Ski-Doo that totally simplifies the order sheet. When we went to build our fantasy Ski-Doo Tundra online at Ski-Doo's virtual showroom, we had few choices. The base Tundra does not come with electric start. There is just one color choice. The shock package goes for reliability as it comes stock with Motion Control shocks everywhere but on the rear suspension's rear arm where you'll find a gas-charged HPG unit.
As noted, Yamaha's equally venerable 246cc single cylinder Bravo bids farewell to the snow as it didn't make it into the 2012 product line-up, although you may be able to find a 2011 version at a few Yamaha Canada snowmobile dealerships. The Bravo actually had more in common with Ski-Doo's long since discontinued Elan than the latest Tundra. But it is the Tundra that motors on for that specialty need of trappers, linemen, ranchers and so on.
Ski-Doo's Tundra satisfies the basic needs of North American snowmobilers, who might like a reliable over snow conveyance to reach a favorite ice fishing spot. It falls in Ski-Doo's Utility category, but it can be used to give young wannabe sledders a bit of fun at the family's up north cabin get away, too.
The modern 2012 Ski-Doo Tundra utilizes well-proven components from Ski-Doo's North American snowmobile products, its famed Austrian Rotax engine supplier and its Lynx subsidiary in Finland. Base power comes from a Rotax 553.4cc air-cooled, two-stroke, twin-cylinder motor that develops 57 horsepower and has a 6800-rpm engine speed. The front suspension and many other design elements are shared with a Lynx version sold in the European, Scandinavian and Russian markets.
The end result is a multi-national snowmobile that can be counted on to run season after season with little more than basic maintenance. Since the fan-cooled Rotax engine has been a mainstay for decades, parts supply should be relatively easy to come by. The only serous problem we've seen with the Rotax 550 in recent years stems from the quality of today's gasoline blends. Using either non-oxygenated fuel or adding a fuel additive such as SeaFoam will help immensely to keep those 30mm carbs from gumming up.
Interestingly, while the Ski-Doo's online showroom does not list electric start as an option for the 550, you could have a dealer add it as the Tundra Sport version offers it as standard. If it's important, opt for the Sport package. By the time you got done having a dealer install electric start on the base Tundra, you'd be approaching the US$700 price difference of the Sport, plus that sled comes with a full rear rack and wider 16-inch track.
With the air-cooled motor, simple design and fewer standard features the base Tundra will give you a good snow print with surprising flotation thanks to the sled's 433-pounds of weight, which makes the base version 30-lbs lighter than the Sport and one of the lightest sleds in Ski-Doo's 2012 product mix.
Although the Tundra series has been around since 2010, it manages to stand out due to its uniqueness. The front suspension comes from Finland and shares a Lynx Telescoping front (LTS) design, which is equipped with Motion Control shocks to control up to six inches of suspension action. This hidden strut concept works well with the Ski-Doo's wide blow-molded skis for floating over backcountry snow.
Ski-Doo's Tundra features a version of the proven SC-5M rear suspension to place the track on the snow. This base model comes standard with the 15-inch wide by 137-inch long Cobra track. There is a 1.25-inch lug height for grip on or off trail.
While the Tundra series doesn't figure to get an annual engineering re-do, you will find that the 550 fan-cooled twin uses the same eDrive clutch as the much more sophisticated liquid-cooled, four-stroke ACE 600. We've found this ATV-based primary drive works well on the 50-plus horsepower sleds and is a definite upgrade over the former drive clutch. The eDrive seems more positive and not as sloppy as the previous unit.
You'll like the REV-XP seat and the tallish 10-inch height of the windshield. The handlebars are steel with hooked ends for improved off-trail control and a nice rise height that works well when you need to pick your way through the backwoods.
The Tundra may be one of the least expensive sleds in the 2012 world of snowmobiling, but it offers nice-to-have features like push-button electronic reverse and hydraulic brake. Light and nimble performance comes standard on this REV-XU utility chassis model. Add in reliable low end and midrange performance from the fan-cooled twin and you get a nice value package that fills a unique niche that was once shared with the Yamaha Bravo.
2012 Ski-Doo Tundra Specs
Engine
Rotax 553.4cc fan-cooled two-stroke twin; fitted with two VM30 carbs and reed valves; uses 87 octane fuel
Horsepower
57
Drive
Ski-Doo/Rotax eDrive primary drive with QRS
Front Suspension
Ski-Doo Lynx Long Travel strut suspension with Motion Control shock; 6-inch travel
Rear Suspension
Ski-Doo SC-5M parallel slide rail with Motion Control center and HPG rear arm shock; 13.4-inches of travel
Length
120.8 in
Height
43.7 in
Width
39.4 in
Ski Stance
32.0 in
Track
15 x 137 x 1.25
Weight
433 lbs (Claimed)
Fuel Capacity
10.6 US Gal
MSRP
$6,499
Related Reading
2012 Ski-Doo Tundra Xtreme Review
2012 Ski-Doo Skandic SWT Review [Video]
2012 Polaris 600 IQ WideTrak Review
2009 Ski-Doo Skandic SUV 550F Review