2012 Ski-Doo Tundra Xtreme Review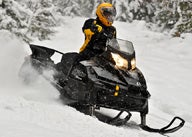 Ski-Doo's truly unique performance sled
When Ski-Doo officials unveiled the Tundra Xtreme, we admit to having an "Are you serious?" moment. C'mon! Some black paint and dropping the popular 600cc E-TEC twin into a Tundra platform somehow makes it a performance sled? OMG! What were we missing?
This past year we've been told by straight-faced Ski-Doo marketers that the Tundra Extreme met sales expectations. Okay. But, obviously this sled's key market was not the trails of Ontario or the Upper Midwest, as we never saw them out and about when we were riding. When presented with that datum, Ski-Doo folks informed us that the Tundra Xtreme did, indeed, sell well in foreign markets where trails are raw and buyers have the cash to afford a truly unique off-trail sled.
In point of fact, we've gotten over our OMG, are you kidding moments and accepted the 2012 Ski-Doo Tundra Xtreme as a very unique vehicle that could be a great deal of fun in the right location. Would it be our primary sled? OMG! No way! Would it be one for the fleet? Way!
Here's why we've dropped our astonishment and accepted this sled as a unique fun offbeat sport sled. First of all, we're going to give Ski-Doo some credit for having the wherewithal to actually try something out of the box. Well, sort of out of the box. After all this sled is still basically a Tundra long track, but with very good and solidly reliable power from what we consider to be the foremost sophisticated two-stroke engine in the sport, the E-TEC twin.
The Xtreme's underpinnings reveal a utility version of the Ski-Doo REV rider-forward chassis. This one is a bit beefed up and designed to handle the demands of wilderness snowmobiling. This REV-XU platform has been stretched out to handle an impressively long 154-inch PowderMax track. Mountain riders can relate to the design of this track, but at 16-inches in overall width this is the first serious utility sled usage. Or, do we refer to the Xtreme as a sport utility sled? Whatever, the sled has some unique DNA combination that you won't find anywhere but at a Ski-Doo dealership. Well, maybe the Lynx dealers in Norway, Sweden, Finland and Russia might have a version with similar DNA samplings.
If you do a DNA swab of this sled it will reveal quite a mix of heritage — parentage? The chassis is, yes, Tundra oriented. The drive system goes a bit MXZ what with the E-TEC 600 and its TRA III drive clutch and QRS driven. The front end is Lynx-based with its telescopic strut design and Motion Control shock set up. This set up works very well for serious off-trail adventuring as it is simple and offers little to get hung up on trail debris. The rear suspension is serious utility as it is an articulating version of the SC-5 that is designed for hauling and traveling in seriously uncared for snows. As mentioned, the non-ported PowderMax track might put Big Foot to shame as it places a very generous footprint on the snow pack. That's the basic DNA.
That DNA swab will also reveal a little engineering license — could it be engineering levity? — as the Tundra Xtreme doesn't get just any old saddle. No way, it's outfitted with a very proper and sporting MXZ "X" style seat that includes 1.3-gallons of rear storage. Hey, this isn't just a work sled. This is a special sled with ample parts from all corners of the Ski-Doo globe making up its source code. There is a full-on Italian-sourced Brembo hydraulic disc brake, complete with stainless-steel braided brake line. This is serious stuff like you'd see on the racer-wannabe "RS" series.
Styling could have fallen flat if engineering and marketing stayed with the normal Tundra theme. That didn't happen. This Tundra wouldn't be extreme if it didn't get the "blacked-out" paint job that covers the sled from its painted front bumper along its painted chassis to its blacked out cargo rack and rear bumper. Breaking up the extreme black paint is an aluminum handlebar with J-hook ends and an 8-inch riser block. Add in a mountain strap and this sled is ready to rock the powder.
Ruggedly handsome, the Tundra Xtreme is a civil ride. It has the Rotax electronic push button reverse to work with the articulated rear suspension. There's the convenience of electric start and a good complement of gauges.
In action the sled is hardly a Freeride mountain carver, but it's far from being a utility slug. It is a unique backcountry snowshoe built with few compromises. It can do way more than you can imagine. One of the things that it will do well is give you extreme confidence to go places you might have stayed away from in the past. It can hunker down, shifting its TRA into a low range to take full advantage of the E-TEC's strong low end and climb and climb thanks to its ability to float and grip.
When all the OMGs are gone, you have to recognize that the Ski-Doo Tundra Xtreme is a very serious snowmobile. Once you do that, you may well elicit a few very serious OMGs when you look behind you and see just where this long-tracked, E-TEC souled black beauty has taken you. You'll have no idea what this sled can do until you try it.
Yes, indeed, Ski-Doo was very serious when it introduced the Tundra Xtreme. We are total believers now. Way true believers.
2012 Ski-Doo Tundra Xtreme Specs
Engine
Rotax 600 HO E-TEC: 600cc liquid-cooled two-stroke twin; fitted with Rotax E-TEC fuel injection system; uses 87 octane fuel
Horsepower
120
Drive
Rotax 600 HO E-TEC: TRA III with QRS
Front Suspension
Ski-Doo Lynx Long Travel strut suspension with Motion Control shock; 6-inch travel
Rear Suspension
Ski-Doo SC-5U parallel slide rail with HPG shocks; 14.0-inches of travel
Length
131.6 in
Width
39.4 in
Height
51.0 in
Ski Stance
32.0 in
Track
16 x 154 x 2.25 PowderMax
Brake
Brembo hydraulic disc
Weight
495-lbs (Claimed)
Fuel Capacity
10.6 US Gal
MSRP
US$10,749
Related Reading
2012 Ski-Doo MXZ TNT 600 E-TEC Review
2011 Ski-Doo Skandic Tundra Xtreme Review
2008 Ski-Doo Scandic Tundra