2015 Ski-Doo Lineup Preview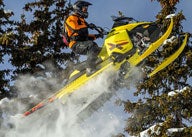 Really long mountain track and new front suspension highlight 2015 updates
Ski-Doo executives are upbeat heading into model year 2015. Why not? The company leads the industry in percentage of market share. In fact, Ski-Doo enjoys what it claims is it's largest market share percentage in 40 years.
While the company wouldn't announce a specific percentage, based on history, in the mid-1970s Ski-Doo sold more than half of all snowmobiles retailed. In 1974 that number would have been more than 400,000 units, meaning that Ski-Doo retailed more sleds in 1974 than all four snowmobile manufacturers sold worldwide last year. This past season Ski-Doo claims that it is Number One in virtually all market segments.
The company states it has the most popular mountain sled in North America. Heading into 2015, expect that popularity to grow as Ski-Doo introduces a new 2015 Summit X with T3 package that adds a new, longer 174-inch mountain track with 3-inch paddles and tricked-out components. Even with the super-long track, the Summit X with T3 will weigh virtually the same as a Summit sporting a 163-inch track and 2.5-inch paddles.
Ski-Doo engineers have gotten very, very serious in the powder segment, attacking Polaris' Pro-RMK head on in mountain terrain capabilities. While adding a longer track is one step, reducing weight at the same time is another. Ski-Doo dropped weight on its 2015 Summit X by reducing the size of its cooling elements, engineering a thin wall muffler that eliminated four pounds, and machining the interior of the new chaincase and removing redundant mounting points.
COMPARISON: Read our review and video of the 2014 Ski-Doo Summit X
Even the new 174-inch track got a going over by the engineers, who reduced material thickness in the flexible edging as well as tightening production tolerances on the track's edge trim. The new chaincase allows the track and suspension to be pushed back to accommodate the taller paddles, but represents a shaving of 1.5-pounds of weight. The tMotion rear suspension features lighter weight axles, the removal of rail-mounted idler wheels and even removing the outer ring of rubber on the remaining suspension wheels. Switching to lighter weight chromoly on suspension components helps shed ounces if not pounds. It all adds up and makes pairing the Summit X with T3 package with the Rotax 800cc ETEC two-stroke a truly light-footed snowmobile with improved power-to-weight performance, important in the backcountry.
Both the Summit X with T3 package and the Summit X will be "Spring Only" models. The Summit SP and Summit Sport will be available throughout the year. But, if you want a high-flotation mountain climber, you need to order soon.
Making the Summit X lighter and more responsive is Ski-Doo's entirely new Response Angle Suspension (RAS) 2. Ski-Doo's all-new design will stand out from past year models as it features a 12mm taller forged spindle. While the RAS2 better matches the performance of the tMotion and rMotion rear suspensions, it is lighter as Ski-Doo engineers shaved ounces off the ski legs and A-arms, which feature new forgings and thin wall chromoly tube construction. The end result is a front suspension that will help the new Ski-Doo corner flatter, reduce ski lift and enhance stability in the rough.
The new suspension and deep snow technologies meet Ski-Doo's goal of expanding its technologies and refining its models to help Ski-Doo owners maximize their snowmobiling experience. Along those lines Ski-Doo's parts and accessories group has worked overtime to develop integrated add-ons that enhance fit and finish and offer an increased level of personalization for Ski-Doo riders.
COMPARISON: Read our review of the 2014 Ski-Doo MXZ X-RS
The top of the line on and off-trail performance sleds, MXZ and Renegade, can be fitted with easy-on storage and cold-beating wind deflectors that won't detract from their aggressive styling. Previously only the MXZ was available with racer-spec X-RS features, but for 2015 Ski-Doo offers a limited availability Renegade X-RS package. These "X-RS" models come with aggressive suspension calibrations and premium KYB shock packages, plus the lightweight RAS2 front suspension.
Both the MXZ and Renegade lines continue to offer a wide range of Rotax-engineered powerplants. Introduced last season, the ACE 900 four-stroke triple will power an MXZ TNT as an alternative to the 600cc or 800cc two-stroke ETEC options. Power for the 2015 line of Ski-Doo models ranges from the 60 hp ACE 600 four-stroke twin to the 160 hp 800 ETEC twin. Your four-stroke options include both the ACE 600 and 900, plus the three-cylinder1200 4-TEC with 130 hp. Gone is the 550 fan-cooled option, effectively replaced by the ACE engines. Value-priced models like the MXZ, Renegade and Summit Sport come with a carbureted 597cc two-stroke twin. You'll find the 800 PowerTek continues in select deep snow versions as well.
The ACE 900, which is used in Sea-Doo's all-new Spark personal watercraft, brings more PWC technology to the snowmobile side of the BRP business. The multi-mode standard, sport and ECO performance feature and "learning key" technology continues, but for 2015 all ACE-powered sleds add a "finger" throttle, allowing riders the option of a standard thumb throttle lever or rotating the throttle block and using a PWC-style finger flipper. Ski-Doo anticipates that "…owners will appreciate the ability to vary their hand positions on long rides." This may prove popular with GSX and Grand Touring riders who can pass a couple hundred miles in an afternoon.
The 2015 Ski-Doo model line up has been tweaked with new graphics and accessory options, but comes into the new season with virtually all of the same models as last season. The MXZ sport line includes the "Spring Only' X and X-RS models, but returns the popular MXZ TNT and Sport models. Likewise the "spring only" Renegade line features aggressive off-trail performance in the X, RS and Backcountry X series. There will be year-round availability for the Renegade Adrenaline, Sport and base Backcountry models. All feature 137-inch tracks.
COMPARISON: Read our review and video of the 2014 Ski-Doo MXZ TNT ACE 900
Joining the Backcountry and Summit deep snow line of Ski-Doo models is the popular special edition Summit-based Freeride equipped with the potent 800 ETEC but offering a choice of track lengths from 137 inches to 154 inches. These sleds are for the serious boondocker who demands power, traction, flotation, and premium features like a Summit-type handlebar, premium shocks, and FlexEdge track. Unique Manta Green with Magenta styling helps this rider stand apart.
Whether traveling as a pair or a single, Ski-Doo's line-up of touring sleds brings style and comfort to sporty performance. The GSX is basically an MXZ with on-trail luxury comfort including nice-to-have rearview mirrors, storage bag, electric start and, on select models, air-controlled ride. The Grand Touring and Expedition line provide two-up accommodation. The Expedition has a 154-inch long track, but offers many of the same amenities as the top-of-line Grand Touring, which gives you air-ride suspension and luggage options.
For serious utility, Ski-Doo continues with the Skandic and Tundra models, some offering a unique two-speed with reverse synchromesh transmission. Both series use a backcountry proven telescopic strut front suspension.
As the Number One selling snowmobile brand, Ski-Doo competes in every niche with a wide variety of choices in sled designs, capabilities, engine options, and technologies. Whether you want to scale a mountain with the new-for-2015 Ski-Doo Summit X, chase moguls aboard a Renegade X-RS, take a friend on your Grand Touring for a weekend getaway or simply haul your fishing gear to your ice house, there is a 2015 Ski-Doo ready for the ride.
If you can't find a 2015 Ski-Doo that suits your wants or needs, then you haven't visited a Ski-Doo dealership.