2015 Ski-Doo Renegade Backcountry 800 Review + Video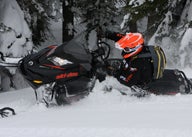 Sweet performance backcountry riding
Sometimes we all have to do it; that is go fast, go long and go exploring like Lewis and Clarke.
Fast Facts
Engine Type:Horizontal In-line
Cylinders:2
Engine Stroke:2-Stroke
Valve Configuration:Reed Valve
Displacement:799.5 / 48.8
Starter:Pull
Turbocharged:No
View Full Spec
The mountain team at Snowmobile.com enjoys the opportunity to burn down the barn on a wide-stance trail-ripping crossover snowmobile like Ski-Doo's Renegade Backcountry 800.
This growing crossover segment is hot among the four snowmobile manufacturers. Longer suspensions provide a plusher ride (depending on shock and spring setup) than that of the short track snowmobiles. If you are a Ski-Doo fan, or a rider who wants clean two-stroke power from an 800, and you desire comfort and some deep-powder capabilities, then the 2015 Ski-Doo Renegade Backcountry 800 with Doo's RAS2 front suspension, rMotion rear suspension and Flexedge track delivers to your heart and soul some "Wow!"
Before we continue on with our technical review, the video walk around on this snowmobile does not capture everything. Yes, we admit we forgot a few key points, which we clarify here.
The Renegade Backcountry is loaded with Ski-Doo's best trail and comfort crossover amenities. It is built on the REV-XS platform (not the Summit base chassis) and powered by the clean two-stroke 800 E-TEC.
The 2015 Renegade Backcountry 800 comes equipped with the all-new RAS2 front suspension, known as Rapid Action front Suspension. As we learned about RAS2 from Ski-Doo's engineers, they informed us the front suspension's upper ball joint is almost a half-inch higher on the ski spindle than the previous front suspension used on the previous Renegade Backcountry. This increase in height minimizes camber change, which in turn forces the skis move to a slight toe-out position when fully extended while the snowmobile is airborne or between moguls when smacking rollers and bumps.
Ski-Doo claims riders will maintain more front end control when the nose settles down and the front suspension begins its controlled collapse. Not to end there, the RAS2, with its taller spindles puts to an end, or greatly reduces, chassis roll when powering out a corner in a full throttle-on situation. With RAS2, Ski-Doo proclaims the Renegade Backcountry will stay much more planted, stable and flat when mogul skipping and fast cornering. We agree.
COMPARISON: Read our review of the 2015 Polaris 800 Switchback Assault 144
As Ski-Doo bolted on the RAS2 to the Renegade Backcountry, the Valcourt, Quebec company did not set aside style and weight. New forgings and thin wall chromoly tubing dropped the front suspension's unsprung weight from the 2014 Renegade to this 2015 Renegade by 1.76 pounds. The RAS2 also has a more appealing – call it cleaner – style from flattened tubes and CNC designed and fabricated ski legs. Front travel is 8.3-inches or 210mm. The front shock is a gas-charged HPG Plus with coil-spring assist.
Partnering with the RAS2 is the rMotion rear suspension, rather than the deep powder tMotion rear setup. We found the shorter tracked Backcountry 800's rMotion complements and amplifies the RAS2 in function and driver control. The many, almost endless adjustments (many combinations) the rMotion gives to the snowmobile's owner allows the rider to secure the perfect setting for speed, load and condition. In a February 08, 2011 rMotion technical article, "2012 Ski-Doo rMotion Rear Suspension Preview," Sr. Editor, Jerry Basset delivers an in-depth review, which we recommend you click over to.
In short, rMotion is a true rising-rate rear suspension. In quoting Bassett, he writes: … "rMotion will offer the greatest rising rate motion ratio of any existing rear suspension. The design goal [Ski-Doo's] was to maintain comfort and control in the small chatter bumps while adding capability in deeper moguls. To get this action, the designers gave the rMotion an extra two inches or 13 percent more rear travel than its existing SC-5 suspension. Ski-Doo claims this results in up to 30 percent greater rear travel than what's available with some competitors. This extra travel not only adds greater reaction, but it is action that can be tuned for a more subtle and softer ride, depending on how the rider wants to use the travel." Travel for the rMotion is 16 inches or 406mm. The front and rear shocks are HPG.
What is rMotion? Well, it is a long travel rear suspension that works on a curved load scale rather than linear. The suspension's travel and energy absorbing components arc and swing like a bell crank. Bassett states in his article, the bell crank method acts "simply as a crank that changes motion through an angle."
COMPARISON: Read our review of the 2015 Yamaha Viper XTX SE + Video
Weight transfer, control rod angle and shock stiffness are easily manipulated by the operator with large and easy-to-turn dials, blocks and levers. With a gloved hand, and even when the rMotion is covered with snow, the operator can tune the rear suspension to need – no wrenches, no removing the skidframe from the tunnel, and no cussing.
To give the Renegade Backcountry some deep powder and sidehilling capabilities, it comes with Ski-Doo's PowderMax Flexedge track that is famous on Ski-Doo's Summits and Freerides, but with shorter lugs that measure 1.75 inches. This track's dimension is 137 inches long and 16 inches wide. With this flexible track and nominal lug height, the Renegade Backcountry will supply some mountain-riding feel when traversing the backcountry in some deep powder.
The 800 electronic direct injection E-TEC 800 R motor (799.5cc) is crisp and clean burning for the Renegade Backcountry. Even at high elevations near West Yellowstone, MT and Island Park, ID, the Renegade Backcountry 800 gave mountain-rider confidence that it will not run out of wind when elevations are two miles high. The Renegade Backcountry 800 spins a TRA VII drive clutch and a QRS driven clutch. This Renegade Backcountry can also be purchased with Ski-Doo's Rotax 600 H.O. E-TEC engine.
The REV XS platform on the Renegade Backcountry 800 comes with wide and spacious runningboards that are vastly open (to allow snow and ice to drop through the foot platforms) and REV-XP X narrow profile seat. These provide an ergonomic package that is well suited for both sitting and standing. The handlebars come assembled with end-hooks and stiff center pull strap, just like a Summit and Freeride.
And now to our riding impressions, which is summed in one word – nice.
After playing a while with the Renegade Backcountry, Sr. Mountain Test Rider Kevin Allred offered these impressions:
As I sat through the tech session on the 2015 Ski-Doo line up, I was intrigued by several power point slides that explained the RAS2 front suspension. Thinking, 'Ya I get it.' But did I? A few days later I found myself on the Renegade Backcountry 800 equipped with RAS2 – new for 2015. As I pushed the Renegade harder and harder I thought 'Ya, I DO get it.' What a ride! Let me add too, the Renegade Backcountry built with the Rotax 800R E-TEC motor, the 16-inch wide 137-inch long 1.75-inch tall PowderMax track with Flexedge technology, and the rising rate rMotion rear suspension, just plain ripped, with comfort and control.
COMPARISON: Read our review of the 2014 Arctic Cat XF 8000 High Country
No question here, the Renegade Backcountry 800 perfectly fills the comfort-and-control niche in the crossover segment; and this is most desired in a high performance trail snowmobile with off-trail capabilities.
Can mountain riders evaluate and come to appreciate a trail or crossover snowmobile? Of course. Kevin Allred and I battle for seat time on Polaris' AXYS-equipped Switchbacks and Ski-Doo's Renegade line, especially the Backcountry and Backcountry X. Given that, the RAS2- and rMotion-equipped Renegade Backcountry, powered by the 800 R E-TEC motor, is a package we had a hard time letting go when our evaluation time came to an end.
Here are a few thoughts on boondocking. This Renegade is a crossover snowmobile, for sure, but also understand, it is limited in its deep-powder capabilities. With a tread length of 137 inches and a lug height of 1.75 inches, it will not take on the ultra-deep powder and steep slopes high outside Togwotee Mountain Lodge. However, it will satisfy your trail hunger near the lodge and provide some excellent meadow exploring where snow depths do not exceed two-feet, especially in freshly fallen snow where the powder is dry. It is not a Summit or Freeride 154, but its personality is a good blend of off-trail and on-trail function well suited for long exploratory rides where drivers can set front and rear suspension shock loads to need. The RAS2 front suspension and rMotion rear suspension make the 800-powered Renegade Backcountry a stable, in-control, and easy-going partner for daily boondocking. Grab one and pretend you are either Lewis or Clarke. They will be jealous.
2015 Ski-Doo Backcountry 800R Specs
Engine
Rotax 799.5cc, two-stroke twin; liquid-cooled; Electronic direct injection
Horsepower
160+
Drive
Ski-Doo/Rotax TRA VII with QRS driven; electronic reverse
Brake
Brembo racing brake with stainless steel braided brake line
Front Suspension
Ski-Doo RAS2 dual A-arms with spring over HPG Plus shock; up to 8.3-in travel
Rear Suspension
Ski-Doo rMotion parallel slide rail with HPG gas shocks; up to 16.0-in travel
Length
122.4 in
Width
45.6 in to 47.1 in
Height
47.6 in
Ski Stance
38.4 in to 40.1 in
Track
16 x 137 x 1.75 PowderMax FlexEdge
Weight
469 lbs (claimed)
Fuel Capacity
10.6 US Gal (Premium Fuel)
Features
Standard: REV-XS chassis; Pilot DS2 skis; aluminum handlebar with J-hooks; multi-function gauge; REV-XP X seat with rear storage; 6.3-inch riser block; electronic reverse; 15-inch windshield
Optional: storage bags; electric start )
MSRP
US$12,199 – C$13,749