2015 Ski-Doo Renegade Sport 600 ACE Review + Video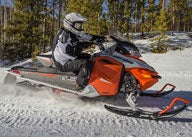 A great rental unit, but for personal use, there are better options
We are not going to say terrible things against the 2015 Ski-Doo Renegade Sport 600 ACE, even though in our mindset it best serves as an excellent rental unit. It's endowed with solid, fundamental pieces and design that can fool non-snowmobilers into feeling as though they're really experiencing our favorite winter sport head on. Then, the next day, those rental riders will go back to ski school and hit the slopes, feeling smug about how they tried snowmobiling and, in their estimation, downhill skiing is really better.
We're for it. We need sleds to fill out the rental fleets. And we really need to have those rental sleds leaving a positive impression, if not a real sporting one. The Ski-Doo Renegade Sport 600 ACE is quiet, which has to be appreciated by non-snowmobilers. It has smooth drive-offs from its 60-horsepower, fuel-injected, four-stroke twin. It'll achieve 50-plus mile per hour speeds on straights and handle adequately in the corners. The ride will be supple enough as it moves through its 13-plus inches of travel. It starts like a car, has an easy response to the throttle and should be very non-threatening.
For rental operators providing snow fun near ski areas, this sled is just about perfect. The 600 ACE is virtually bullet proof. If need be, the engine can be dumbed down thanks to the standard "learning key," which can be programmed to reduce power and performance to better suit novice riders. The Renegade Sport 600 ACE retains Ski-Doo's older technology, like front and rear suspensions. There isn't a thing wrong with the technology, as it's proven and reliable. That's what a rental operator wants to help control cost.
COMPARISON: Read our review of the 2015 Ski-Doo Renegade Adrenaline 600 ETEC
Of course, real snowmobilers know that the newer Ski-Doo technologies are better. Just moving up a notch in the Renegade pecking order proves that. Look at the Renegade Adrenaline 900 ACE, which retails for US$1,450 more than the Renegade Sport 600 ACE. Forget the fact that the 900 ACE offers an additional cylinder and 30 more horsepower. Check out the suspensions. You get the latest RAS2 front end and the smoother riding and immensely more tune-able rMotion rear set up. Those three considerations make the more expensive Renegade 900 ACE the better value for everyday real snowmobiling.
We will admit that the Renegade Sport 600 ACE works surprisingly well both on and off trail. The smallest Rotax four-stroke comes with good torque, which is useful for easing through multiple feet of snowdrifts. The engine and eDrive 2 drive system is tuned to hunker down into a smooth low range to transfer adequate power to the 137-inch track. The sled's operation reminds us of the long-gone and diminutive Ski-Doo Elan, which featured a 250cc fan-cooled single. It was a surprising off-trail runner that used the steady torque of its one-lunger to thump-thump power to its full-sized track. Although it didn't rush up hillsides, it could crawl and climb amazingly well. It was light and fitted with the right gear.
Like that vintage Elan, the Renegade Sport 600 ACE, too, is fitted with the right gear. The drive system promises virtual trouble-free operation that will be impressively efficient with the 10.6 US gallons of 87 octane it can carry. Its standard Cobra track measures 15 inches in width and 137 inches in overall length and features a 1.25-inch lug height for consistent traction. While no modern Ski-Doos weigh in the Elan's 285 pound range, the 2015 Renegade Sport 600 ACE's claimed dry weight of 475 lbs is excellent by modern standards.
The modern sled adds in liquid-cooling as well as necessary refinements in suspension technologies. You don't really want to ride a leaf sprung, boogie wheeled sled, do you? The old Elan and such had "state of the art" components for their time. Modern times assure us of a far superior ride and much more agile handling.
COMPARISON: Read our review of the 2014 Polaris 550 Indy Adventure Review
Granted that the more upscale Renegade Adrenaline 900 ACE has better suspensions, the Renegade Sport 600 ACE fares well. The rear suspension is a reliable SC-5M, the forerunner to the rMotion, and it features a Motion Control shock at the center structure and a high pressure gas HPG shock for control on the rear control arm. The front suspension's ride action may be one step down from the current top of the line RAS2 design, but it handles very well, especially on a 60 hp sled. The dual A-arm suspension with Motion Control shocks works well to hold the plastic Pilot 5.7 skis in contact with the trail.
While we look at the Renegade Sport 600 ACE as a very worthwhile rental unit, you may look at it as a long-term value based on its price and the features you get for that price. The chassis is the latest aluminum-constructed REV-XS design. It's light and rugged. You'll appreciate the famed Brembo hydraulic brake system; the same brand as used on the race replica models. The handlebar is lightweight aluminum and extends straight out to J-hooks for added grip in off-trail running. The windshield is tall enough to give you sensible style and good wind protection at the same time. Electric start is a given and a mechanical reverse makes loading and unloading from your trailer simple. You have a saddle that lets you sit for cruising or welcomes a quick move to standing. It even offers storage.
For our purposes the Renegade Sport 600 ACE makes great sense as a rental. It can be very suitable for a young, starting out snowmobiler learning the sport. As the sled only brings the power equivalent of a 550cc fan-cooled twin to the snow, it is a good flat land choice, but mediocre for elevation. It certainly is quieter than the old fan-cooled two-strokes and much, much smoother.
2015 Snowmobiles of the Year: Best of the Flatlanders
You can add a bit of play if you work the three engine modes. Controlled via a dash-mounted rocker switch, you can go from a standard mode, which is designed for smooth engine to drive transition and replicates everyday standard performance. Adjust to Sport mode and you can feel more aggressive engine shifting and clutch response. The Eco mode really slows things down as the electronic programming seeks to maximize fuel efficiency.
Since new snowmobilers aren't used to holding in a thumb throttle and may feel their hands tire, Ski-Doo fitted the Renegade Sport 600 ACE with a unique reversible throttle assembly that gives you a standard thumb flipper, but also allows you to turn the assembly for use as a finger-flipper.
If you want to personalize your sled, Ski-Doo offers an incredible amount of add-ons. Some are designed to fit the exclusive-to-Ski-Doo LinQ system. You can add storage, additional seating and towing capabilities if you see the Renegade Sport 600 ACE as your reliable and relatively inexpensive choice of tow sled to get your ice fishing gear to the ice derby.
Admittedly we would not turn down the gift of a free Renegade Sport 600 ACE, but we can certainly think of better choices for a personal sled. If operating a sled rental, we'd give serious thought to it. If you want a sled that's quiet, economical to operate, fitted with modern components and looks stylish on the trail, the Renegade Sport 600 ACE should be a consideration.
2015 Ski-Doo Renegade Sport 600 ACE Specs
Engine
Rotax 600cc, four-stroke twin; double overhead cam; liquid-cooled; electronic fuel injection 3 engine modes (Sport, Standard, ECO); "learning" key; tuned exhaust
Horsepower
60
Drive
Ski-Doo/Rotax eDrive 2 with QRS driven; mechanical reverse
Brake
Brembo hydraulic disc with stainless steel braided brake line
Front Suspension
Ski-Doo RAS dual A-arms with spring over Motion Control shock; up to 9-in travel
Rear Suspension
Ski-Doo SC-5M parallel slide rail with HPG rear shock & Motion Control center shock; up to 13.4-in travel
Length
122.4 in
Width
47.9 in
Height
47.6 in
Ski Stance
42.4 in
Track
15 x 137 x 1.25 Cobra
Weight
475 lbs (claimed)
Fuel Capacity
10.6 US Gal
Features
Standard: REV-XS chassis; straight aluminum handlebar with J-hooks; REV-XP seat with storage; reverse; electric start; 15-inch windshield
Optional: rearview mirrors; storage bags
MSRP
US$9,249