2015 Snowmobiles of the Year: Best of the Flatlanders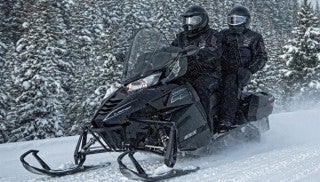 Our editors choose the best of the best
As our friends out in deep snow country noted, "…sometimes we give top honors to unlikely models." But, for model year 2015, one set of choices was very easy, based on the newness of the models. When we look at Polaris and its AXYS series of sleds, the choice should have been easy. But how do you choose from a Pro-S or a Pro-X, or how to choose between the short track and the longer track versions. And are they really better than a ProCross or new RAS2 front end equipped Ski-Doo? What about the new Viper models? Yamaha does work hard to make them a bit more Yamaha don't they?
2015 Snowmobiles of the Year: Best of The West
Still, when we looked at the entire model year 2015 offerings, we did find some sleds we enjoyed more than others; some that we could recommend higher than others. But in the end, this is still only our opinion. What you ride and what you like will make your choices for you. We have made ours and here they are.
And the 2015 Snowmobile.com Editors' Choice Awards go to…
2015 Snowmobile of the Year Polaris 800 Rush Pro-S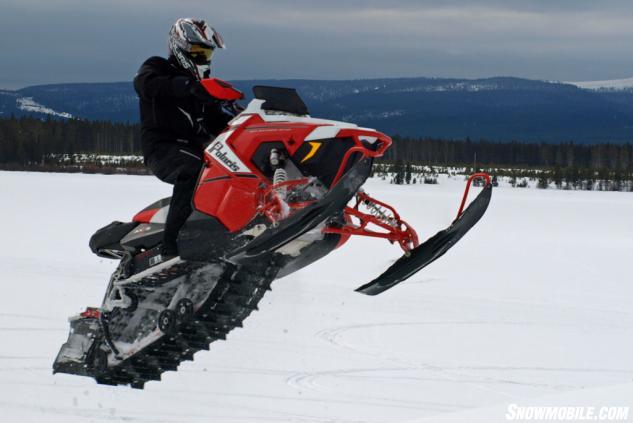 The high points for our snowmobile of the year choice include a totally re-thought AXYS chassis that offers true rider-centric positioning for absolutely wonderful on-trail control. Blending that chassis with an all-new Cleanfire 800cc two-stroke twin simply adds to capabilities of the Polaris 800 Rush Pro-S, making it what the original Rush should have been! The 2015 Rush Pro-S rides, handles and feels like few other sleds on the snow. It is compliant enough thanks to its "moderate" Walker Evans shock package, but not snocross racer stiff like its intentionally stiffer stable mate, the Rush Pro-X.
The 2015 Polaris 800 Rush Pro-S will satisfy 95 percent of today's on-trail performance-minded ridership. That other five percent thinks they will be happier with a stiffer ride. Welcome to your world. The Pro-S satisfies the real world.
Read our review of the 2015 Polaris 800 Rush Pro-S + Video
It has evolved bodywork that uses its styling to actually divert wind and cold away from you. It has advanced intake flow to direct cold air more efficiently to the new 800cc Cleanfire electronically injected two-stroke. That engine spools more quickly thanks to reduced crankshaft weight, three-stage electronically controlled exhaust valves, more efficient VForce reed intake and tuned exhaust.
The Pro-XC suspension's progressive action and active pitch control work seamlessly in the AXYS design for a controlled ride. Add in a new AXYS Performance seat and revised left-hand controls for a new level of interactive "feel" with this sled.
Adding it all up gives you our 2015 Snowmobile of the Year – the Polaris 800 Rush Pro-S.
2015 Best Off Trail Arctic Cat XF 8000 Limited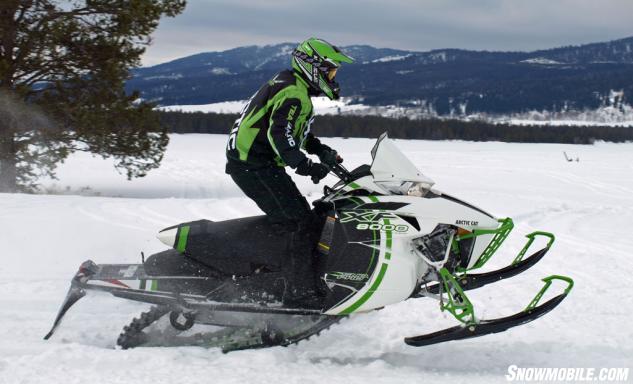 Arctic Cat's Limited model blends Sno Pro handling features with LXR luxury touches to create one truly off-trail friendly package that can handle big bumps, twitchy moguls and still offer nice-to-have onboard ergonomics. With a Suzuki-built 160-plus horsepower laydown two-stroke twin spinning a 137-inch long track over the tried and true Slide-Action rear suspension, the XF 8000 Limited is both a top performer and rider-oriented model complete with rear storage bag, heated goggle holder and performance Fox Float shocks for the tall spindle front Arctic Race Suspension.
Arctic Cat engineers understand ditch-banging basics because they live it in Thief River Falls, Minn. The front end handles 10 inches of travel while the rear unit absorbs up to15 inches of brutal motion.
Read our review of the 2014 Arctic Cat XF 8000 High Country
We've found the XF Cats can handle a wide variety of off-trail action, but it is the "soft" side of the Limited that we appreciate as much. The Limited is fitted with push-button electronic reverse, electric key starting, adjustable width ski stance, mid-height windshield, Sno Pro lever for the hydraulic brake and even, a ProCross front bumper.
Rugged, yet civil. The 800cc-powered off-trail runner is just rough enough around the edges of the snow routes to be appreciated by both hardcore and sometime off-trail riders.
2015 Best Budget Performance Polaris 800 Indy SP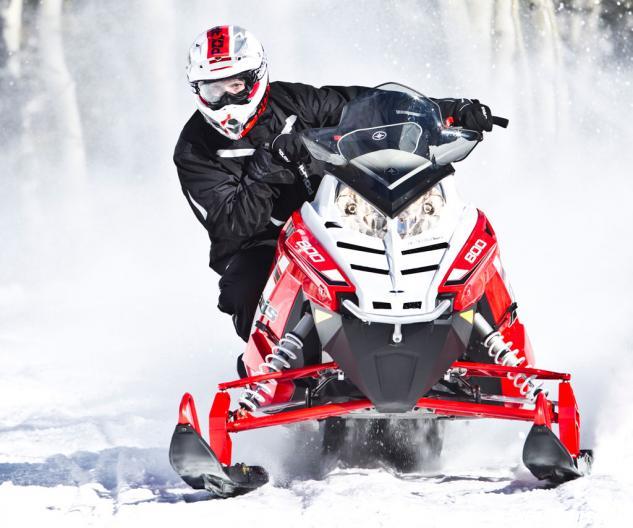 Polaris views its Indy lineup as its "budget" series. You'll find models for a little bit of two-up togetherness, major utility operations, budget play and value performance. That's where we put the scary fast 800 Indy SP. To a relatively light 449-pound package, add a Polaris designed and built Cleanfire semi-direct injected 800cc two-stroke twin.
The 800 Indy SP is the top of the non-AXYS line performance trail models. It features a classic Pro-Ride straight tunnel design that shares construction similarities with the RMK. That also means you get a coupled rear suspension and the Pro-Ride front end with the Pro-Steer skis.
Read our review of the 2014 Polaris 800 Indy SP + Video
Overall, the 800 Indy SP provides great value in a sled that can churn some serious snow from a standing start. We would prefer to see this high-powered Indy fitted with a RipSaw 1.25-inch lugged track, instead of the stock Hacksaw design with the 1.0-inch lug height.
This is a sled that can be personalized as Polaris offers a wide selection of custom accessories. But what makes this a Best choice is performance. When you add aggressive power to a lightweight aluminum chassis, you can count on high value for your performance dollar.
2015 Best All-Around Trail Sport Yamaha Viper R-TX DX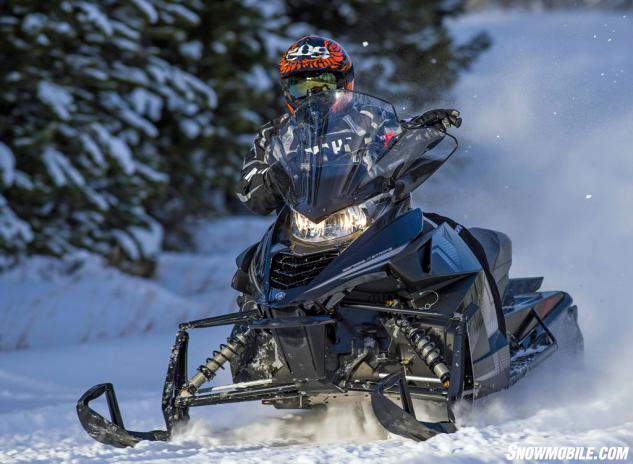 If you want a snowmobile that you can count on season after season to give you solid everyday sport performance, you need to look at the Yamaha Viper R-TX DX. There are fancier versions of the Viper, but this is one that gives you the most value for your sledding dollar.
After a season on the snow, the Yamaha/Arctic Cat partnership seems to have worked for both sides. But Yamaha riders may have gained the most in this early round. The sled has all the good handling characteristics of the ProCross Arctic Cat. They are sporty and fun to ride. But Yamaha endowed the Viper with performance that ends up being better than either company probably expected. The Yamaha power package of engine and clutching provided excellent on-trail performance.
Read our review of the 2015 Yamaha SR Viper R-TX DX
The Viper R-TX DX makes due with basic – did we say basic? – high-pressure gas shocks with coil-over spring assistance on the tall spindle SRV front suspension. Although Yamaha calls the Viper rear unit the Dual Shock SR 129, it's the Arctic Cat Slide-Action system that seems to work just fine over rough or groomed trails.
We found the "basic" Viper trail sportster had more features that we liked than the more expensive LE or SE. The DX gives you a real windshield that really deflects cold. You get a bigger tunnel bag that accommodates things you want to take along on a ride.
The sled rides well, has plentiful midrange and good enough top end. It carries a Yamaha warranty and has a drive system that is known to be reliable and trouble free. That makes it a top choice as and all-around trail sport.
2015 Best Personal Cruiser Ski-Doo GSX LE 900 ACE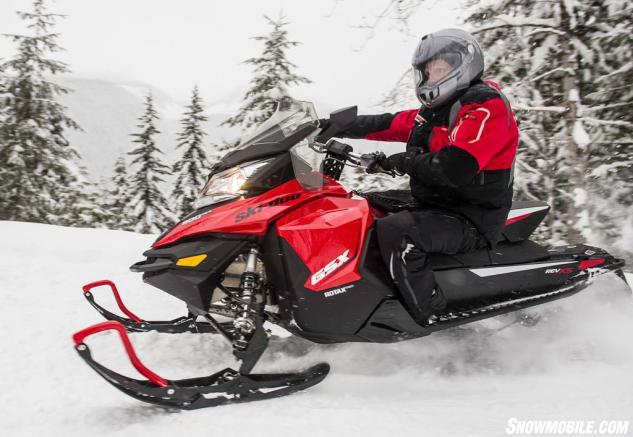 The Ski-Doo GSX with the 90p-hp ACE four-stroke gained our attention last season and we pick it again for 2015. It is smooth and quiet. It offers enlightened fuel efficiency. And no other company offers anything exactly like this model.
Built up from a Ski-Doo MXZ's REV-XS chassis, the Ski-Doo GSX underpinnings are all performance oriented. That includes the premium rMotion rear suspension and aggressive RipSaw track pattern. Plus, the addition of the RAS2 front suspension upgrade really complements the rMotion rear suspension.
Read our review of the 2014 Ski-Doo GSX LE ACE 900 + Video
Admittedly we are not diehard advocates of the ACE 900 four-stroke as a "performance" engine. But in the GSX series it works incredibly well. It has suitable low-end grunt, just what you want for cruising. It has excellent low to mid-range power where it's most efficient. Ski-Doo has fitted the GSX 900 ACE engine with electronics consisting of three modes: Sport, Base and speed inhibiting Eco. It works as intended, but we think it's better served in the Sea-Doo personal watercraft, which shares this ACE triple.
Still, few manufacturers offer such a well-rounded personal snowmobile that can offer occasional sport riding benefits combined with on board storage and comfort features. As a sport cruiser it's powerful enough with enough added features to make it a nicely appointed custom ride for serious mile-makers. The GSX LE includes a tunnel bag, integrated wind deflectors on the windshield, electric start, reverse and a multifunction gauge.
When looking for a top choice for personal cruising the GSX LE 900 ACE offers a great deal and makes our list of the Best of 2015.
2015 Best Adventure Snowmobile Polaris 600 Switchback Adventure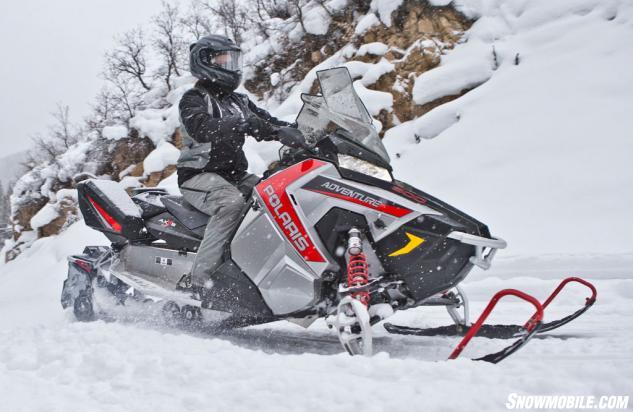 Polaris pretty much pioneered the concept of "dresser" on-off trail snowmobile. Now the Polaris Adventure series has competition from Arctic Cat's Cross Country (and the Yamaha Viper XTX LE based on that Cat). These sleds go beyond being a personal cruiser; they can handle groomed trails or ungroomed non-trails. But it is the 2015 Polaris Switchback Adventure that we single out primarily for its all-new AXYS chassis and rider centric positioning. Oh, yes, there is that addition of the Adventure Cargo system, an upgrade to the standard Lock & Ride system.
Right away the Polaris scores big points for its lightweight AXYS chassis. You really make a difference on this sled. How you move around or off the AXYS Performance seat will literally impact your ride through or over big or small nasties.  Although the 600cc Cleanfire two-stroke engine did not get the changes seen on the 800cc version, the engine does get the benefit of a cleaner airflow intake for more efficient running.
2014 Polaris 600 Switchback vs. 2014 Ski-Doo Renegade 600 E-TEC
The Adventure sits on the longer AXYS platform, meaning that it has the same Pro-XC rear suspension common to all 2015 Switchback models. It also means that Polaris fitted this 498-pound sled with a 137-inch Cobra track and Walker Evans piggyback compression adjustable shocks front and rear. This sled handles all conditions.
One of the truly "trick" standard features is the Adventure's interactive digital display that incorporates a colorful 4.3-inch high resolution screen to interact with the sled's onboard components (for speedometer, trip meter, fuel load and such); the Bluetooth functionality of your smartphone; and GPS capabilities. If this is all too intimidating, ride with a school kid. They'll set you straight.
All in all, the Polaris Switchback Adventure hints at the very near future of on-trail riding. But you can get it now. That's what makes it our Adventure choice for 2015.
2015 Best 2-Up Touring Arctic Cat Pantera 7000 Limited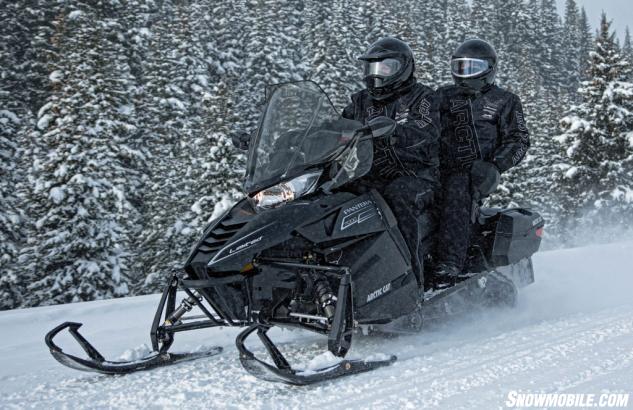 Ski-Doo gets two-getherness and two-up touring as well as any manufacturer – other than Arctic Cat. This company reached iconic status with its Panther and scored again with the first ever Pantera models that redefined touring by adding a sport flair. For 2015 Arctic Cat steps forward with an all-new chassis, more great-to-have-features and famed Yamaha-engine quality.
The 2015 Pantera 7000 Limited is as fully featured as Arctic Cat gets. It also ups the miles per day you can travel per fill-up by adding an auxiliary 4.3-gallon gas tank behind the passenger cushion.
The chassis borrows from the ProCross series, but is uniquely its own design. This ProTour chassis features one-piece tunnel construction like the ProCross, but it is longer and built at a flatter angle to accommodate the needs of two-up touring riders. A specially evolved version of the Slide-Action rear suspension fits the 146-inch long track. The tall spindle ARS front suspension offers a choice of 42- or 43-inch ski stances, but either complements 10 inches of ski travel.
Read our preview of the 2015 Arctic Cat Pantera 7000
The 1049cc Yamaha four-stroke triple delivers its 135 hp via an Arctic drive system.
The Pantera 7000 Limited gives you and your passenger heated seating, a plug-in for your heated visors and extra wind protection from a tall windshield. Storage is a given with rear-mounted detachable locking cases and a rear storage compartment that can be fully enclosed. The sled measures 127-inches from the stout front bumper to the rear snow flap.
About the only things you can add to this sled are a hitch and various skid plates. Otherwise our choice for two-up touring sled of the year comes extremely well equipped for two.
2015 Best Utility Arctic Cat Bearcat 5000 XT GS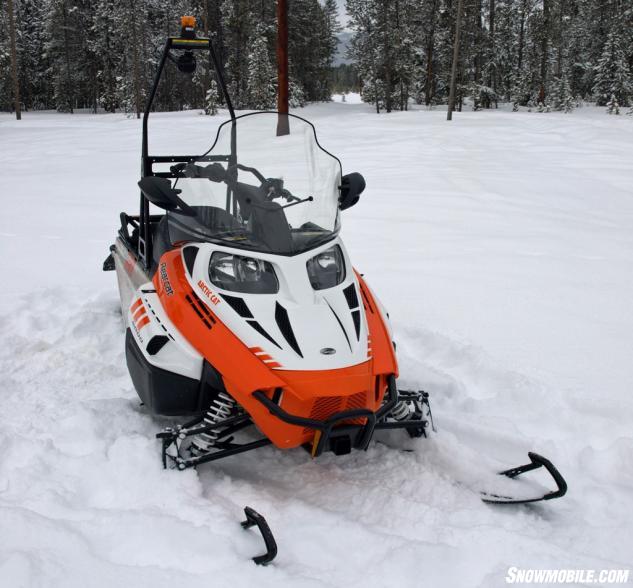 This is one of those sleds that we never thought we'd fall in love with, but we did. Ands we fell hard!
It makes no sense. We are serious performance-oriented trail riders. We love the feel of accelerating hard off a turn, the capability to ride through and over bumps. But, this?
We're not talking about the average Arctic Cat Bearcat, we're talking full-on "Trail Commander," the Bearcat 5000 XT GS complete with 2500lb winch and flashing light bar. This is the sled – utility or otherwise – that we want in our retirement. We can see patrolling the trails with that rotating amber light flashing, letting out-of-luck snowmobilers know that the Trail Commander is on the job!
Read our review of the 2012 Arctic Cat Bearcat Z1 XT Groomer Special
Arctic Cat's Bearcat gives you a SUV-like sit-up straight perch for peering down the trail. It's helpful when pulling the special-groomer designed specifically for this unit. Recognize that the 125 hp Suzuki-built 5000 C-TEC4 four-stroke is not a speed demon. The sled is geared toward low-end grunt and midrange performance.
You sit atop an older generation of Arctic Cat engineering prowess as the base chassis carries over from the Twin Spar era and the front suspension is an older AWS VII design. Since the sled comes with a 154-inch long track, the rear suspension is articulated to help when you need to reverse the 20-inch wide tracked sled.
All of that tells you this sled is utility first, play second, unless you're the retired local Trail Commander. Then it's all fun.  We'll turn on the floodlight, get the beacon flashing and head off for a dusk trail run to make certain that everyone's safe. The 2015 Arctic Cat Bearcat 5000 XT GS is a serious utility sled that can be many things to creative snowmobilers. It can groom "feeder" trails, set skinny ski tracks for the granola-chewing crowd, and haul tow sleds in the bush. This is a rugged sled designed for the Trail Commander in all of us!