2013 Ski-Doo Tundra Xtreme Review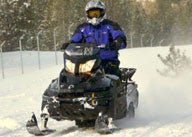 Flatland tested and proven competent in deep snow play
We've told you the story of Ski-Doo's rather unique, if not totally quirky, Tundra Xtreme and how it brings together all kinds of intra-corporation snowmobile pieces. As a Ski-Doo branded snow vehicle there is the obvious Ski-Doo badging and Tundra nomenclature. The base chassis is all ride-forward REV and the seating and brakes showcase the MXZ model. The direct-injection, two-stroke engine is pure BRP/Rotax by way of shared engineering with BRP's Evinrude outboard franchise. Bringing in bits from BRP's Swedish Lynx snowmobile subsidiary, the Xtreme features a telescopic front suspension and articulating rear suspension.
Fast Facts
Engine Type:Horizontal In-line
Cylinders:2
Engine Stroke:2-Stroke
Valve Configuration:Reed Valve
Displacement:594.4 / 36.3
Starter:Electric / Pull
Turbocharged:No
View Full Spec
This global market snowmobile makes great sense in areas near or north of the Arctic Circle, but for every day flat land riders the appeal remains a bit sketchy, to us at least. Of course, we're not BRP snowmobile marketers with an insightful sense of the North American market, which must be the least likely place Tundra Xtreme sales will peak. North of Winnipeg, Toronto or Montreal, we expect the Tundra Xtreme owner would be at home. The sled enjoys a huge footprint that measures 16-inches in width and 154-inches of total length. Add in that 2.25-inch tall lug profile and you have a sled that can grip and go just about anywhere in the tundra.
The market for this sled has to be emerging snow play lands like those in Russia, for example. The two-stroke powerplant fits naturally in Siberian cold where a four-stroke might need extra coaxing to get warmed up. Add in the nifty nature of the direct-injected E-TEC, which should start on the first or second pull regardless of ambient temperatures, and you have a sled perfect for frozen areas where the occasional McDonald's Big Mac may be days away.
As we understand it from the various snowmobile-marketing folks who oversee "emerging but remote area" sled sales, there is money to be made in sleds built to satisfy those buyers. These folks may not ride in areas where groomed trails are the norm, and they most likely are not workers in the sense of trappers and hunters, but they are outdoor winter enthusiasts who want performance, albeit in a manner we might not understand.
For this market, the Tundra Xtreme works, just as those so-called sport-utility sleds from Ski-Doo's competition do as well. Interestingly, Ski-Doo offers quite a selection of what we'll call quirky sleds. It almost seems that the riding of a work or utility sled is anathema to these new buyers and that is why Ski-Doo expanded its line to include its Expedition model, a crossover between the touring and light utility sleds. The Expedition shares more with the Ski-Doo Grand Touring as to features, but mounts that plushness on a REV-XU utility platform. And, that brings us back to the Tundra Xtreme, which also shares the XU underlayment.
We've ridden the Xtreme in various flatland environments in the past couple of seasons, but Ski-Doo marketers hammer away at us about how versatile the sled is in deeper snows. So we decided to hand off the 2013 Ski-Doo Tundra Xtreme to Snowmobile.com's mountain experts, Matt and Kevin Allred, to see what they would have to say. After they got over the shock of taking a seemingly large and ungainly looking utility sled with a pogo-stick front end on a trip into West Yellowstone's mountainous backcountry, they filed the following report.
The Mountain Man's Viewpoint
Kevin and I tried to frame the Ski-Doo Tundra Xtreme utility snowmobile in a mountain man's persona. At first, we thought, "flatbed truck with a track and two skis." We learned it has brawn and purpose.
First, we set off to mock up some utility workers working on a power distribution line. That was fun. After this, we set off to learn more of the Tundra's personality – after all, it does have a 154-inch long track and E-Tec 600 H.O. power.
With the Tundra Xtreme, and other mountain snowmobiles in tow, we ventured off into some deep West Yellowstone powder using the Tundra as a videographer's platform – driver up front, video man on the back, facing the sled's rear end, with a test rider following the Tundra on another mountain sled.
Well, the surprise came as the Tundra Xtreme carried the driver and passenger with ease although it's not a two-up and not recommended for two-up riding. The Xtreme motored along in the powder with no faint. Next, Kevin and I, as mountain riders, set out to discover how deep this snowmobile will go, meaning, is it a good powder snowmobile with its telescopic front end and utility personality.
Well, being this was our first shakedown of a utility snowmobile, this is what we learned. The Tundra Xtreme handles deep powder very well. I wouldn't take it out with an XM Summit, but I would work it in the deep powder to fix a fence line in Montana to assure my Herefords stay in my property line (if I had a cattle ranch and lived in Montana).
The Tundra Xtreme has a smart ergonomic system that gives the rider handlebar leverage whether standing or sitting; the runningboards and seat are spacious. The E-Tec 600 H.O. motor powers the REV-XU utility chassis just fine. That storage area on the tunnel has ample room for tools, video equipment or whatever and there's a generous supply of latchet holes to hook or tie down anything. The telescopic front end with a 32-inch ski stance proved robust enough for its weight and loads, and comfortable for the trails.
Again, the Mountain Team are not experts on two-up or utility snowmobiles, but we found the Tundra Xtreme to be a well-rounded, comfortable, useful, and expertly designed utility snowmobile with some go.
Final Thoughts
Now, when the Quebec-based marketing expert tries to tell us again just how versatile the Tundra Xtreme can be, well, we'll believe him – without question. If our deep snow crew is convinced that the Tundra Xtreme can motor in powder, we're believers. Things that work in the sled's favor are the relatively light 495-pound claimed overall weight; a wide and long non-ported PowderMax track; a set of narrow edged Pilot DS skis; and a formidable SC-5U articulated rear suspension designed to accommodate the extra-long track. That 32-inch ski stance combines with upright aluminum handlebars complete with J-hooked ends to let the rider lean and turn the sled's 130-plus inches of length into a sidehill or stitch a path through a tree line.
This sled fits a niche that Ski-Doo marketers saw needed addressing. Designed with nifty blacked out styling cues that include a painted black tunnel and rugged hard-edged Tundra body panels, the Xtreme will be instantly recognizable as something unique on the snow. Does it fit your snow-style? Only you can answer that, but rest assured from our three seasons of flatland trials and our mountain riders' deep snow experience, the 2013 Ski-Doo Tundra Xtreme comes to the market as advertised – combining "…off-trail prowess with performance features for an off-trail play sled like no other."
2013 Ski-Doo Tundra Xtreme Specs
Engine
Rotax E-TEC 600, liquid-cooled, two-stroke twin; direct injection; 3-D RAVE
Horsepower
120-ish (claimed)
Drive
TRA III with QRS secondary
Front Suspension
BRP Lynx telescopic strut (LTS) with Motion Control shocks; 6.0-in travel
Rear Suspension
SC-5U parallel slide rail with articulating rear with "lock-up" feature; HPG gas shocks; up to 13.4-in travel
Length
131.6 in
Width
39.4 in
Height
51.0 in
Ski Stance
32.0 in
Track
16 x 154 x 2.25 PowderMax
Weight
495-lbs (Claimed)
Fuel Capacity
10.6 US Gal
Features
Electric start; Rotax Electronic push button reverse; articulating rear suspension; telescopic front suspension; multi-function gauge; cargo rack; REV-XP "X" narrow seat; J-hooks and mountain strap
MSRP
US$10,799
Related Reading
2012 Ski-Doo Tundra Xtreme Review
2012 Ski-Doo Tundra Review
2012 Ski-Doo Skandic SWT Review [Video]
2012 Polaris 600 IQ WideTrak Review