The Best 2011 Snowmobiles for the West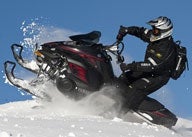 Our test riders and editors pick the best sleds for the deep powder set
In recent years the deep powder segment of the snowmobile industry has been the most consistent market for sled sales. You don't need a Harvard MBA to figure this out, just look at where the four snowmobile manufacturers have placed their most recent engineering efforts. While "flatland" sleds generally get evolutionary upgrades in power and handling, it is the powder sleds that get serious engineering for lightweight, powerful engines and ever-lighter chassis and quicker responding handling. The western riding segment has always been unique within the sport, but it never garnered the engineering and marketing efforts that we've seen in the past five years or so. There's a simple reason. The West is consistent and these active and passionate powder riders want the latest, lightest, most powerful, best handling sleds they can get to power them up and over and way out and back. It is a serious market with serious buyers who demand the latest engineering.
In kicking off our first ever "Best" editions, we worked with our experienced staff of deep powder riders, who comprise our "Mountain Team" of snowmobile evaluators, to help us look at various categories of deep snow riding and select which 2011 snowmobile best suits that style of western adventure powder riding. In this edition we reveal our pick for 2011 Western Snowmobile of the Year and our choices for each category. Our next "Bests" edition centers on the "flatland" sleds and we'll give you our choices for best trail, power, touring and overall Snowmobile of the Year.
The Snowmobile.com Mountain Team assembled its thoughts for the best mountain sled in various respective categories, establishing these categories and adding in an "honorable mention":
• Best Deep Powder Sled — This title is reserved for the mountain snowmobile that has a big footprint, fat power curve and is lightweight. Exceptional power-to-weight is paramount. • Best Backcountry Mountain Sled — This snowmobile must be nimble and be capable of cutting up a sidehill and threading through trees with the sharpness of a cheetah chasing down its mid-morning brunch. • Best Introductory Mountain Sled — The sled needs to be light but have the power to keep the rider from trouble (or getting them out of trouble), and must have sweet ergonomics that will not wear down the newbie, yet give them a sense of accomplishment. • Best Penny-Pinching Mountain Sled — This is not about purchase price alone, but reflects operating costs, specifically, which snowmobile is economical to operate and is motor-reliable for years to come. • Best Brute Force Mountain Sled  — This is obvious. The brute force snowmobile is intended to be and "IS" king of the hill(s) in displacement, torque, horsepower and flotation.
We give "Honorable Mention" status to the mountain sled that we feel would be the best alternative to the best in class.
2011 Best Deep Powder Sled Ski-Doo Summit X 163
With its lightweight XP chassis, powerful E-Tec 800R motor and 16-inch wide PowderMax track with 2.25-inch paddles, this sled will propel up and on top of the lightest fluff mother nature can create, and will climb most mountains short of 90 degrees. You'll find that the changes Ski-Doo made for this sled, plus its strong-pulling two-stroke E-TEC twin spinning 2608 square-inches of tread on the snow is a good thing.
2011 Best Backcountry Sled Polaris Pro Ride RMK 155
With its new light and nimble Pro Ride chassis, narrow profile, tall seat and handlebars, smartly sculptured side panels, revised 800 cc CleanFire Injected twin, the 2011 Pro Ride RMK 155 with Series 5.1 track and 2.4-inch lugs will carve dimes and give change at the end of a day. Its track is aggressive for a vast array of conditions, and the chassis cleans well of snow.
2011 Best Introductory Mountain Sled Ski-Doo Everest E-Tec 600
Ski-Doo's hot introductory sled comes with a not-so-little 125 horsepower Rotax 600 twin that sits in Ski-Doo's light XP chassis and comes complete with electronic reverse. With its 16×146 x2.25 PowderMax track and ergos, the sled makes learning powder play easy for the newcomer. It is also economical to operate with its direct electronic fuel injection.
2011 Best Penny-Pinching Mountain Sled Yamaha FX Nytro MTX 153
This sled may not be the least expensive sled in initial purchase price, but it will prove its value over years of use. This Yamaha and its four-stroke electronic fuel injection technology is reliable and efficient. The 130-hp 1049cc four-stroke triple with Mikuni 41mm fuel injectors will live into the next century and give you a history of low fuel and oil costs. The four-stroke is miserly on fuel, plus it delivers a comfortable ride and has great deep powder capabilities.
2011 Best Brute Force Mountain Snowmobile Arctic Cat M1000
There is no replacement for displacement, which means that this sled is our favorite for king of the hill. When the big M rotates its track under 999 cubic centimeters, it's like Planet Earth stops rotating for moment or two as this engine pounds 118 foot-pounds of torque and dials up its165-hp.
2011 Honorable Mention Arctic Cat M8 Sno Pro 153
Though its chassis no longer has that sexy eye-candy appeal, its function is oh-so-current for today's serious technical mountain rider. With its beefy EFI 800 twin, direct drive, best-of-category 2.25-inch Power Claw track, balance and telescoping handlebars, the M8 Sno Pro 153 continues to lure buyers onto its seat and deserves to be a "best" in any other year.
For the ever-expanding crossover segment, which now encompasses both versions for "flatland" off trail riders and out-of-bounds powder hounds, our test rider crew broke out this category into separate "bests." We include the near-mountain crossovers in two subgroups:
2011 Best Boondocking Crossover Polaris Orange Madness Switchback Assault
This snowmobile must have near mountain sled capabilities, but must add in stable and savvy trail handling, which isn't a prerequisite for pure mountain sleds. The choice was easy and goes to Polaris Orange Madness Switchback Assault which comes with a Series 4.0 powder track (the same track used on Polaris 700 RMK up until 2010 when the RMK was discontinued) with two-inch lugs, this crosser will beat hills with an ugly stick just as it will the trails. Nasty snowmobile it is.
2011 Best Handling Crossover Ski-Doo Renegade Backcountry X
This sled has the ability to hit the meadows, hills and rollers when the snow is deep, while delivering superior ride and handling (cornering). Ski-Doo's Renegade Backcountry X is as near MX ZX perfect as it gets, yet is plush and happy in the deep snow. The new 800R E-Tec is mind-blowing responsive and its 137-inch Powder Max track with 1.75-inch lugs allows the crosser to hook, float and fly.
2011 Honorable Mention Arctic Cat Crossfire 8 Sno Pro
Like the M8, this chassis has been in our photographs for many years, but the Crossfire's ride, handling and deep-powder characteristics in the meadows and on rolling hills is thunder strong, reliable and current for today's demanding pilot. While it may have aged, quite honestly, we still think it is a good-looking sled.
So, there you have it. Round One of our 2011 Best Snowmobiles. These are our picks for bests for the West. Coming up we'll give you our picks for best trail, sports, power sled, touring, off-trail crossover, utility and our overall Best Snowmobile of 2011. Stay tuned for Round Two.
Related Reading 2011 Polaris RMK Review 2011 Ski-Doo Summit Everest 600 H.O. E-TEC Review 2011 Yamaha FX Nytro MTX SE Review 2011 Arctic Cat M1000 Sno Pro 162 Review 2011 Arctic Cat M8 Lineup Review 2011 Polaris 800 Switchback Assault 144 Review 2011 Ski-Doo Renegade Backcountry X 800 Review 2011 Arctic Cat Crossfire Review