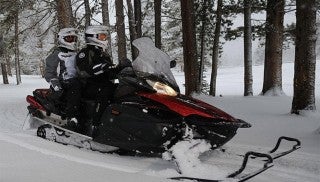 Hints for the future appear in new XTX and RTX SE
Yamaha snowmobile sales in the United States are up more than 20% to date versus last season—and this year isn't over. Forgive the snowmobile industry's 4stroke leader for being a little ebullient. Company spokesmen are very excited about Yamaha's snowmobiling future.
Why not? According to Yamaha, the industry has ridded itself of a hefty chunk of noncurrent sleds sitting in dealerships. Some of this season's 40% reduction in noncurrents reflects models carried over since 2006. With noncurrent inventory shrinking, sales of current model year sleds are expected to grow. And as snowmobile buyers come into the dealerships, Yamaha anticipates its 4strokes will grab a healthy number of sales away from 2stroke powered competitors.
In a survey of people taking demo rides aboard 4stroke Yamahas, 63% reported never having ridden Yamaha's 4stroke powered models. Of those who rode the 4strokers, more than 90% admitted that they would consider a new Yamaha for purchase. Now you can appreciate why Yamaha has three semi-trucks and many Yamaha-jacketed personnel running across the United States conducting demo rides until the snow goes away.
In the past three snow seasons, Yamaha has introduced 28 new 4stroke models ranging from the flagship 150-horsepower Apex to the 80-hp Phazer and now the 130-hp Nytro XTX and RTX SE. Throw in the all-new Venture GT two-up touring model and you pretty much have Yamaha's latest model introduction for 2009.
Rough growth
While much of the groomed trail and low cost models undergo continued evolution and refinements, the rough trail segment gets a serious makeover. Make no mistake; Yamaha is dead serious about taking away sales from the other guys in the competitive big bump, racer-style performance segments. Just as every other snowmobile manufacturer promotes race winning accomplishments, so does Yamaha. There are the up-in-the-air antics of freestyler Jimmy Blaze, who finished fifth at the Winter X Games. There is Yuji Nakazawa's Eagle River Snocross World Championship and Yamaha's third consecutive win in the prestigious Soo I-500 endurance race. Yeah, Yamaha has a brag list to promote its 4strokers edge in real world competition.
Look for Yamaha to showcase its performance edge along with two of its new for 2009 snowmobiles—the Nytro XTX and Nytro RTX SE. These two models may well point to the future for Yamaha performance machines. The XTX will be available throughout the season, but the RTX SE is an early order special edition.
All new XTX
The XTX is all new from the track up as it tweaks the crossover segment by offering a standard issue 144-inch track and suspension. Don't fret; this isn't the usual longer track/longer suspension setup. The XTX is designed to give you three sleds in one. Since the rear suspension features a 6-degree tip-up, you get the turning response of a 121-inch tracked sled on a groomed trail. In rough trail settings the longer track/suspension combination bridges those bumps like a 138-inch tracked sled. And with the full 144-inch track on the snow, you get the full effect for boondocking traction and float in off-trail powder.
We've had the opportunity to ride the XTX twice in two totally different environments—hard-surfaced Wisconsin trails and fresh powder adventuring in Grand Lake, Colo. We bow to Yamaha. The XTX works as claimed.
The new XTX Dual Shock CK 144 rear suspension features a 40mm aluminum high-pressure gas shock on the front arm with a 40mm clicker shock controlling the rear suspension arm. The design is fully coupled and features the now common adjustable control rods for fine-tuning the suspension. There is also a three-position cam adjustment that inputs preload. Spinning around the track is a new Camoplast-built 144-inch Ripsaw Track. Measuring 15-inches in width, the track features a 1.25-inch lug height. With the tip-up in the suspension, there is really just another lug section or two touching the snow versus the 138-inch track used on previous LTX models.
Tapered tunnel
All of this suspension and track engineering wouldn't work without the new XTX tunnel. This new-for-2009 tunnel draws from Yamaha's snocross racing experiences and is highlighted by a steeper runningboard profile of 11 degrees (versus 9 degrees on the standard Nytro). Yamaha claims this gives the sled a racier look for greater eye appeal when sitting in a dealership. Of course, it also has a practical application as it creates less drag in deep snow. This kicked up (or tapered) tunnel concept first appeared on the 1975 SnoJet SST. And, yes, our senior editor remembers test riding that sled as well. And, yes, as well, those very SnoJets were powered by Yamaha free-air and fan-cooled two-strokes. Nonetheless, the tunnel design functions well off trail.
One thing we've noticed with virtually all new sleds is how aggressive the runningboard traction has become. For 2009 the Yamaha XTX comes with boot-gripping slash-punched traction ridges. The design is good for the rider and improves snow evacuation as well.
Both the XTX and the new RTX SE model share a version of the new tunnel design. The RTX SE version has an abbreviated tapered tunnel to accommodate the shorter RTX track. And both use the upgraded front suspension common to all Nytro models for 2009. You'll find this evolved front end reduces the 'tippy' feeling you would get with the 2008 Nytro and it also gives the front skis better bite for improved and flatter cornering. In all there are more than 10 changes from the previous front suspension, the new pieces include: upper and lower A-arms, spindles, sway bar, upper ball joints and ski rubbers. The result is tangible and immediately recognizable if you jump from a 2008 Nytro to a 2009 version.
Special Edition only
As we noted, the shorter tracked RTX SE is a special edition and only available during Yamaha's 'Spring Power Surge' promotion. While the primary excitement comes with the new tunnel, there are special edition features that make this particular Nytro RTX edition quite special indeed. The revised Nytro front will feature Fox Float-X shocks. These were developed jointly between Fox and Yamaha engineers and are trail-calibrated versions of those used by Yamaha's snocrossers. The RTX SE rear suspension is a specially upgraded version of the Dual Shock Pro design. The SE version has a 46mm rear shock with high and low speed compression adjustability as well as competition-specification suspension rails and arms. Add in race-inspired graphics and a four-year warranty and you have quite a special edition. In fact, if you totaled up the items individually, you'd see a bill for more than US$4,000. Only available in this early season promotional period, the SE will price out just US$400 more than a standard 2009 Nytro RTX.
While the RTX SE is the only such version available with the new chassis and suspension for 2009, we have to believe that we'll see this short-tracked chassis again in the extremely near future.
Genesis 130 returns
All Nytro models for 2009 will come with the same Genesis 130 fuel-injected triple we saw last season. Of course, there have been calibration upgrades along the way.
Our only gripe with the RTX and the Genesis 130 is how Yamaha tunes the powertrain. Somewhere there has to be a secret internal memo floating among Yamaha engineers that states that performance sleds have to have a quick power hit at the throttle combined with a rearing up of the skis. Every Nytro reacts like the engineers have little clue as to how to couple the front to rear suspension action under hard acceleration. You slam the throttle to the handlebar and the sled whacks you back and pulls the skis up. For goodness sake, if Arctic Cat engineers can harness its suspension action to control the 177 horses churning inside the Z1 Turbo, why can't Yamaha eliminate this instant jerk action on its 130-hp Nytro?
New Venture GT
Let's look at what else is new for 2009. In two-up touring Yamaha adds a GT version of the Venture. The GT is based on the rider-forward Deltabox II ergonomics first-used on the latest Apex design. The rear passenger enjoys a raised riding position, but should suffer little wind buffeting as the GT's windshield is quite large and features wind deflecting curvature. For solo riding, the GT comes with an adjustable backrest and rear luggage area. Of course, Yamaha has a complete selection of accessories that will quickly mount to the GT and should suit a long distance weekend ride or a picnic trailside.
The real news is under the hood as Yamaha created a new fuel injected triple to power this sled. Featuring the same dimensions as the Nytro's Genesis 130 triple, the new motor has Venture GT specific fuel injection settings, new intake and exhaust camshafts, a larger stator and totally different exhaust system to maximize low end and mid-range performance. The new GT 'fuelie' is guesstimated to produce about 125 horsepower with a broad torque curve.
Yamaha's Venture GT will also feature a new instrument console with a fuel and oil trip meter. The fuel meter keeps track of mileage when fuel begins to run low. The oil meter reminds the owner when its time for oil changes. There is also a DC outlet for a cell phone or GPS and a RCA heated shield plug. This sled was built with high mileage riders in mind.
Comfort comes into play, too. The front suspension features quick-adjust 'clicker' shocks and a new ProComfort CK 144 rear suspension.
You'll find evolutionary changes throughout the rest of the Yamaha line for 2009. There is a new front suspension on the Nytro series to improve bump stability and ride comfort. The rear suspension underwent refinement with spring rates and shock settings. The result is an improved ride over small and moderate bumps.
The line of 80 horsepower Phazers remain Yamaha's value-leader and feature a rear tunnel enclosure and new graphic treatments. We did note in our test riding, that the Phazer RTX seems to have benefited from some evolutionary refinements in shock and spring calibrations.
The Apex gains a new rear heat exchanger for improved engine cooling. As with the previous model the Apex highlights include the four-cylinder, high-revving Genesis 150 fuel-injected engine, the Deltabox II ride-forward chassis, and monoshock rear suspension. There continue to be groomed trail (Apex GT), rough trail (Apex RT) and crossover (Apex LTX) versions.
The same can be said for the Vector series. It too gets the new rear heat exchanger and continues with the reliable carbureted Genesis 120 triple and remains one of our favorite all-around snowmobiles, regardless of iteration.
Powder and budget
The mountain segment is designed for the deep powder pro that wants power and flotation. The Apex MTX offers new shock setups on its mountain-specific rear suspension to go along with the 150-hp Genesis quad and 16-inch Camoplast Maverick track that stretches a full 162-inches and grips with 2.25-inch lugs.
The mountain-specific version of the 130-hp Nytro features a new ProMountain CK 153 suspension with aluminum gas shock on the center arm and a piggyback shock with clickers on the rear arm.
For the budget powder-buster, Yamaha offers the Phazer MTX with the 80-hp liquid-cooled twin and long track.
Rounding out the 2009 line up are the Phazer-based low-cost touring Venture Lite with an 80-hp engine, the base two-up Venture touring model carried over with Genesis 120 triple, and workhorse VK Professional with Genesis 120 power, a dual range transmission and wide track for excellent flotation in any terrain.
The future
Yamaha marketers estimate that there are more than 1.5 million two-stroke snowmobiles on and off the trails that eventually will need to be replaced. And when that time comes, Yamaha anticipates converting them to 4stroke technology. With Ski-Doo making a push into the 4stroke segment with its all-new 4TEC 1200 triple, Yamaha sees only good things ahead since making its commitment to that engine technology. During the rise of Yamaha 4strokes, the Japanese-based snowmobile manufacturer has gone from a dismal fourth place to battling for second in industry sales. With Yamaha sled sales more than doubling in the past three dismal snow seasons, can you blame Yamaha for its optimism?
Related Reading: 2009 Snowmobile Preview – Part II 2009 Yamaha Nytro XTX Yamaha 2008 line-up