2013 Yamaha Vector "Trail" Review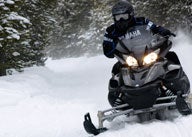 Yamaha's Vector trail evolution puts you in a good place
Now, here's the real question for you. Are you a glass half-full or half-empty person? A glass half-full personality sees the 2013 Yamaha Vector as the most evolved trail sled the company has produced to date. In the past few seasons Yamaha managed to virtually recreate, nearly reconfigure, its most popular trail sport sled without very many snowmobilers being any the wiser.
Fast Facts
Engine Type:Horizontal In-line
Cylinders:3
Engine Stroke:4-Stroke
Valve Configuration:DOHC
Displacement:1049 / 64
Starter:Electric
Turbocharged:No
View Full Spec
You glass half-full types recognize the 2013 Vector as being substantially made-over. The engine comes with a very precise electronic fuel injection intake system that gives the Genesis three cylinder incredibly smooth power from idle to wide open. The sled has become extremely "trail-light" due to a sophisticated electronic power steering arrangement that provides lots of mechanical muscle at low speed and fades to minimal effort at top speed. And, then, there is the new-ish, but not drastically different bodywork. This may be Yamaha's most major miscalculation as the 2013 Vector re-do doesn't appear new or different enough from previous year's versions. But, according to Yamaha, most 2013 pieces will not fit pre-2012 models.
Now, if you are a glass half-empty type, this misstep leads directly to your view that the 2013 isn't much different than the 2011. Other than color and graphics it isn't different from the 2012 makeover. And, you'd be right. But, if you look at the past few seasons of Vector development, the facts point to quite an evolution in this model. While it may seem as though all these changes happened in secrecy, the truth is that the Vector evolved in plain sight, even if few snowmobilers other than hardcore Yamaha riders noticed.
The reality of the 2013 Yamaha Vector remains simple. The sled, regardless of how Yamaha dresses it up, provides pretty much the same excitement level of a beige Toyota Camry. You can't buy a vehicle that has the quality, the longevity, and resale of a Camry – or a Vector. But would a non-accountant really want to drive one? That's something for an actuary, not a thrill-seeking trail warrior.
You might want to rethink the Vector a bit. In model year 2013 the short-tracked (121-inch) base Vector is just one of two Vector models. The other version is the Vector LTX, a longer-tracked (136-inch) model designated as an on- and off-trail sled. With 15 inches more track, the LTX should have better flotation for breaking trail and letting you romp in moderate powder. But, you should also understand, that just because a sled is designated as off-trail or as a crossover, the real time spent off groomed trails for sleds like the LTX is relatively low. A serious off-trail bump-banger like Yamaha's Nytro XTX with the 1.75-inch lug profile will spend a bigger amount of ride time chewing up backcountry powder. Statistically Vector riders tend to be groomed trail experts with occasional forays in deeper snow.
While the Vector LTX may have more track on the snow, the "trail" Vector with its 121-inch long Camoplast gives you more suspension action. Both Vectors utilize Yamaha's Monoshock II rear suspension design, but the 121-inch track works through nearly a foot and half of suspension travel versus the less than 12 inches of travel for the LTX. Both evolved Monoshock suspension designs feature 46mm aluminum high-pressure gas charged shocks with "clicker" adjustments to let you fine tune your ride.
While the track is longer on the LTX, both 2013 Vectors employ a new third generation double wishbone front suspension set up designed to work most efficiently with the power steering. To minimize inside ski lift, the ski mount has been offset by 15mm. You'll find a sway bar to control roll and maintain stability in the corners. Adjustable 40mm gas charged shocks work to control the 8.5 inches of ski suspension travel while offering greater fade resistance. All of this simply means that you can ride the trails faster and harder. Add in EPS and you have an evolved Vector trail sled that gives you greater groomed trail control with less tiring trail feedback.
One upgrade to the stock model we'd recommend considering are the optional Tuner skis. While both Vectors come stock with lightweight plastic skis, the new dual keel "Tuner" ski option should be standard and might have been if availability had been greater. But, we figure Yamaha was being overly cautious with production numbers and just didn't know that the skis would turn out to be so popular with its customers.
Regardless, if you're the least bit fussy about handling, cornering and darting tendencies, you really should chat with your Yamaha dealer about this option. This new ski lets you mix and match the runners to create a blend of grip that can go from totally flat-bottomed all the way to extremely aggressive. The best bet will be somewhere in between. That's where your riding experience and preferences, plus your dealer's knowledge can help you customize your handling.
Your dealer also can suggest Yamaha's new super slippery "hyfax" that utilizes a special space-age Dupont-sourced product that, according to initial reports, appears to be better than advertised for slide rail longevity. Keep in mind, since these products are optional and in limited supplies, you might have to wait to get them. But do check into it, as these two items seem to be the real deal and not simply marketing hype.
This whole easy steering at low speed thing is real, too. The first company to bring electric power steering (EPS) to snowmobiling, Yamaha reduces on-trail steering weight by adding some for its EPS servo. The new Deltabox III structure became necessary to accommodate the EPS. The steering upgrade also required revised mapping of the computer modules. Since the EPS reacts to speed and power, the computer needs to accept inputs from the steering effort, ground speed, and such things to properly apply muscle to the skis. At low trail speeds that you might have in tight wooded trails, the steering assist is most muscular, backing off as the sled gains speed, such as when you hit a wide open lake or groomed straight. You'll really appreciate the EPS system for group rides where the aim is to see winter and trail speeds are s-l-o-w.
Yamaha's Deltabox III design is new and continues the evolution of the company's ride-forward chassis development, which maximizes your position on the sled for long-mile comfort. The Vector's main control position sits you comfortably with hips raised and arms within easy grasp of the contoured handlebar. On the early pre-production versions we found the front of the seats too soft, effectively lowering our leg angle and causing some discomfort. Since this setup supposedly is the same as the Apex saddle, we expect production seating to be Apex-like, which is better.
Maybe the Vector's "problem" has been that it is simply too good. After all, the Vector isn't really great at any one thing, other than being a great value and all-around trail sled. It doesn't have the most powerful engine. It's not freaky fast. It's just extremely smooth from initial drive off to top speed. It corners well. The suspension soaks up stutter bumps well. With EPS it is the least fatiguing mileage-maker on the trail. It gets great fuel economy in its class. It's quiet. It's clean burning. You can ride it all weekend, put it away for the work week and take it out again the next weekend with zero consideration that it won't be ready to go. It's solid.
For the glass half-full snowmobiler you can't do much better than that. For the half-empty rider… ahh, you'll never be happy. But the totally evolved 2013 Vector will get you as close to happiness as you can get without giving up your cynic standing.
2013 Yamaha Vector
Engine
Yamaha four-stroke "mid-performance" 1049cc; bore/stroke of 82.0mm/66.2mm; three-cylinder, liquid-cooled; 41mm electronic fuel injection system
Horsepower
125+
Drive
Yamaha YVXC drive clutch with Yamaha driven
Front Suspension
Yamaha A-arm with 40mm HPG aluminum shocks; up to 8.5-in of travel
Rear Suspension
Yamaha MonoShock II CK parallel slide rail with 46mm aluminum gas shock; up to 12.4-inches of travel
Length
108.5 in
Height
45.7 in
Ski Stance
43.0 in
Track
15 x 121 x 1.25 Camoplast Rip Saw
Brake
4-piston hydraulic disc brake with ventilated lightweight rotor
Weight
NA
Fuel Capacity
9.2 US Gal
Features
Electric power steering, Electric start, reverse, LCD speedometer/odometer, DC Outlet, one-year limited factory warranty
MSRP
US$11,899
Related Reading
2012 Yamaha RS Vector EPS Review – Video
2012 Ski-Doo Renegade Adrenaline 1200 vs. 2012 Yamaha RS Vector LTX
2011 Yamaha RS Vector GT Review