2012 Ski-Doo Renegade Adrenaline 1200 vs. 2012 Yamaha RS Vector LTX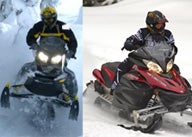 High-displacement 4-strokers go head-to-head
The diehard crossover rider would never go for the four-stroke option in stretch track on- and off-trail sleds. That rider will check off the 800cc two-stroke box on his order form and scoff at the idea of wrestling a four-stroker from groomed trail to unbroken powder snow. He wants the idea, the perception of lighter weight and higher revving power from a modern fuel injected, computer chipped two-stroke. He's a traditionalist who knows that four-strokes can't compete in the crossover segment like his beloved two-stroke sportster.
He might be wrong, at least in the Ski-Doo camp. For 2012 Ski-Doo offers a "hot rod" version of its 1200cc four-stroke stretch-track MXZ, otherwise known as the Renegade series. Based on the widened REV-XR platform the four-stroke Renegade goes, well, renegade with an "X" package of its own. A "spring-only" pre-order sled, you probably won't find one now. But that's okay. The base Renegade Adrenaline with the 1200 4-TEC will surprise many devout two-stroke fans as it pumps out a very smooth 130 horsepower from its three inline cylinders that displace 1170.7 cubic centimeters. It can place ample torque to the wide 16-inch track and its nearly 2200 square inches of track surface.
The two-stroke rider will be right about the lightweight argument as the four-stroker with its wider platform and more sophisticated drive system adds nearly 70 pounds versus an 800cc two-stroke Adrenaline model on the narrower XP chassis. Of course, the 1200 should cost less to fuel, use far less oil as it only needs to fill a dry sump lubrication system and not see it burn with gasoline as a two-stroke will.
All in all, the modern Ski-Doo Renegade Adrenaline 1200 4-TEC model makes for a very pleasant mostly on trail, but adept occasional off-trail ride. And it makes a great competitor to Yamaha's elongated Vector LTX. Statistically and features-wise the two sleds are eerily similar.
While there is no "hot rod" off-trail version of Yamaha's Vector LTX, unless you consider the Apex or Nytro XTX versions in that category. We don't. We find the choice between the 2012 Ski-Doo Renegade 1200 and the Vector LTX almost a toss up.
Yamaha rates its mid-performance triple at 120-horses. We dispute that as it is a very mild iteration of the Nytro's 1049cc triple. The Vector triple's innards make the LTX less aggressive than a Nytro XTX, but it works more to our liking. Throttle response with the Yamaha 41mm fuel injection and electronic computer chip control system makes the Vector LTX an absolute delight on the trail. And when you head it off trail to unbroken powder, the throttle and drive engage seamlessly to give you smooth power transitioning from one surface to the other.
The Ski-Doo's extra 121cc doesn't seem to work any better than the Yamaha triple. Interestingly, the Ski-Doo engine is rated at 130-hp. The Yamaha Vector LTX triple is said to be ten ponies less. We suspect Yamaha is sandbagging the power rating by at least five horsepower, if not more.
The Ski-Doo triple uses electronic fuel injection, which also is very smooth. It has a nice throaty exhaust tone and very smooth throttle feedback. Both of these sleds are excellent for easy drive offs and each has very good midrange.
When it comes to the suspension packaging, there is a noticeable "look" that is different. The Yamaha uses the latest Apex-inspired front suspension that works with the all-new power steering of the Vector LTX. That and the more rigid Deltabox III chassis design account for the approximately 50 pounds more weight carried by the Yamaha versus the 529-pound Ski-Doo Renegade.
At low speeds the Yamaha's EPS works wonders, but it lessens as you gain speed. The Ski-Doo doesn't seem heavy steering, but slow maneuvering off trail will give your shoulders and forearms more of a workout than the Yamaha.
Both sleds feature high-pressure gas shocks up front. The Ski-Doo uses HPG Plus shocks with coil spring assistance. The Yamaha has 40mm aluminum bodied gas shocks with a coil spring assist. The Ski-Doo front end accommodates up to nine inches of travel, a half-inch more than the Yamaha's available 8.5-inches of front travel.
The Ski-Doo rear suspension will seem familiar as it is a version of the SC-5, which may be superceded in the near future by the new rMotion setup. For now, the SC-5 works well and allows 16-inches of travel controlled via HPG shocks on the center and front suspension arms.
Yamaha's Vector LTX gets a MonoShock II CK 136 rear suspension that relies on a single 46mm high pressure gas shock working with adjustable coil springs and suspension control rods that carry over from the Viper days. The Yamaha suspension offers 11.7-inches of travel. You will find it very amenable to tuning and once you get it set, it will deliver a very smooth and consistent ride.
When it comes to ergonomics, each sled gives you a unique personality. The handlebar on the Yamaha is a hair's width short of being the best in the sport as we give that kudo to Arctic Cat. The Yamaha bar is incredibly well fitting and we especially like the end curve for cornering. Ski-Doo also has a handlebar with bent ends but we like the overall integration of the Yamaha design better. And, while we were admittedly late to coming around to Yamaha's versatile heat settings for the hands and throttle thumb, we find them amazingly easy to use and very hand friendly on extremely cold days. The Ski-Doo heat system can be adjusted with a simple flip of the switch, but it doesn't have the range for heat settings as the Vector.
With the racy windshields used on these sport sleds, you might expect to face cold winds on the trail. Both sleds deflect the wind very well, the low edge portion of Yamaha's windscreen does a good job of kicking the cold away from your hands. Yamaha has paid attention to what used to be a shortcoming and fixed it with a stylish and protective design. The Ski-Doo windshield works okay, but our hands get left out in the draft a bit too much for our liking.
Let's just say, while the diehard two-stroke off-trail rider wouldn't choose either of these two four-stroke sleds, we figure he loses. Because regardless of which sled you choose, you'll find either to be extremely pleasant on the trail with the Yamaha's power steering adding a bit more off-trail agility. But you pay for it in with a weight disadvantage as the Renegade is lighter. Other than that, the two sleds compete equally well on features. Both have strong performing hydraulic disc brakes, a racer-styled seat, long track bridging action over stutter bumps, and a good grouping of standard features. In this head-to-head showdown, we really wouldn't call out a definitive winner. Both sleds are extremely good and should perform well for many seasons.
| | | |
| --- | --- | --- |
| | 2012 Ski-Doo Renegade Adrenaline 1200 | 2012 Yamaha RS Vector LTX |
| Engine | Rotax 1170.7cc liquid-cooled, 4-stroke triple; double overhead cam, dry sump, with electronic fuel injection | Yamaha 1049cc liquid-cooled 4-stroke triple; 41mm electronic fuel injection |
| Horsepower | 130 (estimated) | 120 (estimated) |
| Drive | TRA IV driver with QRS driven with mechanical reverse | Yamaha YVXC drive with variable ration driven |
| Front Suspension | Ski-Doo dual A-arms — 9-in maximum travel; HPG Plus shocks | Yamaha double wishbone — 8.5-in travel; 40mm HPG aluminum shocks |
| Rear Suspension | Ski-Doo SC-5 parallel rail; 16-inches of travel; HPG gas shock on front and rear arm | Yamaha MonoShock II CK 136; 46mm HPG aluminum body shock, adjustable coil springs and control rods; up to 11.7-in of travel |
| Length | 122.4 in | 118.1 in |
| Width | 47.9 in | 48.0 in |
| Height | 47.6 in | 45.7 |
| Ski Stance | 42.4 in | 43.0 in |
| Track | 16x137x1.25 Ripsaw | 15x136x1.25 Ripsaw |
| Weight | 529 lb (claimed) | N/A |
| Brake | Brembo hydraulic | 4-piston hydraulic disc |
| Features | Analog gauge with display; electric fuel gauge | Dual DC outlets; premium digital gauge; multi-adjustable handwarmers; tunnel protectors |
| Fuel Capacity | 10.6 US Gal | 9.2 US Gal (regular fuel) |
| MSRP | $11,499 | $12,099 |
| Full Specs | Here | Here |
Related Reading
2011 Ski-Doo Renegade X 1200 Review
2010 Ski-Doo Renegade Adrenaline 1200 4-TEC Review
2011 Yamaha FX Nytro XTX Review
2010 Yamaha Vector LTX GT Review
2009 Ski-Doo GSX 1200 vs 2009 Yamaha Vector