2013 Yamaha Venture MP Review – Video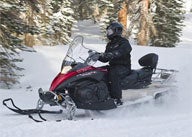 Adding great versatility to Yamaha's two-up stretch track
We'll be honest with you right up front. We've always liked the two-up version of the Yamaha Phazer, officially known as the Venture Lite. Granted, its 80-horsepower 499cc twin truly is a bit underpowered for most of us, but it fits the sled's character. To paraphrase some old Kris Kristofferson cowboy lyrics, that character "…ain't wrong, it's just different."
Fast Facts
Engine Type:Parallel Twin
Cylinders:2
Engine Stroke:4-Stroke
Valve Configuration:OHV
Displacement:499 / 30.4
Starter:Electric
Turbocharged:No
View Full Spec
On first blush, the Venture Lite, like all Phazers for that matter, looks quite different from the conventional sled style. And when it comes to two-up trail cruising, we think the Venture Lite actually may be the best pure touring two-up in the business. Looks aside, it is quirky with its super high-revving 12,000-rpm dirt bike-bred twin that needs to be geared down to suitably consistent snowmobile clutching limits of under 9000 revs. Then there's that awkward looking front end that doesn't seem quite so odd now that Arctic Cat brought out its mantis-like ARS front suspension.
We find quirky goes away when you sit aboard this two-up design because it has one of the best two-up seating arrangements ever. It would be a great setup on a cross-country touring bike. The sled has a saddle that fits modern McDonald's fed derrieres; offers very good leg stretch; affords passengers great back support; and, provides an ample rear storage area. The sled's performance may not be Apex-quick, but it is steady and ample for long haul cruises.
While Canadian snowmobilers won't find it new, riders in the U.S. will experience the recently introduced-for-2013 Venture MP as a fresh model to consider. The MP's success in the Canadian market brings it into the U.S. as an addition (upgrade?) to the standard Venture Lite. The key differences are quite simple and rather unremarkable. The Venture MP (Multi-Purpose) enjoys a wider track at 16-inches to go along with an overall length of 144-inches. The Camoplast RipSaw pattern attacks the snow with a 1.25-inch lug profile. In addition the MP uses 36mm high-pressure gas shocks (rather than the Venture Lite's 25mm gas cell shocks) in the ProComfort 144 rear suspension to control its 11.5-inches of travel. In keeping with the engineers' goals of making this plus version of the Venture Lite perform better in untracked snow, the MP features wider, VK-style skis to get the front end up on plane more quickly. These skis also have a wider more curved keel area and feature an upward angle at the rear tips to facilitate reversing in unpacked snow.
These changes will seem subtle if you compare the two sleds side-by-side on a dealer's sales floor. You might even skip over the difference in handlebars between the two. The MP comes with a more utilitarian one-piece straight bar. Of course, it does offer Yamaha's generous-settings for handlebar warming. Both the handgrips and throttle thumb warmers work off a single rocker switch to control the settings.
While the Venture MP shares similarities with the base Phazer design, it is one of three stretch track versions, which includes the Venture Lite and the Phazer MTX, designed as a lightweight powder player. The Phazer MTX uses the narrowest track at 14-inches, but adds grip via use of Camoplast's more aggressive Maverick track pattern with taller 2-inch lugs. The Venture Lite, designed to handle groomed trail touring, has a similar Camoplast track but holds the width to 15-inches. The Lite and MP share rear suspension travel numbers at 11.5-inches, with the Phazer MTX adding nearly three more inches of play. Interestingly, the groomed trail two-up Lite limits front travel to 6.5-inches and both the more capable off-trail runners give you 8-plus inches of action. And, of course, the Phazer powder model, which is designed for solo, play has a one-person saddle. You can take a friend into winter aboard either Venture model.
The Venture MP proved its capability when we demanded some fresh powder running for photo purposes. It's not going to lift the skis like an Apex, but with half the horsepower we didn't expect that. We were kind of thinking the MP might be a bit of a slug in pushing through a couple feet of fresh snow. But, no way! On full throttle the 500cc twin powered through the snowfield with vigor, allowing the rider to throttle back for wide sweepers and back on throttle to throw snow high and over its monster windscreen. Impressive. Flat out impressive.
Combining those utility-wide skis with the 16-inch track width and nicely balanced frame gave the Venture MP very good off-trail handling. The sled's drivetrain proved to be efficiently geared for very good low end and midrange power usage. Credit the engineers with ably gearing the Yamaha twin to the company's own YVRC variable ratio clutch package. Add in extremely positive action from the spot-on electronic fuel injection system that reacts incredibly quickly to engine load, revs, temperature and such to spin this Yamaha four-stroke's torque just right. Let's not pretend, top speed is adequate but that's not why you would purchase this multi-purpose sled.
Buyers will like this sled for its ability to go on- and off-trail with or without a passenger every time you call on it. The Venture MP extends the capability of the Venture Lite. Where the Lite can handle the occasional off trail run, the primary design parameters are for on-trail, specifically groomed trails. We like the Venture Lite for its all-day trail capabilities. But, when you add the flexibility you gain with the Venture MP, we'll go that route. To us, the Venture MP is everything you like about the Venture Lite but with more versatility. It's an incredibly rider-friendly sled. It has all the goodies: reverse, electric start, two-up comfort, big windshield, accommodation for a tow hitch, rear rack, disc braking and even an automotive DC outlet. And, of course, it's a Yamaha, which means standard four-stroke convenience, reliability and resale equity.
We told you we liked the Venture Lite, now you know we really like the Venture MP for all the same reasons — and more!
2013 Yamaha Venture MP Specs
Engine
Yamaha 499cc, 2-cylinder, 4-stroke, liquid-cooled; 43mm Keihin throttle body electronically controlled fuel injection
Horsepower
80 (claimed)
Drive
Yamaha YVRC variable ratio clutch
Front Suspension
Yamaha double wishbone; 8.1-in travel; front stabilizer bar; 36mm high pressure gas shocks
Rear Suspension
Yamaha ProComfort 144; 11.5-in travel; Kayaba C36 high pressure gas shocks
Length
124.0 in
Height
54.3 in
Width
49.8 in
Ski Stance
42.5 in
Track
16 x 144 x 1.25 Camoplast RipSaw
Weight
N/A
Fuel Capacity
8.7 US Gal (Regular fuel)
Features
Electric start, rear carrier, mirrors, reverse, backrest, LCD speedometer/odometer, one-year limited factory warranty
MSRP
US$9,899/C$10,849
Related Reading
2012 Yamaha RS Venture GT Review
2011 Yamaha RS Venture Review
2010 Yamaha Venture Lite Review
2012 Yamaha Phazer MTX Review