2012 Yamaha Phazer MTX Review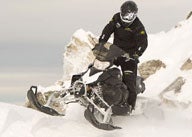 Yamaha's lightweight boondocker
Looking for a relatively low cost but effective entry into off-trail boondocking? Perhaps you should check out Yamaha's four-stroke Phazer MTX. Carrying a price tag of US$8,599, the MTX offers appealing benefits to the rider looking to make his mark in fresh powder. Of course, don't expect to set any high marks, but do expect to get quite a lot of bang for your snowmobiling buck.
Fast Facts
Engine Type:Parallel Twin
Cylinders:2
Engine Stroke:4-Stroke
Valve Configuration:OHV
Displacement:499 / 30.4
Starter:Electric
Turbocharged:No
View Full Spec
Admittedly the 2012 Yamaha Phazer MTX is a personal favorite. It comes with its own unique style that is shared with all Yamaha lightweight Phazer models and instantly sets it apart at a snowmobile pit stop.
This sled leaves us constantly amazed at its ability to slog up ungroomed hillsides. It seems to just hunker down, gear down and, by literally placing one drive cog in front of the other, pull itself up just about any low elevation grade. It seems a bit incongruous when you consider that the Phazer MTX not only measures a modest 499cc in overall displacement, but in order to get its 80-ish horsepower to the track, the twin cylinder motor needs to rev way up to about 12,000 rpm.
When it comes to this Genesis four-stroke twin, Yamaha opted for increasing overall revs and then using a gear reduction to decrease those revs to around 8000 rpm to accommodate clutching. Credit Yamaha engineers for instilling compliant behavior in this drive system. When actually riding the sled, you aren't aware of its super high free revving nature as initial drive-off and mid-range performance are similar to slower revving, larger displacement powerplants. It must have been an engineering challenge to make this drive work as well as it does. Although you will recognize that the Phazer MTX performance seems a bit sluggish due to its relatively low power rating, when compared to similar longer tracked snow vehicles like the Ski-Doo with the 600 ACE four-stroke or the fan-cooled Polaris 550 Shift 136, the Yamaha seems like a racehorse.
Yamaha hides its high-tech twin back of the ski centerline and tucked low under the handlebar area. This may help overall handling and weight distribution, but it does little to assist serviceability. Fortunately most Yamaha Phazer owners are not inclined to change stock settings. Nor does the Yamaha Phazer design invite it.
Since the Phazer's engine relies on modern computerization, the service upgrades generally would come in the form of a revised "flash" setting to the sled's electronic programming. The Phazer four-stroke has a very quick-responding electronic fuel injection system that reacts to all manner of external and internal factors such as throttle input, ambient temperature, engine speed and altitude. With the throttle body intake pointed toward the front to draw in cool air, the exhaust can evacuate straight under the seating area with minimal restrictions. This patented Yamaha exhaust design is exclusive to all four-stroke Yamaha models and helps with consistent engine performance and cooling. Of importance to us riders, this exhaust packaging aids the Yamaha Phazer's overall ergonomics and directly contributes to the handling. The engine breathes in from one side and directs exhaust straight out in a simple, efficient direct line while maintaining a lowered engine position and improved centralized weight.
All sled makers try to lower engine positioning and center weight to give their vehicles optimum handling capabilities. Yamaha's powertrain location is about as efficient as it gets. As noted, it does hamper servicing.
On the snow, you'll immediately notice how responsive this ten and a half foot long sled can be. It only takes a little learning to make this sled lean into a hillside. Centered weight helps, but so does the narrow 14-inch width of the 144-inch circumference track and the handy positioning of the handlebars. The Phazer draws from concepts Yamaha learned from its off-road motorcycles. The bars sit forward and raised, allowing the rider to stand up and post over rough spots while encouraging quick interaction for maneuvering off trail. Add in that instant reaction EFI system and you have a very effective boondocker.
Yamaha engineered the Phazer series with rigid diecast members and chromoly tube construction to provide a stable platform for the ProMountain 144 slide rail suspension and its snow-gripping footprint. Since the Phazer chassis was designed from the get-go to be rigid and light in weight, the MTX body works extremely well with the elongated Camoplast-built Maverick track. The rigidity allows the sled to plant the track squarely on the snow for maximum traction.
Yamaha worked with Camoplast to create the Maverick track design used on the MTX and has featured it in varying sizes on other Yamaha powder models. This deep snow track is particularly well suited to the Phazer MTX as it offers a tall 2-inch lug profile to grab loose snow. But wait, there's more to the Maverick design. The lug tips are very thin, which allows the track to fold over and pack the snow for maximum flotation instead of simply slicing and sinking into it. The track also utilizes rigid columnar sections at each paddle section, which adds stability and control for hardpack running. This makes the Phazer MTX equally at home off trail as well as on. Of course, with only 80 ponies to spin the long track, you will notice modest top end on groomed trails. But, for boondocking, it's grip and consistent drive that you want and this 500cc Yamaha gives you that.
Available in black and white for 2012, the Yamaha Phazer MTX is all about evolution as changes have been minimal for the past few seasons. The 2012 edition offers a suspension with just over 16-inches of rear travel and slightly less than 9-inches up front. Standard features include the motocross-styled YZ saddle with its narrow width. A digital gauge reads out speed and revs and shows the settings for the heated handgrips. Since this sled is four-stroke powered, electric start is standard as is a push button mechanical reverse.
There are optional windshields and bags, but this sled is fairly minimalist and well suited to poking around off trail. Expect the Phazer MTX to be at home off the beaten track, and expect it to be quiet, reliable and a heck of a lot of fun to ride. Just don't expect to high mark the Rockies with it.
2012 Yamaha Phazer MTX Specs
Engine
Yamaha 499cc, 2-cylinder, 4-stroke, liquid-cooled; 43mm Keihin throttle body electronically controlled fuel injection
Horsepower
80 (claimed)
Drive
Yamaha YVRC variable ratio clutch
Front Suspension
Yamaha double wishbone; 8.7-in travel; front stabilizer bar; hydraulic gas cell shocks
Rear Suspension
Yamaha ProMountain 144; 16.2-in travel; Kayaba C36 high pressure gas shocks
Length
125.7 in
Height
45.8 in
Width
46.8 in
Ski Stance
38.6 in
Track
14 x 144 x 2.0 Camoplast Maverick
Weight
515 lbs. (estimated based on 2009 model year)
Fuel Capacity
7.0 US Gal
MSRP
$8,599
Related Reading
2012 Yamaha Phazer RTX Review
2012 Yamaha Nytro MTX 162 "Boosted" Review [Video]
2011 Yamaha FX Nytro MTX SE 153 Review